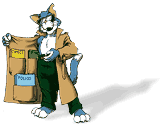 Welcome to the ALLEY CAT NEWSLETTER !
April 11th, 2006
GOLD PRICES/NEWS
Gold has now been over $600 an ounce! WOW!! What a great run over the last couple of years. I don't own any gold contract on betonmarkets right now. I would love to see a close above $600 and then $610 an ounce. The $540ish area was some great support last time it was down there. I hope it continues to run over this next year.
ALWAYS LOG INTO EGOLD VIA https://www.e-gold.com ,bookmark it, and use your bookmark to go to the site rather than via any e-mail or link online.
PLEASE USE YOUR HEAD WHEN IT COMES TO E-MAIL. Egold/Paypal will NEVER e-mail you asking you to log in, so when you get an e-mail like that DELETE IT.
---
You can always find the current issue of Alley Cat News on the website under Newsletter.
---
INDIRECTLY in OIL!!
Check out the ad on the top left of this newsletter. It is an interesting program that you may want to check out. The payout is pretty good and you could be Indirectly in the Oil business. (Only join if you plan on marketing it though)
I will talk about it more in the coming newsletters. Look for a USA Today ad this weekend for the program.
---
Betonmarkets Signal Service
The signal service is open and is just $25 for the rest of April. Our first 2 weeks after we started the service was awful. We had a recovery though for the last few weeks.
2 wins and 0 losses for the week so far.
Our GBP/AUD trades have been pretty good. If you want to check it out go to the following site. http://www.alleycatnews.net/bom
---
OTHER NEWS YOU CAN USE
* Their is now a 14 daily pro program out there. After the "popularity" of the 12 daily pro program it was bound to happen. Will see if this new program goes down as well. There isn't any HYIP or autosurf program that I would recommend.
* Tax day in the U.S is fast approaching (April 17th this year). Make sure you have your tax return in before Midnight that night.
* I will have another Stock doubling Newsletter pick sometime probably in late May or June. My first one was a nice double. GNBT was purchased at $1.24 and sold at $2.48. (It hit as high as $5!) I will keep you posted on that newsletter. (I started with $500 now am at $1000) If you don't recall what the Stock Doubling Newsletter is about you can go to our past newsletter to read about it...
http://www.alleycatnews.net/news/10-05-05.html
* E-gold exchangers are getting many complaints even the bigger exchangers are having issues and many complaints on different forums on the net. Make sure you use one you are comfortable with and has a LOT of positive feedback.
* EMOCORP is in trouble and Texas government has shut them down. You can read more about it at http://www.emocorp.com/
* Studio Traffic has closed as well it was a popular autosurf program. Some of their comments is they couldn't afford people to continue surfing etc.. Obviously a pyramid that ran its course.
* Happy Easter!! He is Risen!
---
THE NEXT NEWSLETTER, LORD WILLING, WILL ARRIVE IN LATE APRIL OR EARLY MAY 2006!
Check out our current and past issues of Alley Cat News on our Website by clicking on the Newsletter Link.
---
Alley Cat would like to thank our Sponsors for making this newsletter available for FREE.
Disclaimer: We try and allow only quality programs to advertise with us. We research the program BEFORE allowing it to advertise however we can not be held liable for any advertiser in this newsletter. Alley Cat News DOES NOT ENDORSE ANY ADVERTISER .Alley Cat News reserves the right to refuse any advertisement. THIS IS NOT FINANCIAL ADVICE AND IS FOR INFORMATIONAL PURPOSES ONLY
For questions on advertising e-mail us at ALLEYCATNEWS@aol.com
Alley Cat News
PMB #103
3600 S. College Rd Ste E
Wilmington, NC 28412
910-452-7362