Ad Sponsors
---
Worldwide Business just $10 a month.
---
Restore Your Credit - Raise Your FICO Score

Learn how to restore your credit and increase your FICO score within 90 days, so you can get lower interest/loan rates.
---
Give away a Bible. Make $500 a Week!
For all the details on this Amazing program go to
---
Simpleforex.com
Need a trading mentor? Want support for your Forex trading with a Money Back guarantee?
---
Recent reports are that HOT housing markets are starting to cool off with some areas down 13% already last quarter. Get a piece of the coming Foreclosure BOOM!
http://www.preventforeclosure.net
---
In an MLM? Need a website built? Contact me at
alleycatnews@aol.com
---
ADVERTISE WITH US AND GET YOUR PROGRAM OR PRODUCT IN FRONT OF PEOPLE WHO WANT TO MAKE $$$$. WE HAVE GREAT NEW RATES.
ALLEYCATNEWS@AOL.COM
---
Matthew 6:25-27
"Therefore I tell you, do not worry about your life, what you will eat or drink; or about your body, what you will wear. Is not life more important than food, and body more important than clothes? Look at the birds of the air; they do not sow or reap or store away in barns, and yet your heavenly Father feeds them. Are you not much more valuable than they? Who of you by worrying can add a single hour to his life?"
---
Alley Cat would like to thank our Sponsors for making this newsletter available for FREE.
---
Disclaimer: We try and allow only quality companies to advertise with us. We research the program BEFORE allowing it to advertise however we can not be held liable for any advertiser in this newsletter. Alley Cat News DOES NOT ENDORSE ANY ADVERTISER. Alley Cat News reserves the right to refuse any advertisement. THIS IS NOT FINANCIAL ADVICE AND IS FOR INFORMATIONAL PURPOSES ONLY.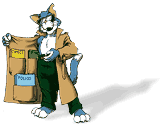 Welcome to the ALLEY CAT NEWSLETTER !
October 5th, 2005
GOLD PRICES/NEWS
Gold prices have obviously broken out since the last newsletter. I said in the last newsletter it had some resistance and if it broke it would test the highs well it went well past the highs. The trend is still up though the daily charts look a bit tired.
On the daily charts need to get a close above $473 to continue its move higher. On the weekly charts it needs to stay above $456 to continue its bullish move.
I DO NOT HAVE A CURRENT POSITION IN GOLD AND DON'T PLAN TO BASED ON THIS INFORMATION.
ALWAYS LOG INTO EGOLD VIA https://www.e-gold.com ,bookmark it, and use your bookmark to go to the site rather than via any e-mail or link online.
PLEASE USE YOUR HEAD WHEN IT COMES TO E-MAIL. Egold/Paypal will NEVER e-mail you asking you to log in, so when you get an e-mail like that DELETE IT.
---
You can always find the current issue of Alley Cat News on the website under Newsletter.
---
STOCK DOUBLING NEWSLETTER
The jist of it is, I will pick one stock to invest in. I will start
with $500 and try and double it with each stock purchase.
So if the stock goes from .50 to $1 in 6 months I would cash out. Or
if it went from $3 to $6 in 12 months I would cash out.
The goal is to double (100% return) every 12 months. After 11
stocks (whether that is every 6 months or every year) if you started with
$500 not including commissions or taxes you would have over $1 million.
So if each stock took 12 months to double that would be 11 years to
turn $500 into $1 million.
Will that work?? I have NO IDEA. On paper its easy to do the math
but will see what happens in the real life.
Here is my plan.......
The month of October I will do research to find that 1 stock to invest
in. At the end of October or Early November I will buy into that stock with
a $500 investment. (NO not paper trading real $$)
I will send out 1 monthly email about the stock. (Where I think its
going, any news over that last month etc...)
So for a course of a year you would get 13 issues of the Stock Doubling
Newsletter. The initial Newsletter of the stock I am going to buy + 12 monthly
issues.
This will be the first newsletter I charge for though. It will be $25
per year which equals less than $2 an issue.
Which could be paid via paypal or egold. I want to see first though if there is enough interest in the newsletter to start it. As it will take me many hours for researching the stock to buy, and the monthly updates etc...
Let me know if you have an interest in the Stock doubling Newsletter or
any questions about it.
Just send me an email at alleycatnews@alleycatnews.net with the
subject Stock newsletter.
---
The Simple Forex challenge page has been updated for September and is available at http://www.simpleforex.com/challenge
Here are a couple of charts that I promised last newsletter. This first one is a winning trade in the Swiss Franc of 53 pips.
Click on Chart to Enlarge
The Second chart is of a recent loser we had. Yes we do have losing trades and I am not afraid to post them.
---
Click on Chart to Enlarge
---
OTHER NEWS YOU CAN USE!!!
* YMMSS cycle time is about 1 year now. A big difference from the 90 days when most people joined that program. Hopefully they can recover.
* My contact information is always at the bottom of each Newsletter.
----------------------------------------------------------------------------

Sponsor this e-mail
13K+ people only $50
Get your Program in front of 13,000+!
contact us for rates on Solo Ads.
Alleycatnews@alleycatnews.net
---
THE NEXT NEWSLETTER, LORD WILLING, WILL ARRIVE IN MID OCTOBER 2005!
---
Twice a month Alley Cat, will bring you the latest from the ONLINE Investment world. You will get the latest news on Trading, Small Business, Gold Prices, and HYIP's. This is a FREE NEWSLETTER. We are able to make it available to EVERYONE because of our Sponsors.
SO TELL YOUR FRIENDS!
Give them this link and they can sign up for FREE
Check out our current and past issues of Alley Cat News on our Website by clicking on the Newsletter Link.
---
Alley Cat would like to thank our Sponsors for making this newsletter available for FREE.
Disclaimer: We try and allow only quality programs to advertise with us. We research the program BEFORE allowing it to advertise however we can not be held liable for any advertiser in this newsletter. Alley Cat News DOES NOT ENDORSE ANY ADVERTISER .Alley Cat News reserves the right to refuse any advertisement. THIS IS NOT FINANCIAL ADVICE AND IS FOR INFORMATIONAL PURPOSES ONLY
For questions on advertising e-mail us at ALLEYCATNEWS@aol.com
Alley Cat News
PMB #103
3600 S. College Rd Ste E
Wilmington, NC 28412
910-452-7362