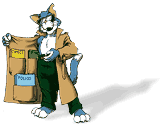 Welcome to the ALLEY CAT NEWSLETTER !
December 20th, 2005
GOLD PRICES/NEWS
Gold prices made a HUGE run since our last newsletter going from $500 to $540 an ounce before coming down fast back to the $500 level. I still like gold to go higher over the next few months. Though I would like to see it stay over $500 an ounce. If that breaks I would for sure like to see it stay above $480 an ounce. If that breaks I may change my tune on Gold.
As stated in the last Newsletter I did buy a "Bull" contract on gold via Betonmarkets. I purchased it for $8.57 at the height of Gold's recent move it was worth over $50 a nice return. However since gold has retreated back down to the $500 area it is now worth $15-16. (The contract calls for gold to be above $589 an ounce by May 29th for a $250 payoff) It offered good risk/reward so I took it. I might exit the trade at some point before it expires but as of right now I will keep it.
I am mentioning the Betonmarkets bet that I have for full disclosure. I DO NOT MAKE RECOMMENDATIONS IF YOU TRADE YOU DO SO AT YOUR OWN RISK.
ALWAYS LOG INTO EGOLD VIA https://www.e-gold.com ,bookmark it, and use your bookmark to go to the site rather than via any e-mail or link online.
PLEASE USE YOUR HEAD WHEN IT COMES TO E-MAIL. Egold/Paypal will NEVER e-mail you asking you to log in, so when you get an e-mail like that DELETE IT.
---
You can always find the current issue of Alley Cat News on the website under Newsletter.
---
Alley Cat's New Business for EVERYONE!
Our new business has been launched. You can find it at
It is FREE to get started with the business and the product we offer could be worth $500 to you the first week. This is going to be a hot program in the New Year with a lot of promotion. If you are interested in learning more check it out.
You will be able to make $30,000 a year with just 100 people and this isn't MLM.
---
Forex System Update
NEW UPDATED SITE AND PRICE!!
Last chance before the end of the year to get the simpleforex system.
For those of you who have wanted to try the Simpleforex.com system but didn't have the $197 to get started, we have GOOD NEWS! The price has been dropped to just $75 and still includes Chat room Support through Dec 21st. I have updated the ebook as well with Hourly, Daily, and Weekly trade options! So even if you can only make trades once a week, you can still profit. And we still have a GREAT MONEY BACK GUARANTEE! If you're not happy, get your $$$ BACK.
---
WHAT DO YOU WANT IN THE NEW YEAR?
What are you looking for in the New Year from your business opportunities and Investing?
I would love to hear what you are looking for.
Is it a way to trade the forex, stocks, options market? Is it a certain time you can trade? Are you looking for your own business just don't know where to start? Are you looking for an HYIP that won't rip you off? Looking for Forex signals that are quality?
Please let me know what you are looking for, I would love to help you find it if I can.
Just send an email to alleycatnews@alleycatnews.net
And put "I'm Looking for....." in the subject line.
---
OTHER NEWS YOU CAN USE
* E-gold has continued to have problems this week. It sounds like it is a DDOS attack, and NOT the company closing. Just be patient until they solve the problem, also NEVER sign in to E-gold via a link sent to you in an Email.
* IntGold offices were raided by the FBI and Secret Service. Some have said that the raid deals with a marketing program that the FBI and Secret service are looking at. Others feel INTgold is going down. Time will tell, parts of the Intgold site aren't working correctly.
* Alley Cat News, MIGHT come out with a signal service for the forex market sometime in Feb. It is something we are considering but have not put much work into yet. We have a software that has worked quite well on Betonmarkets. (Producing over 100% return in 3 months. Not each month that is TOTAL.) Anyway looking over the results it would work well for the Forex real market as well so we are considering putting something together. I will keep you informed.
* Merry Christmas and Happy New Year. I pray that you have a happy and safe holiday season. Thanks for being an Alley Cat Newsletter Subscriber.
---
THE NEXT NEWSLETTER, LORD WILLING, WILL ARRIVE IN EARLY TO MID JANUARY 2006!
Check out our current and past issues of Alley Cat News on our Website by clicking on the Newsletter Link.
---
Alley Cat would like to thank our Sponsors for making this newsletter available for FREE.
Disclaimer: We try and allow only quality programs to advertise with us. We research the program BEFORE allowing it to advertise however we can not be held liable for any advertiser in this newsletter. Alley Cat News DOES NOT ENDORSE ANY ADVERTISER .Alley Cat News reserves the right to refuse any advertisement. THIS IS NOT FINANCIAL ADVICE AND IS FOR INFORMATIONAL PURPOSES ONLY
For questions on advertising e-mail us at ALLEYCATNEWS@aol.com
Alley Cat News
PMB #103
3600 S. College Rd Ste E
Wilmington, NC 28412
910-452-7362