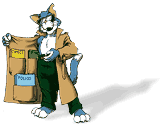 Welcome to the ALLEY CAT DETECTIVE ONLINE INVESTMENT NEWSLETTER !
December 16th, 2003
Each week Alley Cat will bring you the latest from the ONLINE Investment world. You will get the latest news on HYIP's, Games,(Which ones are SCAMS and which ones show potential), other Online Investments, solid money management strategies, along with Gold prices to make the most of your online currency, And anything else that relates to investing and money. This is a FREE NEWSLETTER we are able to make it available to EVERYONE because of our Sponsors.
SO TELL YOUR FRIENDS!
Give them this link and they can sign up for FREE
Check out our current and past issues of Alley Cat News HYIP on our Website, by clicking on the HYIP Newsletter Link.
NEWS from the HYIP World
GOLD PRICES have remained in the $405-$410 an ounce range since last update. They took a spike down on the news of Saddam's Capture but have since rallied again. My analysis from last week still is in place. The support and resistance areas are the same as last week hopefully it can build a base in the $395-$405 range over the next few weeks next big resistance on Gold is at $414 area which is the high set back in Feb. 1996. I would for sure like to see Gold stay above $390 an ounce to continue the rally.
For all your E-gold needs use http://www.business-express.net/egold.php
ALWAYS LOG INTO E-GOLD VIA https://www.e-gold.com bookmark it and use your bookmark to go to the site rather than via any e-mail or link online.
PLEASE USE YOUR HEAD WHEN IT COMES TO E-MAIL. E-gold/Paypal will NEVER e-mail you asking you to log in, so when you get an e-mail like that DELETE IT.
THE DECEMBER ALLEY CAT CONTEST!
Congrats to all the winners and thank you to all that made an entry.
I hope that I can bring back the Alley Cat Contest again in the early part of 2004.
Nasdaq Profit Trading in December
For those of you looking to do some trading this month and are looking for high quality trades you will want to check out our new website at
http://www.alleycatnews.net/npt
We had another WINNER TODAY!! 3-0 FOR DECEMBER!!!
Between Now and the end of the year we have spotted 6 possible trades in the Nasdaq that have a 30 year history of 63% or better results. These are NOT Indices Profit System (IPS) trades, (Although if you currently own the IPS system you will be receiving these trades as a free bonus you should have already received 2 winners this month via email.)
These trades can be placed through Betonmarkets, a Futures broker, or spread trading account.
Each month we will be offering on average 6-8 trades that have a past performance of up/down days of 63% or greater.
Since October trading via Betonmarkets the Nasdaq Profit Trades strategy has 10 wins and 5 losses or winning 66% of the time.
If having another way to profit is something that you are interested in please READ the website for ALL THE DETAILS. (I do have to limit the membership)
December 17th 2300 GMT is the last opportunity you will have to purchase the Trades for December. Any order after that time will receive the January trades.
http://www.alleycatnews.net/npt
HYIP PROGRAMS
Please remember Alley Cat News NEVER Recommends ANY program even if we do get the DD on them. This is for INFORMATIONAL PURPOSES ONLY.
Those still interested we have the Due Diligence information on Fox Investments if you would like it sent to you please send us an e-mail alleycatnews@alleycatnews.net with the subject line of "Fox DD" and I will forward you the information with passport/phone/fax etc... that they provided.
HYIP YEAR IN REVIEW
HYIP's over the years. (My overall view of course their are exceptions)
2002 was the Year of the Game.
Pretty much anything would go in HYIP. Many programs never even said how they produced their results.
2003 was the Year of the "Trading HYIP"
HYIP's at least started to say what they were trading. Or at least they posted on their website that they were trading. Which didn't really MEAN they were but at least they started posting it. It was also the Year of the Daily programs. Yes daily programs started a year earlier but WOW they really came out in FULL FORCE THIS YEAR. We have had some BIG SCAMS this year and some programs that have managed to stick around.
What will 2004 have in store for HYIP??
My prediction is it will be the year of Government Intervention.
Scary, yes it could be. An informed investor is a smarter investor and more profitable investor. Does that Mean I think the HYIP industry will vanish or be closed down? NO!!! Of course not. But I think there could be some big steps by the Government to step in and stop some programs. You already see it with larger off-line type of investments now. It is also an election year in the U.S. Does that mean that HYIP's that are not in the US are safe? Not necessarily. Look at Tri-West of a few years ago. The US government has enough power to pressure almost any country into what they want.
Don't get me wrong I Love the U.S.A. just giving my opinion on what I see that could be coming in the next year. It is something you need to be aware of as well I feel.
Why are you in HYIP? To Make $$$$.
Was 2003 a profitable year for you in HYIP? If you don't know why don't you do a payment history of your E-gold spends/receives since the start of the year. See EXACTLY where you stand it may surprise you.
2004 can be the year of Financial freedom if you want it to be. But you need to be a smart/informed investor.
Starting in January we will have 3 prong approach to making money. I will announce that in January.
I will be spending some time visiting family for the holidays so THIS is the last newsletter for the year. Happy Holidays to you and yours. Have a safe holiday season. I will be back the first week of January with the Newsletter. IT IS GOING TO BE AN EXCITING 2004!
Now is a perfect time to make your plans for 2004. The end of the year many people become very busy with holiday commitments/work etc.. It is also a time of year when people look at their lives and write down some goals they want to achieve in the following year.
2004 will be our BEST YEAR EVER! Whether your goal is to make $500 a month or $5000+ Alley Cat would like to help you achieve your goal. Our goal is for you to retire early.
I won't be able to update the HYIP $200 Test programs until after the New Year again. You can find the update for the week down below. Good luck in all your investing the rest of the year.
After the holidays sometime in mid-late January more than likely. Alley Cat will offer an extended Due Diligence/$200 Test type of service. Where you will be able to refer companies to us to research for Due Diligence. And than in each newsletter we will provide the company names that we are currently looking into, companies that said No etc... That way you will know which companies REFUSE to allow DD, which companies won't even respond, etc... An informed HYIP investor is a BETTER investor. More news on that coming after the holidays. (PLEASE DON'T REFER COMPANIES TO US AT THIS TIME. WE PLAN ON RESTARTING THE DD PROCESS AFTER THE HOLIDAYS ONLY.) This will be a GREAT benefit for all Alley Cat readers that are HYIP investors. This is a FREE SERVICE AND ALLEY CAT WILL ALWAYS REMAIN A FREE NEWSLETTER BECAUSE OF OUR SPONSORS.
BIG ANNOUNCEMENT IN EARLY January
Please remember Alley Cat News NEVER Recommends ANY program even if we do get the DD on them. This is for INFORMATIONAL PURPOSES ONLY. We do invest in some of the programs BUT ONLY IF WE GET THE DD FROM THE COMPANIES. If we can't get the DD from the company we pass on investing in them. We feel that in order to get our hard earned money they need to show us they are for real with the DD. WE ARE NOT SAYING that any program that doesn't provide us with the DD is a scam however we feel it is wiser to only invest when we know the DD of the company. If there are other HYIP newsletters or sites that have the DD we mentioned on the company and are willing to release it if the company has problems that is another bonus to HYIP investors.
Your comments on this question are welcome at alleycatnews@aol.com
I know we have MANY NEW readers to Alley Cat as our subscriber list continues to grow. For information on daily programs and other interesting HYIP news please review our past issues of Alley Cat HYIP News at our website. You can find the Past Newsletters under the tab of "HYIP Newsletter"
The average HYIP investor who has $2000 or less to invest shouldn't be in more than 5-10 different programs to start off. And there are enough of those good programs out there that will allow Due Diligence, actually trade/gamble/pool your funds. I mean if your really looking to make money in the industry why mess with the scam programs. If you don't want to trade yourself, at least pick decent programs that ACTUALLY Invest YOUR money.
Alley Cat News NEVER RECOMMENDS AN HYIP PROGRAM. The only program Alley Cat News ever recommends is IPS, Nasdaq Profit Trading, and Retire Quickly.
However Alley Cat performs Due Diligence on programs and will let our readers know of programs that have had a decent track record. In these cases we have personally spoken with the Program Admin., and will have the personal contact information available as well.
WE DO NOT RECOMMEND ANY PROGRAM. YOU INVEST IN HYIP's AT YOUR OWN RISK. ALLEY CAT CANNOT BE HELD LIABLE FOR LOSSES THAT INCUR DURING YOUR HYIP INVESTING.
---
You can always find the current issue of Alley Cat News HYIP on the website under HYIP Newsletter.
---
We are currently looking for additional HYIP programs to invest in for our $200 Test. (Please e-mail us any program you feel would pass our Due Diligence.) Alleycatnews@aol.com
THE $200 TEST
JUST BECAUSE WE INVEST IN THE FOLLOWING PROGRAMS IN NO WAY MEANS WE ENDORSE OR GUARANTEE PAYMENTS FROM THE PROGRAMS. WE ARE INVESTORS JUST LIKE YOU. WE HAVE DONE SOME INITIAL HYIP SCREENING BUT YOU NEED TO DO ADDITIONAL RESEARCH. WE WILL END UP GETTING SCAMMED BY SOME PROGRAMS THAT WE INVEST IN. THAT'S JUST THE WAY IT IS. HOWEVER WITH GOOD MONEY MANAGEMENT AND RESEARCH HOPEFULLY WE WILL MAKE A PROFIT IN THE END.
We are currently in the following programs for our $200 TEST.
All programs that we invest $$$ in for the $200 TEST, we have the program Admin. Phone #, Copy of Driver's License, and copy of utility bill. We do Due Diligence on all programs that we invest our money into.
1. Sports Wagers http://groups.yahoo.com/group/Sportswagers/
Due to the fact that we may be adding some additional programs to the $200 Test we decided to preserve our capital and have not made any new spends to any program at this time. Over the last week or so they have been doing much better with there picks. We will probably revisit them when our new DD site is up.
NET RESULT OVERALL -$16.25
2. Daily-Trades
We bet $15 per trade. We limit ourselves to 2 losses in a row. We are going to stop playing daily trades for a little while we still have a net profit overall with them however we may have other $200 Test programs coming on soon so we are going to save some capital for that.
Daily trades announced last week that they had 75% loss for the week in their weekly trading fund. I have spoken with the Admin. and they do not plan on offering a weekly/monthly trading program again and will stick only with the daily/evening selection that they have been doing for the past year. (75% + investment back on winning trades) They also stated to me that most of the people that did invest in the weekly fund are in profit. Those few that aren't in profit yet they will pay them back over the course of time through profits they earn on the daily/evening trades. I believe that the Admin. is honest and if he says he will pay those that aren't in profit yet back I believe him. (Not many people in this industry would I give that benefit of a doubt to.) If you are someone who was in the WEEKLY FUND and you are not in profit, please e-mail me with the % you are still down so I can keep tabs on it for you. Alley Cat never did enter the weekly fund we only played the daily/evening trades. If things change with the Admin. I will release the DD information but at this point I don't believe that is of benefit to anyone.
NET RESULT FOR WEEK $0
NET RESULT Overall + $3.75
3. Cash Domain Pool
We have joined this program for $20. Total received so far is 63.9% or $12.79 Payouts are each Monday. They have moved there domain to the above address. Also the Minimum spend is now $50.
NET RESULT +$12.79
4. Steady Growth Traders
http://groups.yahoo.com/group/steadygrowthtraders/
We have entered this program with a $40 deposit. We are going to compound each week for at least a month or two at which time we will make a withdrawal of some of the profits. For the purposes of the $200 Test any interest earned for the week will be included. SGT MAY BE CLOSING SOON TO NEW MEMBERS. So if you are interested in this HYIP you may have a limited time to join. Check the site for details.
Steady Growth Traders (SGT) returned 5% profit this week.
NET RESULT + $19.03
WE ARE LOOKING FOR MORE PROGRAMS TO PLACE IN THE $200 TEST. IF YOU KNOW OF PROGRAMS THAT WOULD PASS OUR DUE DILIGENCE PLEASE E-MAIL THEM TO US AT alleycatnews@alleycatnews.net
$200 TEST OVERALL RESULTS
($34.06 Loss)
$0 at Sportswagers, $0 at Daily-trades, $20 Cash Domain $40 at Steady Growth Traders Total $$$ at risk $60, $105.94 in Cash.
(Some losses are from Fall of 2002. Those companies are no longer listed on the $200 Test, however there losses were included in the above NET Results overall.)
We aren't too active right now in the DD programs and the $200 test due to the fact we are in kind of a wait and see mode with the new DD enhancements that will be coming in mid-late Jan 2004.
WE ARE A WEEKLY NEWSLETTER. YOU CAN LOOK FOR US IN YOUR E-MAIL BOX EACH WEDNESDAY FOR OUR $200 TEST, INFORMATION ON THE HYIP WORLD, AND OTHER ONLINE BUSINESS INFORMATION.
Sponsor this e-mail
20K people only $50
Get your Program in front of 20,000!
contact us for rates on Solo Ads.
Alleycatnews@alleycatnews.net
---
NEXT NEWSLETTER WILL BE JANUARY 7TH 2004!
---
Alley Cat would like to thank our Sponsors for making this newsletter available for FREE.
Disclaimer: We try and allow only quality HYIP's to advertise with us. We research the program BEFORE allowing it to advertise however we can not be held liable for any advertiser in this newsletter. Alley Cat News DOES NOT ENDORSE ANY ADVERTISER .Alley Cat News reserves the right to refuse any advertisement. THIS IS NOT FINANCIAL ADVICE AND IS FOR INFORMATIONAL PURPOSES ONLY
For questions on advertising e-mail us at ALLEYCATNEWS@aol.com
Alley Cat News
PMB #103
3600 S. College Rd Ste E
Wilmington, NC 28412
910-452-7362