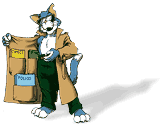 Welcome to the ALLEY CAT NEWSLETTER !
December 15th, 2004
GOLD PRICES/NEWS
GOLD PRICES were WHACKED HUGE one day last week. Falling below the weak $450 support however holding nicely above the $430 support. My trade for a Bull Contract on Gold Expired today for a FULL PAYOUT. The target price was above $427 so we were easily above that. You can check details on that trade back in mid/late Oct. Alley Cat Newsletters. I would like to see $430 an ounce hold for Gold and kind of build a base here from $430-$440 for a little while before making another big run. That is what I would LIKE to see. I would for sure like $430 to hold for a continued longer term bull market in Gold.
ALWAYS LOG INTO EGOLD VIA https://www.e-gold.com bookmark it and use your bookmark to go to the site rather than via any e-mail or link online.
PLEASE USE YOUR HEAD WHEN IT COMES TO E-MAIL. Egold/Paypal will NEVER e-mail you asking you to log in, so when you get an e-mail like that DELETE IT.
Nasdaq Profit Trading Update
Nasdaq Profit Trades are 1-1 for the month of December with 8 more trades later on this month. Last Dec. we went 7-2 so will see what happens this month.
IF YOU DON'T HAVE ALL THE NPT TRADES + the Secondary system check out http://www.nasdaqprofits.com
Below is a chart of our trade for December 14th which was a LOSING TRADE! Yes I even show you losing trades! We DON'T Win all our trades but with good money management you can make good money with the system if it performs as it has in the past. (Of course past performance is no indication of future performance, I go into more details on that on the nasdaqprofits.com website check it out.)
Click on the chart for a bigger version.
We have on average 6-8 trades per month.
When you trade yourself you control your $$$$; if you are tired of HYIP's that change the rules after you invested or just plain disappear, you may want to look into trading for yourself.
90 DAY MONEY BACK GUARANTEE
(Make $$$$ referring people to the nasdaqprofits.com website!)
Your comments on this question are welcome at alleycatnews@aol.com
---
You can always find the current issue of Alley Cat News on the website under Newsletter.
---
YOUR $$$$$
Don't Throw your $$$ Away
How many things will you receive this Christmas season that are things you really don't NEED or in all likelihood wind up at a garage sale in 5 years?
I had this conversation with my wife the other day we were on the couch looking at all the STUFF on the walls or knick knack's on the coffee table. Junk that we couldn't remember why we purchased it. Counting the stuff up in my head it was worth about the same as a Nice week Vacation somewhere, and that was just the STUFF in the Living room!!!
Everyone does it and I am not saying Pinch every penny but their is so much JUNK we buy especially in the U.S. It just ends up being stuff, things we end up giving away, selling, or just collecting dust.
If you have kids or your friends have kids just look at ALL their toys. They open the present with BIG WIDE EYES play with it for a while, if it is a GREAT toy they may get a year out of it before you find it in the back of the closet. But in most cases that toy will be back there buried within a month or two. WHAT A WASTE!!
Again I am not saying don't buy your kids toys. But their is SO MUCH MORE THEY CAN USE! Maybe give them, if they are the right age a book or tape series about how to handle/manage there money. Even if they are getting a small allowance it can add up to a whole lot!! Their are LOTS of great books on the subject of finances and kids. From Toddlers (YES TODDLERS) thru college students and parents as well. A great resource is http://www.crown.org Here is a link to their Children's section. http://www.crown.org/cart/children.asp
WHAT YOU KNOW ABOUT $$$$ AND LIFE NOW, WHAT IF YOU KNEW THAT WHEN YOU WERE A KID? HOW MUCH OF AN IMPACT WOULD THAT OF HAD ON YOUR LIFE?
IT WOULD BE HUGE!!!!
What would you have done with that $100 or $1000 back when you were 10-13 if you knew how to use it. Give your kids or your friends kids the Gift of Financial freedom!
Or instead of giving presents that no one would remember in a year take a trip instead.
Answer the following question Honestly please. Do you remember all that you received last year for Christmas or your birthday? Unless it really meant something BIG more than likely you don't.
I will tell you as I am writing this I do remember our family Christmas gift last year. It was a couple of nights at a hotel that had an indoor water park in it. (In Michigan you need an indoor waterpark in December. LOL) All our family pitched in got 2 big rooms for a couple of nights. We had 17 of us (8 kids 10 years old or younger) so it was LOUD! It was a great time together that I will remember for a long time.
But I can also tell you I have NO IDEA what my wife got me last year for Christmas or even what she got me for my birthday which was only 4 months ago. Probably a set of clothes or something I don't recall. The point is it wasn't something that more than likely I needed it was just more STUFF! (I will have to ask her when she gets home from work today what she got me.)
I asked my nephew's and Nieces this fall what they would rather do for Christmas, go to that Hotel with the water park this year again or presents? Kids being kids a couple of them said they wanted BOTH. LOL. But when I pinned them down they all said they wanted to go back to the hotel. Even though we will not end up going back to the hotel this year they enjoyed those 2 days of fun rather than some toys. (We aren't doing presents this year though either. We all chipped in and gave the money that we normally spend on presents to one of my sisters whom is adopting a 10 year old boy from Russia. So I guess we are getting them a new brother for Christmas. :> ) My sister and brother in law are actually in Russia now picking up their new son and will hopefully be home for the holidays.
The point of this money section is to say there is more than just hustling around to get presents this year. Spend your money wisely this holiday season and don't overspend especially for junk that will end up in the back of someone's closet in a month.
Unclutter your life and live it for its purpose to live for Christ. Be a good steward of your life and $$$$. AN AWESOME BOOK TO READ IS "SUCCESS GOD'S WAY" by Charles Stanley. You can find it on Amazon.com for about $10 and is well worth it especially if you are in the business world.
OTHER NEWS YOU CAN USE!!!
* You can sign up for the trading newsletter at our website http://www.alleycatnews.net
Just fill out the form on the website for the NEW Trading Newsletter. You will get between 1-3 emails a week from that newsletter. It will talk about Gold Prices, Forex, Stock Indices, and maybe from time to time a stock that I really like. I probably won't have another trading newsletter until the first of the year. But after the New Year it should be consistent 1-3 a week. One of the 2 stocks we mentioned in our first Trading newsletter has already DOUBLED!!!!
* This will be the last Alley Cat Newsletter for the year. We will be back in January with a Great $$$$ section about making and saving money for the New Year!! Have a very safe holiday season and a MERRY CHRISTMAS.
*Be careful of HYIP's for the next month +.
----------------------------------------------------------------------------

Sponsor this e-mail
13K+ people only $50
Get your Program in front of 13,000+!
contact us for rates on Solo Ads.
Alleycatnews@alleycatnews.net
---
NEXT NEWSLETTER WILL BE IN JANUARY 2005!
---
Each week Alley Cat will bring you the latest from the ONLINE Investment world. You will get the latest news on Trading, Small Business, Gold Prices and HYIP's. This is a FREE NEWSLETTER we are able to make it available to EVERYONE because of our Sponsors.
SO TELL YOUR FRIENDS!
Give them this link and they can sign up for FREE
Check out our current and past issues of Alley Cat News on our Website, by clicking on the Newsletter Link.
---
Alley Cat would like to thank our Sponsors for making this newsletter available for FREE.
Disclaimer: We try and allow only quality programs to advertise with us. We research the program BEFORE allowing it to advertise however we can not be held liable for any advertiser in this newsletter. Alley Cat News DOES NOT ENDORSE ANY ADVERTISER .Alley Cat News reserves the right to refuse any advertisement. THIS IS NOT FINANCIAL ADVICE AND IS FOR INFORMATIONAL PURPOSES ONLY
For questions on advertising e-mail us at ALLEYCATNEWS@aol.com
Alley Cat News
PMB #103
3600 S. College Rd Ste E
Wilmington, NC 28412
910-452-7362