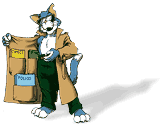 Welcome to the ALLEY CAT NEWSLETTER !
November 10th, 2005
GOLD PRICES/NEWS
Gold prices were on a roll for a while but have fallen back down lately.
On the daily charts Gold needs to get a close above $473 to continue its move higher. However it looks like it is in a down trend channel and I would probably rather be SHORT than long. A close above $473 would break the channel. (And I would want to probably go long then)
On the weekly charts it needs to stay above $456 to continue its bullish move. There is some support in the $435-$440 but it also looks like it could move down $10 an ounce or so.
I think overall it will probably test the $455 area again before it tests the highs again.
I DO NOT HAVE A CURRENT POSITION IN GOLD AND DON'T PLAN TO BASED ON THIS INFORMATION.
ALWAYS LOG INTO EGOLD VIA https://www.e-gold.com ,bookmark it, and use your bookmark to go to the site rather than via any e-mail or link online.
PLEASE USE YOUR HEAD WHEN IT COMES TO E-MAIL. Egold/Paypal will NEVER e-mail you asking you to log in, so when you get an e-mail like that DELETE IT.
---
You can always find the current issue of Alley Cat News on the website under Newsletter.
---
Alley Cat's New Business for EVERYONE!
We here at Alley Cat have thought for a long time about a project that we could put together that would benefit all our readers and we think we have developed it.
We will be launching a new online business later in November or Early December. It will be available to ANYONE WORLDWIDE.
We will have a FREE trial after which it will just be $25. And a person can start making money with this within the first 7 days and all money is paid directly to you! 10 people in your group would be worth $250 a month, 100 people would be worth $2,500 etc.. This has NOTHING to do with HYIP or MLM.
If you are interested in learning more go to
http://www.alleycatnews.net/prelaunch
You will be able to sign up to get more information on the business.
---
Forex System Update
NEW UPDATED SITE AND PRICE!!
Now offering chat room support through the end of the YEAR and a great new price for a limited time! Plus trade Hourly, Daily, and Weekly charts for big gains!
For those of you who have wanted to try the Simpleforex.com system but didn't have the $197 to get started we have GOOD NEWS! The price has been dropped to just $75 and still includes Chat room Support through the end of the year. I have updated the ebook as well with Hourly, Daily, and Weekly trade options! So even if you can only make trades once a week you can still profit. And we still have a GREAT MONEY BACK GUARANTEE! If not happy get your $$$ BACK.
Below is a chart of a recent trade I placed on November 10th. It was a nice winner, you can view the charts by clicking on them.
Click the chart for a larger image.
---
Below is a Daily chart on the Eur/USD. I DID NOT PLACE THIS TRADE, however I posted this chart to show that the system works well with ALL TIME FRAME charts from 10 minutes to Weekly charts. So if you want to trade everyday or just a couple times a month you can find your own time to trade.
Click the chart for a larger image.
---
OTHER NEWS YOU CAN USE
* CEC THE HYIP WAS SHUT DOWN BY THE GOVERNMENT HOWEVER FROM THE LAST UPDATE LOOKS LIKE THE REFUNDS WILL BE GOING OUT WHICH IS SOME GOOD NEWS FOR THE INVESTORS IN THAT PROGRAM.
* I have added a NEW LINKS PAGE on Alley Cat News main page at http://www.alleycatnews.net
On the links page it lists different trading systems, business opportunities and places to advertise your own business. Check it out!
* The holiday season in the U.S starts in just 2 weeks with Thanksgiving. This historically has been an AWFUL time for HYIP investments. Many big HYIP programs have bitten the dust from Nov-Jan. PLEASE be careful if you are in any HYIP program. Pull out $$$ before everyone else does and the company goes under.
---
THE NEXT NEWSLETTER, LORD WILLING, WILL ARRIVE IN LATE NOVEMBER 2005!
Check out our current and past issues of Alley Cat News on our Website by clicking on the Newsletter Link.
---
Alley Cat would like to thank our Sponsors for making this newsletter available for FREE.
Disclaimer: We try and allow only quality programs to advertise with us. We research the program BEFORE allowing it to advertise however we can not be held liable for any advertiser in this newsletter. Alley Cat News DOES NOT ENDORSE ANY ADVERTISER .Alley Cat News reserves the right to refuse any advertisement. THIS IS NOT FINANCIAL ADVICE AND IS FOR INFORMATIONAL PURPOSES ONLY
For questions on advertising e-mail us at ALLEYCATNEWS@aol.com
Alley Cat News
PMB #103
3600 S. College Rd Ste E
Wilmington, NC 28412
910-452-7362