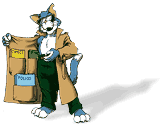 Welcome to the ALLEY CAT DETECTIVE ONLINE INVESTMENT NEWSLETTER !
October 30th, 2003
Each week Alley Cat will bring you the latest from the ONLINE Investment world. You will get the latest news on HYIP's, Games,(Which ones are SCAMS and which ones show potential), other Online Investments, solid money management strategies, along with Gold prices to make the most of your online currency, And anything else that relates to investing and money. This is a FREE NEWSLETTER we are able to make it available to EVERYONE because of our Sponsors.
SO TELL YOUR FRIENDS!
Give them this link and they can sign up for FREE
Check out our current and past issues of Alley Cat News HYIP on our Website, by clicking on the HYIP Newsletter Link.
IN ORDER TO VIEW THE NEWSLETTER YOU WILL NEED TO GO TO THE ALLEY CAT NEWS WEBSITE. DUE TO MANY E-MAIL SERVERS BLOCKING HTML EMAILS ETC... THIS WAY EVERYONE CAN VIEW THE ALLEY CAT NEWSLETTER ON THE WEBSITE EACH WEEK. JUST GO TO http://www.alleycatnews.net
and click on HYIP Newsletter to view the current issue and past issues of the Newsletter.
NEWS from the HYIP World
GOLD PRICES have continued to move higher as of this writing Gold is at $390 an ounce. If we can get Gold to close above $392 an ounce we should be headed to $400 an ounce! It has been a long time since we have hit $400 an ounce and it would be a welcome sight. If you want to make some money if there is a run up in Gold, purchase some E-gold from business-express.
For all your E-gold needs use http://www.business-express.net/egold.php
ALWAYS LOG INTO E-GOLD VIA https://www.e-gold.com bookmark it and use your bookmark to go to the site rather than via any e-mail or link online.
PLEASE USE YOUR HEAD WHEN IT COMES TO E-MAIL. E-gold/Paypal will NEVER e-mail you asking you to log in, so when you get an e-mail like that DELETE IT.
INDICES PROFIT SYSTEM (IPS)/30 MINUTES TO PROFIT (30MPS) NEWS
The deadline has passed to purchase the IPS and 30MPS. We may offer the systems again after the New Year I haven't decided yet.
THOSE THAT DID ORDER THE SYSTEM YOU SHOULD OF RECEIVED AN E-MAIL "INDICES PROFIT SYSTEM ORDER" If you ordered but did not receive the IPS yet please e-mail me at alleycatnews@aol.com
E-CURRENCY NEWS
Starting in Nov. you can earn Egold, for reading the Newsletter. More details in the weeks to come!!
http://www.business-express.net/egold.php for all your E-CURRENCY needs. Bookmark the Business Express site for future use. Business-Express has a LONG track record and is one of the oldest E-Currency Providers in the business. Whether you need to buy or sell your E-gold use the best in the business. Don't be scammed by an E-currency Provider again.
HYIP PROGRAMS
Please remember Alley Cat News NEVER Recommends ANY program even if we do get the DD on them. This is for INFORMATIONAL PURPOSES ONLY.
I think later next month we will have some exciting news on the Due Diligence and $200 Test program. It looks very interesting and informative for all readers so stay tune.
It looks like another high profile program has CLOSED. Profitpartner.org has closed their site until further notice which means more than likely for good. Will they pay out refunds more than likely not but will see.
Comshares was mentioned last week as having some payout and log in problems. Comshares finally updated their members and it looks like they are slowly catching up on payments. Hopefully for those invested things will run smoothly.
Fox Investments had too high of a minimum for the $200 Test program however we did put $100 into the program we should start to see payouts starting next newsletter. We completed the DD on them last week and you find our write up about the company in last weeks newsletter.
(http://www.fox-investments.com)
Please remember Alley Cat News NEVER Recommends ANY program even if we do get the DD on them. This is for INFORMATIONAL PURPOSES ONLY. We do invest in some of the programs BUT ONLY IF WE GET THE DD FROM THE COMPANIES. If we can't get the DD from the company we pass on investing in them. We feel that in order to get our hard earned money they need to show us they are for real with the DD. WE ARE NOT SAYING that any program that doesn't provide us with the DD is a scam however we feel it is wiser to only invest when we know the DD of the company. If there are other HYIP newsletters or sites that have the DD we mentioned on the company and are willing to release it if the company has problems that is another bonus to HYIP investors.
If you have additional programs you would like us to contact please send them to us at alleycatnews@alleycatnews.net we will check them out and report back.
Your comments on this question are welcome at alleycatnews@aol.com
I know we have MANY NEW readers to Alley Cat as our subscriber list continues to grow. For information on daily programs and other interesting HYIP news please review our past issues of Alley Cat HYIP News at our website. You can find the Past Newsletters under the tab of "HYIP Newsletter"
The average HYIP investor who has $2000 or less to invest shouldn't be in more than 5-10 different programs to start off. And there are enough of those good programs out there that will allow Due Diligence, actually trade/gamble/pool your funds. I mean if your really looking to make money in the industry why mess with the scam programs. If you don't want to trade yourself, at least pick decent programs that ACTUALLY Invest YOUR money.
Alley Cat News NEVER RECOMMENDS AN HYIP PROGRAM. The only program Alley Cat News ever recommends is IPS and Save100k.
However Alley Cat performs Due Diligence on programs and will let our readers know of programs that have had a decent track record. In these cases we have personally spoken with the Program Admin., and will have the personal contact information available as well.
WE DO NOT RECOMMEND ANY PROGRAM. YOU INVEST IN HYIP's AT YOUR OWN RISK. ALLEY CAT CANNOT BE HELD LIABLE FOR LOSSES THAT INCUR DURING YOUR HYIP INVESTING.
---
You can always find the current issue of Alley Cat News HYIP on the website under HYIP Newsletter.
---
We are currently looking for additional HYIP programs to invest in for our $200 Test. (Please e-mail us any program you feel would pass our Due Diligence.) Alleycatnews@aol.com
THE $200 TEST
JUST BECAUSE WE INVEST IN THE FOLLOWING PROGRAMS IN NO WAY MEANS WE ENDORSE OR GUARANTEE PAYMENTS FROM THE PROGRAMS. WE ARE INVESTORS JUST LIKE YOU. WE HAVE DONE SOME INITIAL HYIP SCREENING BUT YOU NEED TO DO ADDITIONAL RESEARCH. WE WILL END UP GETTING SCAMMED BY SOME PROGRAMS THAT WE INVEST IN. THAT'S JUST THE WAY IT IS. HOWEVER WITH GOOD MONEY MANAGEMENT AND RESEARCH HOPEFULLY WE WILL MAKE A PROFIT IN THE END.
We are currently in the following programs for our $200 TEST.
All programs that we invest $$$ in for the $200 TEST, we have the program Admin. Phone #, Copy of Driver's License, and copy of utility bill. We do Due Diligence on all programs that we invest our money into.
1. Sports Wagers http://groups.yahoo.com/group/Sportswagers/
Due to the fact that we may be adding some additional programs to the $200 Test we decided to preserve our capital and have not made any new spends to any program at this time. We have also taken on some losses in the last month or so.
NET RESULT OVERALL -$16.25
2. Daily-Trades
We bet $15 per trade. We limit ourselves to 2 losses in a row. We are going to stop playing daily trades for a little while we still have a net profit overall with them however we may have other $200 Test programs coming on soon so we are going to save some capital for that. They have HAD A VERY NICE RUN OVER THE LAST WEEK. Congrats to them and all those invested in Daily trades.
NET RESULT FOR WEEK $0
NET RESULT Overall + $3.75
3. Cash Domain Pool
http://www.cashdomain.net/gold.htm
We have joined this program for $20. Total received so far is 48.7% or $9.74 Payouts are each Monday.
NET RESULT +$9.74
4. Steady Growth Traders
http://groups.yahoo.com/group/steadygrowthtraders/
We have entered this program with a $40 deposit. We are going to compound each week for at least a month or two at which time we will make a withdrawal of some of the profits. For the purposes of the $200 Test any interest earned for the week will be included.
Steady Growth Traders (SGT) returned 2% profit this week.
NET RESULT + $3.24
WE ARE LOOKING FOR MORE PROGRAMS TO PLACE IN THE $200 TEST. IF YOU KNOW OF PROGRAMS THAT WOULD PASS OUR DUE DILIGENCE PLEASE E-MAIL THEM TO US AT alleycatnews@alleycatnews.net
$200 TEST OVERALL RESULTS
($52.91 Loss)
$0 at Sportswagers, $0 at Daily-trades, $20 Cash Domain $40 at Steady Growth Traders Total $$$ at risk $60, $87.09 in Cash.
(Some losses are from Fall of 2002. Those companies are no longer listed on the $200 Test, however there losses were included in the above NET Results overall.)
WE ARE A WEEKLY NEWSLETTER. YOU CAN LOOK FOR US IN YOUR E-MAIL BOX EACH WEDNESDAY FOR OUR $200 TEST, INFORMATION ON THE HYIP WORLD, AND OTHER ONLINE BUSINESS INFORMATION.
Sponsor this e-mail
20K people only $50
Get your Program in front of 20,000!
contact us for rates on Solo Ads.
Alleycatnews@alleycatnews.net
---
NEXT NEWSLETTER WILL BE NOVEMBER 5TH 2003!
---
Alley Cat would like to thank our Sponsors for making this newsletter available for FREE.
Disclaimer: We try and allow only quality HYIP's to advertise with us. We research the program BEFORE allowing it to advertise however we can not be held liable for any advertiser in this newsletter. Alley Cat News DOES NOT ENDORSE ANY ADVERTISER .Alley Cat News reserves the right to refuse any advertisement. THIS IS NOT FINANCIAL ADVICE AND IS FOR INFORMATIONAL PURPOSES ONLY
For questions on advertising e-mail us at ALLEYCATNEWS@aol.com
Alley Cat News
PMB #103
3600 S. College Rd Ste E
Wilmington, NC 28412
910-452-7362