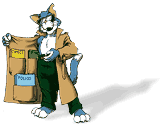 Welcome to the ALLEY CAT NEWSLETTER !
October 20th, 2004
GOLD PRICES/NEWS
GOLD PRICES have rallied since last newsletter and are approaching the highs set earlier this year. I feel we will break the highs at some point and rally to $450 an ounce at least by the end of the year. If Gold broke below $405-407 I would reconsider. However, at this point I think Gold should head higher. THAT BEING SAID TOMORROW OCTOBER 21ST. I plan on placing a BULL contract on Betonmarkets for Gold Prices. With an ending date just before the end of the year. (60 days) (THIS IS NOT A RECOMMENDATION OR A SUGGESTION. THIS IS JUST A TRADE THAT I PLAN ON DOING TOMORROW.) The reason I am doing it tomorrow is so I don't have an advantage over anyone else should they decide to trade it.
Need to Buy or Sell, Egold or E-bullion? Need it fast? Then use the Exchanger everyone is talking about for fast friendly service http://www.capitalex.com
ALWAYS LOG INTO EGOLD VIA https://www.e-gold.com bookmark it and use your bookmark to go to the site rather than via any e-mail or link online.
PLEASE USE YOUR HEAD WHEN IT COMES TO E-MAIL. Egold/Paypal will NEVER e-mail you asking you to log in, so when you get an e-mail like that DELETE IT.
Nasdaq Profit Trading Update
Nasdaq Profit Trades has a record of 2-1 for the month. Those of you who own the NPT system and took all the trades over 60%. Would have a 5-2 record for the month of Oct. on Betonmarkets And for September would of had a 7-2 record! NPT PERFORMS BEST IN THE FALL AND WINTER MONTHS IF YOU ARE LOOKING FOR SOMETHING THAT IS ACCURATE YOU NEED TO TAKE A LOOK.
Below is a chart of our trade for Oct. 18th it was a BIG WINNER!!
Click on the chart for a bigger version.
We have on average 6-8 trades per month.
When you trade yourself you control your $$$$; if you are tired of HYIP's that change the rules after you invested or just plain disappear, you may want to look into trading for yourself.
90 DAY MONEY BACK GUARANTEE
(Make $$$$ referring people to the nasdaqprofits.com website!)
Your comments on this question are welcome at alleycatnews@aol.com
---
You can always find the current issue of Alley Cat News on the website under Newsletter.
---
Forex Trading!
I had a couple of losing trades this week and got pretty greedy so I am down since last week however still UP 10% for the month of October. And up 65% since September!! We are only having the Forex system available until Nov 5th so if you want it NOW is the time to get it.
Forex trading really gives you great freedom and with the no commissions it is tough to beat. IF YOU ARE SERIOUS about trading and really want to put the time and money into making it work I feel this is the system for you.
DEADLINE TO GET THE FOREX SYSTEM IS NOVEMBER 5TH!
THIS SYSTEM HAS NOTHING TO DO WITH THE PRIOR SYSTEM ALLEY CAT OFFERED. So whether you own the other system or not it doesn't matter. This system goes for bigger gains and uses great indicators and trailing stops to help you become profitable for the long term.
After Purchasing the product you will have the opportunity to Download the system IMMEDIATELY. So don't miss that step when ordering.
The system is STEP BY STEP.
It shows you how to setup the charts, with the indicators that we use.

It shows you how to enter/exit a trade.

Money Management

Using Stops/Trailing Stops

How to use the System Trading on Betonmarkets
Where to setup a Forex Brokerage account for as little as $200
We also give you Email support through Jan 2005!
You can check out all the details at our website at........................
http://www.alleycatnews.net/forex
Here is a recent trade produced by the System.
Click on Chart for Larger Image
QUESTION????
I am considering setting up a Forex Trading Chat room. I would run the chat room for a few hours each day if there is enough interest.
I would probably have hours like 6.30am-11am EST and than again at 10-11pm EST and maybe at 2.00-3.30am EST.
I want to gauge how much interest there might be for such a room. If you could email at alleycatnews@aol.com and answer the following questions.
1. What hours would you take part?
2. How do you trade Forex account or Betonmarkets?
3. What is a fair price? $0,$10,$25 etc...
-----------------------------------------------------------
A separate question I would like answered is what else would you like to see in the Newsletter?
Want to see more Sports betting News? Free section on sports betting? More news on HYIP's?, News on Cycler programs? MLM's? Prizes? Ways to make money online? Trading recommendations? Etc....
PLEASE LET ME KNOW WHAT YOU WANT TO SEE IN THE NEWSLETTER. I will take ALL suggestions and if it fits the Newsletter well, I will implement them.
Email me at alleycatnews@aol.com
HOLIDAY SCAMS!!!!
This information in Green was posted last year around this time in the Alley Cat Newsletter(Nov 5th 2003). I thought I would re-post it in today's newsletter as it is important. It will give you a head start on your investment safeguards. Additional information that I added for this year are in BLACK.
The holidays are coming!!! Thanksgiving in the U.S.A has historically been the kick off of the holiday shopping season. Though over the last few years it seems like it is more like Labor day. I went into a store a couple of weeks ago and saw Christmas decorations already!!
People tend to need more money over the holidays for gifts, vacations, etc..
The reason I mention that is because Administrators that run HYIP programs need $$$ too. And if this year is like every other in HYIP you will probably see the collapse of some WELL known BIG HYIP programs in the last 2 months of the year.
Remember Ez-bucks last year? (That seems like a LOT longer than 10 months ago) Ez-bucks had over 16,000 accounts and over $7,000,000 in deposits according to there website. They closed up shop in December of last year right around the holidays. Leaving thousands of investors with the holiday blues.
In the coming weeks you will also see programs with names like "Holiday Cash" or "Christmas Gold". Which will no doubt be total scams yet every year investors fall for it. More and more huge % return programs will come out as well with claims of 500-1000% or more, in time for your holiday shopping. Of course those are scams as well. You may say well it is only $10 that isn't much to risk. Well, you have a ZERO % chance of getting money from a company like that, if you are ever tempted to do something like that, just take your $10 and buy some instant lottery tickets, or do a 10 team parlay bet on sports, or put the $10 on a trifecta at the horse track. At least you have a shot a winning rather than nothing.
HYIP programs admin. are people too. Although a lot of investors invest more in the company rather than the individual. A person's needs, wants, and greed can become a factor especially around the holidays. Just something to keep in mind as the holiday season approaches.
A new twist this holiday season is the Cycler programs that are available. I have NO DOUBT that between now and Mid January at least 1 if not a couple of HIGH profile Cycler programs will end up collapsing. These next couple of months are danger zones for HYIP's I feel they offer even more risk than they normally do. I don't invest in many currently as I feel my own trading produces better results, however if I were a big investor I would definitely scale back my investments and take a good chunk of my profits off the table over the next week or 2.
People need money for the Holidays etc... If it is a Ponzi and everyone starts taking money out Mid Nov-end of Dec the program will collapse. Well get YOUR money out ahead of time at least a good portion. Hey if the program lasts past the holiday season and you want to reinvest or put the money back in than Great, you only missed a couple of months worth of Interest not that big of deal. However if the company goes down in that 2-3 months you Lost your investment.
It's been a PROVEN FACT that many High profile programs go down for the count around this time of year. If I am not mistaken Nova Lights started to have there problems around the holidays last year as well. DOES THAT MEAN THAT IS THE ONLY TIME PROGRAMS GO DOWN? OF COURSE NOT, but some of the BIGGEST programs the industry have known did go down around the holidays.
And even if you feel they are a quality trading program that really does trade your money etc... Most Professional traders will tell you that in December there are fewer quality trades to take because so many traders do take vacations and time off to spend with their families plus the markets are closed due to the holidays more in that month limiting trading. So it still might be a good time to take some money off the table and reinvest it for the New Year when things pick up. (Though Alley Cat's Trading systems do trade a good deal in Dec. Volume on certain trading days are quite light)
There is nothing wrong with being more cautious with your money especially around this time of year. Just be careful especially with some of these cycler programs. Good luck.
Other News you can use
* The ecurrency Evocash is closing its doors and sending out checks to all those who still have funds with their currency. It is a sad day as I know many people used Evocash. The reason for the closure is due to Financial and server attacks. Hopefully they will honor all withdrawal requests. If you have Evocash account go to there website for all the details.
* The Government has come down on Foreign Fund
Sponsor this e-mail
13K+ people only $50
Get your Program in front of 13,000+!
contact us for rates on Solo Ads.
Alleycatnews@alleycatnews.net
---
NEXT NEWSLETTER WILL BE ON OCTOBER 27th 2004!
---
Each week Alley Cat will bring you the latest from the ONLINE Investment world. You will get the latest news on Trading, Small Business, Gold Prices and HYIP's. This is a FREE NEWSLETTER we are able to make it available to EVERYONE because of our Sponsors.
SO TELL YOUR FRIENDS!
Give them this link and they can sign up for FREE
Check out our current and past issues of Alley Cat News on our Website, by clicking on the Newsletter Link.
---
Alley Cat would like to thank our Sponsors for making this newsletter available for FREE.
Disclaimer: We try and allow only quality programs to advertise with us. We research the program BEFORE allowing it to advertise however we can not be held liable for any advertiser in this newsletter. Alley Cat News DOES NOT ENDORSE ANY ADVERTISER .Alley Cat News reserves the right to refuse any advertisement. THIS IS NOT FINANCIAL ADVICE AND IS FOR INFORMATIONAL PURPOSES ONLY
For questions on advertising e-mail us at ALLEYCATNEWS@aol.com
Alley Cat News
PMB #103
3600 S. College Rd Ste E
Wilmington, NC 28412
910-452-7362