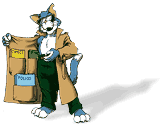 Welcome to the ALLEY CAT NEWSLETTER !
September 29, 2006
GOLD PRICES/NEWS
Gold prices tanked just after the release of our last newsletter. I said in that newsletter that it was critical time for Gold. And if it broke $607 that we could head to $550. Well, it broke $607 and moved down fast. But stopping just below $580. Their is some decent support around there and $565. But in order for Gold to head higher it will need a close above $607 and than again above $620ish. I still think it has more down to go. So if I had to be in a position I would probably like the short better than the long right now. With stops above $620ish on a close. .
I currently do not have any position in gold right now nor do I plan on it.
---
ALWAYS LOG INTO EGOLD VIA https://www.e-gold.com bookmark it, and use your bookmark to go to the site rather than via any e-mail or link online.
PLEASE USE YOUR HEAD WHEN IT COMES TO E-MAIL. Egold/Paypal will NEVER e-mail you asking you to log in, so when you get an e-mail like that DELETE IT.

---
You can always find the current issue of Alley Cat News on the website under Newsletter.
---
FOREX TRADING SOFTWARE!
The Forex trading software is going really well. Especially for those that follow my signals on the yahoo messenger each day. We had a 4-1 record last week. We will see how this week finished.
You can check daily at our New Forex Blog for results at
http://www.WinAtForexTrading.com
I offer 90 days of instant messenger support which includes the trades I take. The 2 forex software packages, the Ebook that includes Historical stats and other tips that can help you become a better trader.
Below you will find a chart of a recent GBP/YEN trade made based on the LazyTrading.com software.
It was a nice 52 pip winner!
CLICK THE CHART TO SEE ENLARGED CHART!
You can trade the software via Betonmarkets or your forex broker. I include great tips and tricks in the ebook that is included to help you produce more winners. I have been trading this software for a year now and have had tremendous success. All you have to do is click on a box and check for signals and the software will do the rest for you. It will give you times of when to enter and EXIT the market.
Once you buy the software you own it for LIFE!
check out all the details at
---
NEW TRADING BLOGS
As mentioned a couple of places in this newsletter. I have 2 NEW Trading blogs. They are updated DAILY. I have a Nasdaq/Stocks blog which deals with the Nasdaq index and stocks. (This blog is updated by 9.30am Eastern/13.30 GMT each trading day) On this blog you will find my thoughts on the trading day. Things I may be taking myself or Historical stats on the Nasdaq etc.. You can use this information if you want to trade via Betonmarkets or Futures broker or Stock broker etc..
You can find this daily blog at http://www.NasdaqProfits.com
The other blog deals strictly with Forex trading. It will be my thoughts on the Forex market and trades that I may be taking in the Forex for that day. A lot of the information is based on my trading from the LazyTrading.com Software I post my results on there etc.. (This blog is updated by 1200 noon Eastern/1600 GMT)
You can find this DAILY blog at
http://www.WinAtForexTrading.com
Just bookmark both sites and visit them DAILY for help on your trading.
---
StockDoubling.com
WOW! WOW! WOW!
What a crazy couple of days for our stock pick. The symbol of our pick is PSIT. I purchased it back in late May for .76 cents. It has pretty much stayed in a tight range from about .65-.85 for the most part. On Wednesday September 27th it closed up .02 cents to close at .70 cents on 1,100 share traded. On September 28th it started with a little more action and just TOOK OFF. It hit a High of $2.28!! I only needed $1.52 in order to get my double for the stock. But I wasn't watching as closely as I should have anyway I got out at $2! At 1300 shares that is $2600. I started the project on October 31st 2005 with $500. Now I have $2600 in only 11 months not a bad start for this project.
I have updated the StockDoubling.com website with information on what I am trying to do with this project etc.. If you want to be part of the StockDoubling.com Newsletter you can sign up on the site it is FREE.
i am trying to turn $500 into a $1,000,000 with 11 stock trades. 2 trades down 9 left to go!
---
OTHER NEWS YOU CAN USE
* A couple of websites have been updated recently and can help you with your finances especially as we get closer to the holiday season.
* The government has released a document saying they believe they 12DailyPro brought through the program $500,000,000! If true that is an amazing amount of money to do that in a 9 month period. To be brought down by the government instead of by their own collapse is pretty amazing as well. To have things in order to be able to handle payouts with that kind of $$$ is amazing. Hopefully those that still have money tied up with that program will at least get some money back.

* Egold was down for a number of hours on Wednesday but looks like things are back to normal now which is good news.
* I will be starting an Affiliate contest for the LazyTrading affiliates. In order to receive the information on the contest you must be signed up for the affiliate newsletter which you can find at http://www.LazyTrading.com/affiliates.html
* Next Newsletter issue Kids back in school, fall almost upon us and ways to make $$$. This had to be pushed back to next newsletter. Also check out our "Do You have Plan?" Article.

---
THE NEXT NEWSLETTER, LORD WILLING, WILL ARRIVE IN EARLY OCTOBER 2006!
---
Check out our current and past issues of Alley Cat News on our Website by clicking on the Newsletter Link.
---
Alley Cat would like to thank our Sponsors for making this newsletter available for FREE.
Disclaimer: We try and allow only quality programs to advertise with us. We research the program BEFORE allowing it to advertise however we can not be held liable for any advertiser in this newsletter. Alley Cat News DOES NOT ENDORSE ANY ADVERTISER .Alley Cat News reserves the right to refuse any advertisement. THIS IS NOT FINANCIAL ADVICE AND IS FOR INFORMATIONAL PURPOSES ONLY
For questions on advertising e-mail us at alleycatnews@alleycatnews.net
Alley Cat News
P.O Box 149
Byron Center, MI 49315
616-499-3386