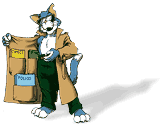 Welcome to the ALLEY CAT NEWSLETTER !
September 1st, 2004
GOLD PRICES/NEWS
GOLD PRICES moved a bit higher since last newsletter. However nothing has changed on my analysis. Unless it gets above $415 an ounce I wouldn't be a buyer of gold.
Need to Buy or Sell, Egold or E-bullion? Need it fast? Then use the Exchanger everyone is talking about for fast friendly service http://www.capitalex.com
ALWAYS LOG INTO EGOLD VIA https://www.e-gold.com bookmark it and use your bookmark to go to the site rather than via any e-mail or link online.
PLEASE USE YOUR HEAD WHEN IT COMES TO E-MAIL. Egold/Paypal will NEVER e-mail you asking you to log in, so when you get an e-mail like that DELETE IT.
Nasdaq Profit Trading Update
Nasdaq Profit Trades finished the month of August with 2 wins and 2 losses. We had a trade yesterday that was a heartbreaker. (It is the chart below) Of our 2 losses this month they have lost by a TOTAL of less than 2 points. OUCH! The first one lost by about 1.5 points and this one lost by .30 of 1 point! So less than 2 points separated us from a 4-0 month. If you want to check out the Nasdaq Profit Trades for September it will be your last chance to purchase a month for $25 today!
Click on the chart for a bigger version.
We have on average 6-8 trades per month.
When you trade yourself you control your $$$$; if you are tired of HYIP's that change the rules after you invested or just plain disappear, you may want to look into trading for yourself.
http://www.alleycatnews.net/npt
NOTE: The New NPT system pricing is up on the NPT website. You will have all the NPT trades for the entire year! You don't have to wait for me to send you an e-mail each week with the NPT trades for the week you will have them ALL. Any date that has a 60% winning rate over the last 30 years you will have the date, win/loss rate, and winning %, plus whether the trade is one of the top 20 trading days of the year.
For example the information would be like this.......
August 7th 16 UP 8 DOWN 66% UP. So trading days that fall on August 7th the Nasdaq finishes UP that day 66% of the time. So you would want to be long that day. (This year August 7th was a Sat. in 2 years it will be on a Monday)
August 14th 16 UP 8 DOWN 66% UP. So trading days that fall on August 14th the Nasdaq finishes UP that day 66% of the time. So you would want to be long that day. (This year August 14th was a Sat. in 2 years it will be on a Monday)
August 28th and 29th both were 15 UP days 9 Down days or UP 62.5%. Those days fall on Sat and Sunday this year However next year they will be Sunday and Monday and you would be able to trade on the 29th!
I will go into more details with the NPT system however that is a general overview. Especially if you currently are receiving the NPT trades you will benefit from knowing all the signals MONTHS ahead of time.
You will be able to pull out the system and look to see which trades you want to take this week or this month. We are offering a special until August 31st if you would like the NPT system just go to the NPT website for the details this is limited to 100 people in total. The NPT Yearly Trades will be emailed to those who ordered Late Next week.
Your comments on this question are welcome at alleycatnews@aol.com
---
You can always find the current issue of Alley Cat News on the website under Newsletter.
---
Forex Trading!
The Forex System has been released on our website. The wait is finally over. I have had some people ask me if this has anything to do with FPS system that we sold in the first part of 2003. The answer is NO! This system is completely different and has nothing to do with FPS or Erol.
This is a fresh system that I have seen make HUGE pip profits trading.
After Purchasing the product you will have the opportunity to Download the system IMMEDIATELY. So don't miss that step when ordering.
The system is STEP BY STEP.
It shows you how to setup the charts, with the indicators that we use.

It shows you how to enter/exit a trade.

Money Management

Using Stops/Trailing Stops

How to use the System Trading on Betonmarkets
Where to setup a Forex Brokerage account for as little as $200
We also give you Email support through Jan 2005!
You can check out all the details at our website at........................
http://www.alleycatnews.net/forex
Here is a recent trade produced by the System.
Click on Chart for Larger Image
Small business ideas/Your $$$
Small Business Ideas and the Your $$$ Sections will be combined from now on, which will give us room for the NEW FOREX SECTION of the newsletter.
HYIP News
(We here at Alley Cat News, invest very little in HYIP's anymore. We feel we get a better return investing ourselves through our own trading programs. (NPT,IPS,etc..) We also feel we can get a better return in our small business etc... We feel it is less risk and better long term reward)
Cycling programs are going Nuts. Now some big name forums are evening taking part. When their is no real investment and no real product it is just a giant pyramid no matter who does it or what they call it. Some of them you can make money if you are looking for the quick buck but you have to be on top of them.
The E-currency Evocash was under DDOS attack earlier this week however things look to be back up and running.
If you want to continue to be at the mercy of HYIP Admins and have the time to go through 20-50 new programs than keep investing in HYIP's. However if you want to take back some control of your money and have an investment program for the LONG TERM than learn to trade for yourself.
* NPT System is on sale now for $69 the entire year system as explained above.
* The Forex System now available on our website at http://www.alleycatnews.net just click on the Forex Link.
The Forex System can be used for both Real market Forex Trading and Betonmarkets as well. So however you decide to trade we will have information for you. Forex mini accounts can be opened for as little as $200 as well.
Feel free to contact me with any comments or questions
alleycatnews@aol.com
Thank you
Sponsor this e-mail
13K+ people only $50
Get your Program in front of 13,000+!
contact us for rates on Solo Ads.
Alleycatnews@alleycatnews.net
---
NEXT NEWSLETTER WILL BE ON SEPTEMBER 8th 2004!
---
Each week Alley Cat will bring you the latest from the ONLINE Investment world. You will get the latest news on Trading, Small Business, Gold Prices and HYIP's. This is a FREE NEWSLETTER we are able to make it available to EVERYONE because of our Sponsors.
SO TELL YOUR FRIENDS!
Give them this link and they can sign up for FREE
Check out our current and past issues of Alley Cat News on our Website, by clicking on the Newsletter Link.
---
Alley Cat would like to thank our Sponsors for making this newsletter available for FREE.
Disclaimer: We try and allow only quality programs to advertise with us. We research the program BEFORE allowing it to advertise however we can not be held liable for any advertiser in this newsletter. Alley Cat News DOES NOT ENDORSE ANY ADVERTISER .Alley Cat News reserves the right to refuse any advertisement. THIS IS NOT FINANCIAL ADVICE AND IS FOR INFORMATIONAL PURPOSES ONLY
For questions on advertising e-mail us at ALLEYCATNEWS@aol.com
Alley Cat News
PMB #103
3600 S. College Rd Ste E
Wilmington, NC 28412
910-452-7362