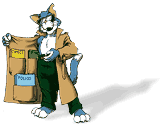 Welcome to the ALLEY CAT NEWSLETTER !
August 11th, 2004
GOLD PRICES/NEWS
It has been a month since I have written the Alley Cat Newsletter (more on that below) GOLD PRICES moved between $409 an ounce to $385 an ounce in the last month or so. Looking at the 1 and 5 year chart I don't like the prospects of higher Gold prices UNLESS/UNTIL we see prices over $410 per ounce.
I would actually consider a SMALL short position in Gold right now unless we got back up to $410 an ounce or so. (I currently hold no position in Gold right now)
Need to Buy or Sell, E-gold or E-bullion? Need it fast? Then use the Exchanger everyone is talking about for fast friendly service http://www.capitalex.com
ALWAYS LOG INTO E-GOLD VIA https://www.e-gold.com bookmark it and use your bookmark to go to the site rather than via any e-mail or link online.
PLEASE USE YOUR HEAD WHEN IT COMES TO E-MAIL. E-gold/Paypal will NEVER e-mail you asking you to log in, so when you get an e-mail like that DELETE IT.
Nasdaq Profit Trading Update
The Month of July wasn't a great one for us. We only had 4 trades and we had 1 winner and 3 losers. I have a chart below of one of the losing trades with a description of a GAP you may want to check it out. We are 9-7 the last 3 months. With the Fall months coming this system usually produces far better in the fall so I am looking forward to it. Below you will find the Losing trade (Yes I actually show pictures of losing trades) for July 9th. It was an Intraday Up bet and was a loser by about 9-10 pts.
Click on the chart for a bigger version.
We have on average 6-8 trades per month.
When you trade yourself you control your $$$$; if you are tired of HYIP's that change the rules after you invested or just plain disappear, you may want to look into trading for yourself.
http://www.alleycatnews.net/npt
NOTE: This isn't on the NPT website yet. But later this week I will be offering a Pre-order option to everyone. You will get the actual dates and winning rates of all of the NPT trades (60% or higher) So you will get the information for Jan-Dec all in one email so you will have that information to reference for years to come. That includes all dates (over 60% winning rate) even the ones that fell on non trading days this year. (For example June 27th fell on a Sunday this year, however next year it will be a Monday, and a trading day.) The information will NOT BE EMAILED until early September. You will be able to read it on the NPT site later this week. I am limiting the purchase of the system to 100 people total so that it doesn't flood the market. Once that is gone its gone. No need to register now just watch the NPT website for more information in a couple of days.
Your comments on this question are welcome at alleycatnews@aol.com
---
You can always find the current issue of Alley Cat News on the website under Newsletter.
---
YOUR $$$$$
Interest rates were raised yesterday by .25 of 1%. Which will lead to higher mortgage rates eventually and a little higher savings rates. Though I don't consider 2-3% interest on your bank account worthwhile.
Learn to CUT YOUR DEBT. Mind you I didn't say cut your lifestyle I said cut your debt. Instead of buying that brand new car why not save a few thousand dollars and a year or 2 in car payments and purchase the same car that is 1 or 2 years old. It may have some miles on it but it probably still is under warranty etc.. You are throwing hard earned money away that YOU CAN NEVER GET BACK.
Cut your mortgage payment I don't mean refinance I mean don't pay 30 years on your mortgage(Or 15). If you didn't have a car payment or house payment right now would you need that 2nd job? How much would you save a month $1000 or more?
Your lifestyle doesn't need to change if you are smart with your money but you will cut down in the long term how much you need to pay in interest and it frees up CASH FLOW. Cash that you can spend where you want when you want.
IF YOU OWN A HOME YOU NEED TO TAKE A LOOK AT THIS WEBSITE
TAKE A LOOK AT THE PRODUCT, EVEN ORDER IT IF YOU DON'T LIKE IT GET A 100% REFUND. IF YOU HAVE A MORTGAGE IT WILL SAVE YOU MORE MONEY IN THE LONG RUN THAN YOU WILL EVER MAKE OFF ANY HYIP.
Small business ideas
Labor day in the U.S. is just a few weeks away. Which is the Unofficial start of the fall season. Football (no not soccer) starts, kids are back in school, vacations are done, some people start even thinking about Christmas!
Its also the perfect time to see where you are going in your business/job. The Fall is the 2nd busiest time for small business ownership. People are looking to make extra cash for the Holidays and they have just taken a vacation and when they got back see all the work piled up they get fed up. If you haven't thought about your own business from home you need to really consider it. THE TAXES ADVANTAGES ARE HUGE! More on that Next week.
Even if you are interested in only a couple hundred dollars a month, it can be a great way to get started. But it DOES TAKE WORK! Anyone that tells you, you will be making $1000 a month within 30 days working an hour a week is full of it. Having your own Home business can be MORE work than your Regular J.O.B. but it can be also very rewarding. Find something that you actually love to do and it won't seem like work at all. Not something you have to drag yourself out of bed every morning something where in your spare time you actually want to do because you enjoy it.
If you REALLY WANT TO YOU CAN DO IT. Ebay has produced thousands upon thousands of home business owners. They sell their products or wholesale other products. Sure there is more competition now that everyone knows about ebay but if you find your own niche product you could make some great part time money their.
Another good part time income is Network Marketing. Sure people get scammed in Network Marketing but finding a good product and company can really pay off. But that is SOMETHING YOU REALLY HAVE TO WORK AT. If you aren't willing to talk on the phone you can probably eliminate 98% of the MLM's out there. Not that you have to cold call people or sell people but it is a RELATIONSHIP BUSINESS, if you don't build a relationship with people you will not to get high success in network marketing.
Sports betting is big and can be won at with the right money management and good system for making selections. I know people make some serious money with that but it does take work. You have to have a plan of action of how you are going to pick your games and what your money management will be.
Trading is another great way to make some part time $$$ Just like with Sports betting though you do need to have some money to start with. You aren't going to turn $100 into $1000 a month in income trading or via sportsbetting unless you get very lucky and have very poor money management. (More on trading in the News You Can Use section)
Sell other peoples products there are thousands of products that you can become an affiliate of and sell there products and as you sell their products you earn a commission. You don't have to have any money to start with. HOWEVER IT DOES TAKE WORK. (Are you seeing a theme here) ANY BUSINESS YOU DECIDE TO RUN TAKES WORK. SERIOUS WORK NOT JUST BEING ON THE COMPUTER IN A CHAT ROOM TALKING ABOUT YOUR PRODUCT REAL HARD WORK! IF YOU CAN'T DO THAT THAN YOU CAN'T DO A BUSINESS.
One product I love to use and sell is Power Pops. It is a weight suppressant Lollipop I have lost about 13 pounds using 1-2 Power Pops per day. That is a product I really believe in because it has worked great for me. (http://www.buypowerpops.com) Find a product or service that you really enjoy or has worked for you. Than WORK won't seem so much like WORK.
HYIP News
(We here at Alley Cat News, invest very little in HYIP's anymore. We feel we get a better return investing ourselves through our own trading programs. (NPT,IPS,etc..) We also feel we can get a better return in our small business etc... We feel it is less risk and better long term reward)
* Many HYIP's have failed since our last report. With the fall and holidays coming soon. More scam programs will come out in full force. And just like every other year Mid Nov-Early Jan. will see the crash of MANY PROGRAMS probably big programs.
* The following is an email I received from Egoldweekly back on July 24th.
"Obviously I must have annoyed someone lately, as I have been reported to the Inland Revenue (the government body that, we in the UK pay our taxes to!), they are investigating me for non disclosure of income and tax evasion. And have hinted at money laundering, which would involve the Police Authority. I am not able to find out who has reported me, but that is unimportant at the moment. My computer was taken on Wednesday for evidence, luckily I made a back up of all my files so all records are preserved. My uk bank has stopped all transactions for the moment,so I am unable to receive funds (I might be able to accept bank wires, but I am definitely not able to withdraw) I have been told that the account will remain frozen until they are given the go ahead from the authorities. For the time being I have borrowed a friends computer to use to enable me to continue my normal work (architecture). I know that once all investigations have been completed, I will be able to continue with the EGW program as I am not doing anything illegal. Please do not worry it is just a waiting game and I will advise when I have something hopefully this coming week. I will be making refunds to all people who put into EGW last week, there was $340 approx to refund. If anyone has any questions please email me or you can call me on my phone as shown on the forum. You will also notice that I have removed the paying in egold number off the web page, to stop people making deposits etc. I am sorry if I have dissappointed you, but I will be able to work through this.
Regards
Patrick Douse
EGoldWeekly"

Other News you can use
* We MAY have the New Forex System ready to be presented in a couple of weeks. If it isn't ready by the end of the Month than it won't be available until Oct. I am trying to get things lined up for the System to be available by the end of the Month though. I will have SPECIFIC date and prices of the system in next weeks Newsletter.
* Its been over a month since the Last Alley Cat Newsletter. I was on vacation for a couple of weeks and very busy on a couple of things one them trying to offer one of the best Forex Systems that I can. You will hear from me each now that my vacation is over.
Feel free to contact me with any comments or questions
alleycatnews@aol.com
Thank you
Sponsor this e-mail
13K+ people only $50
Get your Program in front of 13,000+!
contact us for rates on Solo Ads.
Alleycatnews@alleycatnews.net
---
NEXT NEWSLETTER WILL BE ON AUGUST 18th 2004!
---
Each week Alley Cat will bring you the latest from the ONLINE Investment world. You will get the latest news on Trading, Small Business, Gold Prices and HYIP's. This is a FREE NEWSLETTER we are able to make it available to EVERYONE because of our Sponsors.
SO TELL YOUR FRIENDS!
Give them this link and they can sign up for FREE
Check out our current and past issues of Alley Cat News on our Website, by clicking on the Newsletter Link.
---
Alley Cat would like to thank our Sponsors for making this newsletter available for FREE.
Disclaimer: We try and allow only quality programs to advertise with us. We research the program BEFORE allowing it to advertise however we can not be held liable for any advertiser in this newsletter. Alley Cat News DOES NOT ENDORSE ANY ADVERTISER .Alley Cat News reserves the right to refuse any advertisement. THIS IS NOT FINANCIAL ADVICE AND IS FOR INFORMATIONAL PURPOSES ONLY
For questions on advertising e-mail us at ALLEYCATNEWS@aol.com
Alley Cat News
PMB #103
3600 S. College Rd Ste E
Wilmington, NC 28412
910-452-7362