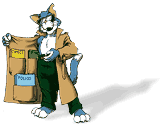 Welcome to the ALLEY CAT NEWSLETTER !
July 26th, 2006
GOLD PRICES/NEWS
Gold prices rallied to the levels I thought in the last newsletter but the resistance knocked Gold prices way back to the $605 area earlier this week. They have rebounded some since then. As mentioned in my last newsletter back on July 14th. I purchased a small bear contract on BOM. Currently that contract is in the money by about 100%. It expires tomorrow evening and I have about $15 an ounce to work with. I may bail out of it early I don't know yet. But either way should have a nice profit on it.
Looking at the daily charts it looks like Gold is in a down channel. With the top around $660 and the bottom around $530. Will see, I think its bad news if we break below $600 again. After this trade I will probably be flat gold for a while.
---
ALWAYS LOG INTO EGOLD VIA https://www.e-gold.com bookmark it, and use your bookmark to go to the site rather than via any e-mail or link online.
PLEASE USE YOUR HEAD WHEN IT COMES TO E-MAIL. Egold/Paypal will NEVER e-mail you asking you to log in, so when you get an e-mail like that DELETE IT.

---
You can always find the current issue of Alley Cat News on the website under Newsletter.
---
FOREX TRADING SOFTWARE!
The forex trading software has produced well since I have released it. Especially for those of you who are on the yahoo messenger. I talk about which trades I like best and which I trade for smaller amounts. It helps for money management etc.. And is really paying off.
July 31st is the last day to purchase the software for the intro price of $49. As of August the price will go up to $149 and be well worth it. If you purchase before July 31st you will also get Yahoo messenger support until Labor Day (Sept 4th).
If you purchase the software make sure after you made your purchase you click the continue button so you can download the zip file which includes the 2 software packages.
You can trade the software via Betonmarkets or your forex broker. I include great tips and tricks in the ebook that is included to help you produce more winners. I have been trading this software for almost a year now and have had tremendous success.
All you have to do is click on a box and check for signals and the software will do the rest for you. It will give you times of when to enter and EXIT the market.
No monthly fees, no signals to buy, once you buy the software you own it for LIFE!
$49 bucks one time BUT ONLY UNTIL JULY 31ST!
check out all the details at
---
OTHER NEWS YOU CAN USE
* It looks like a couple of big HYIP's may be down for the count Solid Investment included as one of them.
* What can you make money with?
Their are many ways to make some money online here are just a couple of them.
1. MLM or Network marketing. The pull is if you build a big enough downline you can be on easy street. Problem is their is a lot of competition, companies go under, and being able to market not everyone can do or want to do. It isn't a quick fix building a decent downline takes months if not years to make serious money.
2. HYIP's. Well we all know that 99.9% are scams. Either they are scams from the start or their trading goes bad and the program goes belly up. Very few make it for a year + anymore. Most get your money but have very little contact info and run with the money. You are never in control of your money you are at the mercy of the program admin. It isn't a long term solution because you have to search for the NEXT good HYIP every couple of weeks or months.
3. Autosurfs. Is almost like a twist with HYIP's and MLM. They are the hot thing running nowadays. They have a lot of the same problems that HYIP's do. Shut down by the government, go out of business etc.. They depend on more and more people in the program a lot of times.
4. Trading. (Forex, stocks, options, futures, etc..) Trading can be tough and by no means is a quick fix. But the benefits especially with Forex trading is a 24 hour market so you can fit it around your schedule. Yes you need some money to invest but the others you do as well. The point is if you can find a software or trading program that works for you, you control your money. No one running with your money. If you lose it you lose it. No worse off then if someone took your money in an MLM, HYIP or autosurf. Plus it can be a LONG term solution. No more hunting for that one big program. It may take a little more time then dumping your money into an autosurf or HYIP, however in the long run its safer if done right plus you aren't wasting time hunting every couple weeks or months finding the Next HYIP.
* Make sure you check out http://www.lazytrading.com for information on the forex software package. I know it will be a hot package and the price is for a limited time.
---
THE NEXT NEWSLETTER, LORD WILLING, WILL ARRIVE IN MID AUGUST 2006!
---
Check out our current and past issues of Alley Cat News on our Website by clicking on the Newsletter Link.
---
Alley Cat would like to thank our Sponsors for making this newsletter available for FREE.
Disclaimer: We try and allow only quality programs to advertise with us. We research the program BEFORE allowing it to advertise however we can not be held liable for any advertiser in this newsletter. Alley Cat News DOES NOT ENDORSE ANY ADVERTISER .Alley Cat News reserves the right to refuse any advertisement. THIS IS NOT FINANCIAL ADVICE AND IS FOR INFORMATIONAL PURPOSES ONLY
For questions on advertising e-mail us at alleycatnews@alleycatnews.net
Alley Cat News
P.O Box 149
Byron Center, MI 49315
616-499-3386