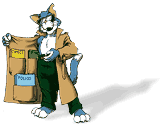 Welcome to the ALLEY CAT DETECTIVE ONLINE INVESTMENT NEWSLETTER !
JULY 23rd, 2003
Each week Alley Cat will bring you the latest from the ONLINE Investment world. You will get the latest news on HYIP's, Games,(Which ones are SCAMS and which ones show potential), other Online Investments, solid money management strategies, along with Gold prices to make the most of your online currency, And anything else that relates to investing and money. This is a FREE NEWSLETTER we are able to make it available to EVERYONE because of our Sponsors.
SO TELL YOUR FRIENDS!
Give them this link and they can sign up for FREE
Check out our current and past issues of Alley Cat News HYIP on our Website, by clicking on the HYIP Newsletter Link.
NEWS from the HYIP World
GOLD PRICES broke through $345 an ounce since our last update which I thought was extremely bearish for Gold, however it held at $340 an ounce and has rebounded nicely since then. $360 an ounce has some resistance but I foresee it bouncing between mid $340's and mid $350's. For all of your E-gold needs use http://www.business-express.net/egold.php
ALWAYS LOG INTO E-GOLD VIA https://www.e-gold.com bookmark it and use your bookmark to go to the site rather than via any e-mail or link online.
PLEASE USE YOUR HEAD WHEN IT COMES TO E-MAIL. E-gold/Paypal will NEVER e-mail you asking you to log in, so when you get an e-mail like that DELETE IT.
For those of you trying to contact Erol (FPS system), he is on vacation until first week of August. Also all of you who have purchased the system please print it out as in a couple of weeks we will be taking it off the server to free up some space.
The major Save100k announcement has been a SMASHING SUCCESS! Over $1,000,000.00 in Savings Calculated since Monday Afternoon! That is real $$$ being saved by Save100k users. $1,000,000.00 that no longer will go to the bank for interest but create real wealth for those using the system. Here is a small excerpt from the Save100k site:
Tax Deductible interest MYTH.
This could be costing you Thousands each year. The myth works like this, the interest on your mortgage is tax deductible. Which is great and for some people is the biggest tax break they get. The problem with it is if you are using it you're actually LOSING MONEY!!! Let's say you're in the 28% tax bracket and let's say you paid $10,000 this year in interest on your mortgage. Which means you could deduct $2,800 off your taxes. ($10,000 x 28%= $2,800) You continue to use your mortgage deduction excuse for not becoming debt free. Thinking you will lose a big tax deduction if you have your house paid off. Well it is true that you will lose your tax deduction.
However you're paying $1 of interest to receive .28 cents back in a tax write off. How in the WORLD is that a good investment? YOU ARE LOSING .72 CENTS FOR EVERY DOLLAR YOU SPEND!!
WOULD YOU RATHER PAY $1 TO GET BACK .28 CENTS OR PAY .28 CENTS TO KEEP .72 CENTS? If you think that is a good return on your money, send me some of your money and I will give you back .30-.40 cents for every dollar that you send me.
You also receive 2 FREE Bonuses when you order the Save100k system.
#1 How to get an Immediate raise from your job without having to ask your Boss.
# 2 Learn how to earn 5-25% a year RISK FREE!
The price has NEVER been lower and if you have a mortgage this information is something you NEED. Get your own personal Calculation. IT'S FREE!!!
E-CURRENCY NEWS
Business Express has an exciting special going on right now until Thursday July 24th 5pm EST. Cash in your E-gold and pay NO BANK WIRE FEES. If your E-gold account is over flowing with E-gold now is the perfect time to trade it in. Use the link below....
http://www.business-express.net/egold.php for all your E-CURRENCY needs. Bookmark the Business Express site for future use.
HYIP PROGRAMS
It has been almost a month since I have been able to write a full newsletter. And the HYIP industry is still trucking along however leaving some programs and investors as roadkill. Here are just a FEW of the names that have had payout problems or have completely shut down. Skillful Trader, (Obviously not that skillful) P-club, Weeklypayout, Com-traders, Safe Spenders which had a run for 10 months at 1% per day. As we have said before these low daily payout programs can last a very long time as it takes 100 days just to break even. They had well over $200,000 in deposits but most people probably didn't get their money back due to 1% per day. They say they will try and return some of the money but I have my doubts. Any program that also claims big trading losses should PROVE IT. With Documentation which would be very easy to prove on their website. Safe Spenders was a big HYIP program and it will have a ripple effect on other HYIP programs that piggybacked onto the program.
Another program that went down was Antarctica Prides. We mentioned this company in a previous newsletter. (without naming names) This program was advertising HEAVILY and offering an unbelievable 3000% return in 3 months. They of course went down but had about $20,000 invested in the 3000% program! That is pure profit for the scammers. A similar program is still running with the same 3000% return we will see when that program goes under. If they really had a 3000% program do you think they would deal with $10 spends? They only need a $5,000 investment and they would earn $150,000 every 3 months! Don't throw $$$ at those kind of programs NO NOT EVEN $10. You would have a better chance of making $$$ if you bought $10 scratch off lottery tickets and have more fun. At least on the back of the lottery ticket it tells you your chance of winning 1 in 4 etc... Vs your chance of making money on a program like that 1 in NEVER GOING TO HAPPEN.
Another issue that has popped up recently is the Copycat of names. Program Admin. (Mostly scammers) copy established HYIP program names in order to try and get immediate name recognization Like a program that would have the name ABC gold (just an example not a real company). ABC gold is established and has been paying for a number of months. A scammer comes along and starts ABC Gold HYIP. If they can't come up with an original name for their program IT'S A SCAM. AVOID IT!!!
And finally an issue that came up this past week- HACKERS or Claimed Hacking events! This has been an excuse for many HYIP programs especially over the last 6 months. Oh we were hacked they got all of our e-gold. Well first of all unless it is a game there shouldn't be a lot of money in their e-gold account as it should be in their trading account if they claim they actually trade the funds. So any program that claims to trade your funds and then say we were hacked we can no longer payout is a BIG SCAMMER. You should do anything in your power to try and find the person to get the funds back. However if they are truly a game they would have a lot of funds in their e-gold account. Some game owners however run their game and then run with the money. Using an excuse of HACKING to steal your money. If they were TRULY hacked then they should be able to easily prove that they were by showing the history from their e-gold account. Any HONEST Program Admin. that actually did get hacked would have no problem providing proof of the hack through their e-gold history. Also many of these programs/games that "say they were hacked" end up starting a new game saying sorry I will be more careful this time etc...
One example happened just this week. A program that had 3 known e-gold accounts for the game said they were "hacked". However the interesting thing was that 2 of the 3 accounts were emptied into the 3rd. Then 3 minutes after the last transfer all the funds from the 3rd account were transferred to a 4th. So in other words Account # 1 funds were sent to Account # 3. Account # 2's Funds were sent to account #3. Then after all the funds are in account # 3 it all gets transferred to account # 4. So this "Hacker" instead of just hacking each account and sending the funds from Account # 1 directly to account # 4, instead sends it to account # 3 (which supposedly isn't his account either) so he can do a combined "HACK". THAT MAKES NO SENSE AND IN MY OPINION THE PROGRAM ADMIN. JUST DECIDED TO TAKE THE $$$. They are now even asking for donations and wanting to start it up again.
If any program you are in says they were hacked or had big trading losses GET PROOF from the company!! Hacking and trading losses excuses shouldn't be taken at face value in this industry.
The average HYIP investor that has $2000 or less to invest shouldn't be in more than 5-10 different programs to start off. And there are enough of those good programs out there that will allow Due Diligence, actually trade/gamble/pool your funds. I mean if your really looking to make money in the industry why mess with the scam programs. If you don't want to trade yourself at least pick decent programs that ACTUALLY Invest YOUR money.
Alley Cat News NEVER RECOMMENDS AN HYIP PROGRAM. The only programs Alley Cat News ever recommends is Save100k.
However Alley Cat performs Due Diligence on programs and will let our readers know of programs that have had a decent track record. In these cases we have personally spoken with the Program Admin., and will have the personal contact information available as well.
WE DO NOT RECOMMEND ANY PROGRAM. YOU INVEST IN HYIP's AT YOUR OWN RISK. ALLEY CAT CANNOT BE HELD LIABLE FOR LOSSES THAT INCUR DURING YOUR HYIP INVESTING.
---
You can always find the current issue of Alley Cat News HYIP on the website under HYIP Newsletter.
---
THE $200 TEST
We have contacted a few HYIP's this week in the hopes of bringing them to the $200 Test. Hopefully they will allow our Due Diligence and we will be able to invest with them shortly.
JUST BECAUSE WE INVEST IN THE FOLLOWING PROGRAMS IN NO WAY MEANS WE ENDORSE OR GUARANTEE PAYMENTS FROM THE PROGRAMS. WE ARE INVESTORS JUST LIKE YOU. WE HAVE DONE SOME INITIAL HYIP SCREENING BUT YOU NEED TO DO ADDITIONAL RESEARCH. WE WILL END UP GETTING SCAMMED BY SOME PROGRAMS THAT WE INVEST IN. THAT'S JUST THE WAY IT IS. HOWEVER WITH GOOD MONEY MANAGEMENT AND RESEARCH HOPEFULLY WE WILL MAKE A PROFIT IN THE END.
We are currently in the following programs for our $200 TEST.
All programs that we invest $$$ in for the $200 TEST, we have the program Admin. Phone #, Copy of Driver's License, and copy of utility bill. We do Due Diligence on all programs that we invest our money into.
1. Sports Wagers http://groups.yahoo.com/group/Sportswagers/
Sports Wagers had some cold and very hot streaks while we were away. They started this week on a cold streak but won yesterday we will begin playing them tonight with the same strategy of only taking 2 losses in a row then picking my spots. We will be playing $10 per bet to win $7.50
NET RESULT OVERALL -$3.75
2. Daily-Trades
We bet $15 on Evening/Daily trades. We limit ourselves to 2 losses in a row. If we end up with 2 losses in a row then we begin to pick our spots again. Since last newsletter Daily trades had a very nice run. We started investing again this week both daily/evening. Those of you that don't want to deal with making spends everyday they have a very good weekly program that has paid out between 7-11% a week and is based on trading. The minimum is a bit higher then Alley Cat can do for our $200 test. But we are looking at it for our own personal investing funds. So far for this week Daily trades has 1 win and 2 losses in the Evening trades, and 3 wins and 0 losses for the daily trades. Totals are 4 wins and 2 losses. 4 x $11.25 = $45 profit minus 2 x $15= $30. So total profit so far for this week is $15.
NET RESULT FOR WEEK +$15
NET RESULT Overall + $82.50
3. Cash Domain Pool
http://www.cashdomain.net/gold.htm
We have joined this program for $20. They are a pooling program that pay a variable rate of interest each week. They have been paying for about 6 months now and are a variable interest rate program. If you MUST play daily paying programs a good pool program is the best way to go in my opinion. As long as the program Admin. diversifies and goes with more established programs to invest in. We have received a total of 18% back on our $20 investment or $3.60 getting roughly 2.5% interest per week. Which of course isn't tremendous but is more of a longer term program anyway. Payouts are each Monday.
NET RESULT +$3.60
$200 TEST OVERALL RESULTS
$28.95 Profit
$20 at Sportswagers, $30 at Daily-trades, $20 Cash Domain Total $$$ at risk $70, $158.95 in Cash.
(Some losses are from Fall of 2002. Those companies are no longer listed on the $200 Test, however there losses were included in the above NET Results overall.)
WE ARE A WEEKLY NEWSLETTER. YOU CAN LOOK FOR US IN YOUR E-MAIL BOX EACH WEDNESDAY FOR OUR $200 TEST, INFORMATION ON THE HYIP WORLD, AND OTHER ONLINE BUSINESS INFORMATION.
Sponsor this e-mail
20K people only $50
Get your Program in front of 20,000!
contact us for rates on Solo Ads.
Alleycatnews@alleycatnews.net
OUR ADVERTISERS GET RESULTS THAT IS WHY THEY KEEP COMING BACK.
---
NEXT NEWSLETTER WILL BE JULY 30TH 2003!
---
Alley Cat would like to thank our Sponsors for making this newsletter available for FREE.
Disclaimer: We try and allow only quality HYIP's to advertise with us. We research the program BEFORE allowing it to advertise however we can not be held liable for any advertiser in this newsletter. Alley Cat News DOES NOT ENDORSE ANY ADVERTISER .Alley Cat News reserves the right to refuse any advertisement. THIS IS NOT FINANCIAL ADVICE AND IS FOR INFORMATIONAL PURPOSES ONLY
For questions on advertising e-mail us at ALLEYCATNEWS@aol.com
Alley Cat News
PMB #103
PMB #103
3600 S. College Rd Ste E
Wilmington, NC 28412
910-452-7362