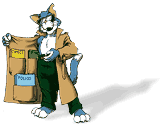 Welcome to the ALLEY CAT DETECTIVE ONLINE INVESTMENT NEWSLETTER !
JULY 19TH, 2003
Each week Alley Cat will bring you the latest from the ONLINE Investment world. You will get the latest news on HYIP's, Games,(Which ones are SCAMS and which ones show potential), other Online Investments, solid money management strategies, along with Gold prices to make the most of your online currency, And anything else that relates to investing and money. This is a FREE NEWSLETTER we are able to make it available to EVERYONE because of our Sponsors.
SO TELL YOUR FRIENDS!
Give them this link and they can sign up for FREE
NEWS from the HYIP World
Hello Again our server and database problems took much longer then expected. Everything should be running smoothly now. The last of the affiliate commissions have been paid out for June. Once we got our databases back up we were able to pay the rest of the commissions out. We have an EXCITING ANNOUNCEMENT NEXT WEEK STAY TUNE! We will also resume the $200 test along with all our Gold prices/HYIP updates next week. For any questions/comments you may have please send them to alleycatnews@aol.com
We will talk again Tuesday/Wed.
ALWAYS LOG IN TO E-GOLD VIA https://www.e-gold.com bookmark it and use your bookmark to go to the site rather than via any e-mail or link online.
PLEASE USE YOUR HEAD WHEN IT COMES TO E-MAIL. E-gold/Paypal will NEVER e-mail you asking you to log in, so when you get an e-mail like that DELETE IT.
You can find old Alley Cat HYIP Newsletter editions on our website.
---
You can always find the current issue of Alley Cat News HYIP on the website under HYIP Newsletter.
---