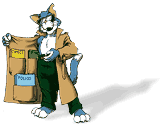 Welcome to the ALLEY CAT NEWSLETTER !
July 14th, 2006
GOLD PRICES/NEWS
Gold prices rallied back to around $650 an ounce once again after getting hammered over the last month down to $550 or so. I did place a bull contract in Gold when it was at roughly $574 an ounce. I was looking for it to be higher than $620 as of mid August. Well looking at the chart now I have just closed out that position for roughly 100%+ win. I could have made much more if it stays above $620. But looking at the chart I think the risk of it testing the $600 area again is pretty strong.
I actually just purchased a very small bear contract on Gold for the next 2 weeks. I think this $650-$660 area is important resistance. If it can blast through that and get a close above $670 or so I think we will test $700 again. But if it stalls here I think it could test the $600 area within the month. Not risking a whole lot either way.
---
ALWAYS LOG INTO EGOLD VIA https://www.e-gold.com bookmark it, and use your bookmark to go to the site rather than via any e-mail or link online.
PLEASE USE YOUR HEAD WHEN IT COMES TO E-MAIL. Egold/Paypal will NEVER e-mail you asking you to log in, so when you get an e-mail like that DELETE IT.

---
You can always find the current issue of Alley Cat News on the website under Newsletter.
---
FOREX TRADING SOFTWARE!
I am releasing 2 software packages for trading the forex market. You will be able to trade the software with a forex broker or with betonmarkets! You can get both software packages and the ebook with all the tips and tricks to help you make extra money for just $49. That is a special price to Alley Cat readers as a thank you. The price will go up to $149 after the first 100 units are sold and is well worth it at that price.
You will get 2 software packages and 30 days of instant messenger support.
All you have to do is click on a box and check for signals and the software will do the rest for you. It will give you times of when to enter and exit the market.
I have personally been using this software for almost a year and LOVE IT!
No monthly fees, no signals to buy, once you buy the software you own it for LIFE!
$49 bucks one time for the first 100 members only!
check out all the details at
---
Oil Prices at record levels!
Check out the ad on the top left of this newsletter. It is an interesting program that you may want to check out. The payout is pretty good and you could be Indirectly in the Oil business. You can actually join the program and don't have to pay the $149 fee until your in the back office. (So you can check it out) They offer a ton of different programs and if they do what they say they are going to do it will be an unbelievable program. So if you are into Network marketing stuff check it out at...
http://www.sright.com/worldwide
Some people are doing quite well with the program.
---
$500 Bucks Back!
This is a Great New ebook that can really put some money back into your pocket. From ways to save money in 10 minutes or less to savings as much as $500,000 or more in your life.
I received an email from a lady this week that will put $700 a month back into her pocket from the tips used in the ebook!
The ebook has a 8 week money back guarantee and a 75% affiliate commission.
Check it out at
and put $500 back into your pocket!
---
OTHER NEWS YOU CAN USE
* Our stock doubling newsletter was sent out in Late May with our 2nd selection. The stock is up a little bit from the original newsletter however not by a lot. So if you are interested in getting the stock doubling newsletter please let me know. It is just $25 for the 2nd selection and monthly updates on the stock. I am looking for the stock to double hopefully by late fall but will have to wait and see.
* Make sure you check out http://www.lazytrading.com for information on the forex software package. I know it will be a hot package and the price is for a limited time.
* A few more programs have bit the dust during the dog days of summer. Hopefully yours wasn't one of them. My goal with Alley Cat is to help you trade your own money and save some money with the tips etc..
---
THE NEXT NEWSLETTER, LORD WILLING, WILL ARRIVE IN LATE JULY 2006!
---
Check out our current and past issues of Alley Cat News on our Website by clicking on the Newsletter Link.
---
Alley Cat would like to thank our Sponsors for making this newsletter available for FREE.
Disclaimer: We try and allow only quality programs to advertise with us. We research the program BEFORE allowing it to advertise however we can not be held liable for any advertiser in this newsletter. Alley Cat News DOES NOT ENDORSE ANY ADVERTISER .Alley Cat News reserves the right to refuse any advertisement. THIS IS NOT FINANCIAL ADVICE AND IS FOR INFORMATIONAL PURPOSES ONLY
For questions on advertising e-mail us at alleycatnews@alleycatnews.net
Alley Cat News
P.O Box 149
Byron Center, MI 49315
616-499-3386