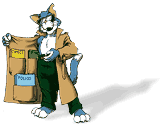 Welcome to the ALLEY CAT DETECTIVE ONLINE INVESTMENT NEWSLETTER !
JULY 9TH, 2003
Each week Alley Cat will bring you the latest from the ONLINE Investment world. You will get the latest news on HYIP's, Games,(Which ones are SCAMS and which ones show potential), other Online Investments, solid money management strategies, along with Gold prices to make the most of your online currency, And anything else that relates to investing and money. This is a FREE NEWSLETTER we are able to make it available to EVERYONE because of our Sponsors.
SO TELL YOUR FRIENDS!
Give them this link and they can sign up for FREE
NEWS from the HYIP World
IMPORTANT NOTICE!!! I am back from my vacation however our server was knocked out last week. Our website is back up and running however it messed up some of our databases. Those of you who purchased the forex system in June will have to reregister and log in again. Those of you who purchased the system prior to June should be able to log in at this time. We hopefully will get our databases back up and running mid next week and we HAVE A COUPLE OF MAJOR UPDATES FOR EVERYONE. We have been dealing with our server and getting the databases back that we decided to hold off until next week. That is reason you are having to read the newsletter from the website this week because our mail server database is inaccessible right now. We have also paid out affiliate commissions to all affiliates through affiliate 1217. All affiliates after 1218 your affiliate information is in the database that will be retrieved next week. If you know your affiliate # and are due commissions please send your Be-cash e-mail address, and affiliate #, along with your name to alleycatnews@aol.com and we should be able to access your account another way and pay your commissions before next week. ALL AFFILIATE COMMISSIONS WILL BE PAID WE ARE JUST WAITING TO GET THE DATABASE BACK UP TO VIEW AFFILIATE INFO. (Most affiliates have already been paid)
Hopefully next Wed. we will have the newsletter available and it will be sent out to all subscribers with the MAJOR ANNOUNCEMENTS. If not by Wed. it should be later next week at the latest. Please check back on to the Alley Cat Website for further announcements.
Nothing has been done with the $200 Test since our vacation we will hold off on investing in anything until our server/databases are completely updated.
ALWAYS LOG IN TO E-GOLD VIA https://www.e-gold.com bookmark it and use your bookmark to go to the site rather than via any e-mail or link online.
PLEASE USE YOUR HEAD WHEN IT COMES TO E-MAIL. E-gold/Paypal will NEVER e-mail you asking you to log in, so when you get an e-mail like that DELETE IT.
You can find old Alley Cat HYIP Newsletter editions on our website.
---
You can always find the current issue of Alley Cat News HYIP on the website under HYIP Newsletter.
---