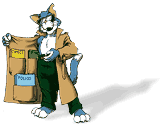 Welcome to the ALLEY CAT NEWSLETTER !
July 2nd, 2004
For those in the U.S.A have a safe Independence day weekend
GOLD PRICES/NEWS
GOLD PRICES moved higher since last week closing above $400 an ounce however have moved back under $400 once again. I think the shorter term trend will remain positive if we can stay above $385-387 an ounce. If we broke that this short little run might be over for a little while. I usually don't like to trade based on a couple of weeks though as I like the medium term outlook better. A long position wouldn't be horrible here as long as we don't break $385-387 it might be OK. On the upside I would like a couple more days worth of closes above $400 and than a day above $405 and we will be looking really good.
Need to Buy or Sell, E-gold or E-bullion? Need it fast? Then use the Exchanger everyone is talking about for fast friendly service http://www.capitalex.com
ALWAYS LOG INTO E-GOLD VIA https://www.e-gold.com bookmark it and use your bookmark to go to the site rather than via any e-mail or link online.
PLEASE USE YOUR HEAD WHEN IT COMES TO E-MAIL. E-gold/Paypal will NEVER e-mail you asking you to log in, so when you get an e-mail like that DELETE IT.
Nasdaq Profit Trading Update
We finished the month of June with 4 wins and 3 losses. Not anything spectacular but a winning month none the less. In the last 2 months we have a nice record of 8 wins and 4 losses (66%). We only have 4 trades for July. Below you will find the Winning trade for June 30th. It was an Intraday Up bet and was a winner by about 10 pts.
Click on the chart for a bigger version.
We have on average 6-8 trades per month.
When you trade yourself you control your $$$$; if you are tired of HYIP's that change the rules after you invested or just plain disappear, you may want to look into trading for yourself.
http://www.alleycatnews.net/npt
Your comments on this question are welcome at alleycatnews@aol.com
---
You can always find the current issue of Alley Cat News on the website under Newsletter.
---
YOUR $$$$$
Interested in $40,000 of Equity in your home pretty quickly? Check out the top sponsor ad in today's newsletter. Not only that you could have your house paid off in 10 years!
We here are at Alley Cat News are interested in helping people get the most out of their money whether it is finding solid ways to trade the markets, businesses to do from home, or ways to save you a great deal of cash. Everyone can benefit from a few hundred dollars to 10's of thousands each year with information found in this newsletter.
Learning to use your money wisely will not only help your long term finances but YOUR STRESS LEVEL. For many people, just an extra $300 a month in extra money would be a tremendous help. You could be throwing that away each and every month on your mortgage payments. Interest that you have to pay on your mortgage can be greatly reduced if done correctly. Check out the top sponsor ad for more info.
ALLEY CAT NEWS IN MID-LATE AUGUST WILL BE RELEASING A BRAND NEW FOREX TRADING SYSTEM THAT IS SPECTACULAR!!! Even if you have no interest in trading I will show you how you can benefit from this.
Small business ideas
The Internet is Filled with Ideas for Small Businesses that you can run from home.
But you don't always have to be working at home. Look at Flea Markets and Fairs for big profits as well. Yes there are Millions online but not everyone spends all day online like you may. Flea Markets and Fairs can be big business. Find a product that has big profit potential and you would enjoy selling. Not everyone is online older individuals are usually the last ones to be online.
Flea Markets and Fairs can bring hundreds or thousands of people to your table to check out your product. And setting up at them is pretty inexpensive. The smaller flea market in this area costs about $10 to setup at, and a larger one that brings thousands of shoppers was less than $20 per day. That is a REAL BARGAIN. If you have something to sell that you earn a couple of bucks on per sale that adds up real quick. A nice way to earn some extra money.
Find a business that you love to do. That you get excited about and jump out of bed in the morning to start working on. Don't jump from opportunity to opportunity NO BUSINESS that lasts for the long term are you able to turn $50-100 investment into $1,000's a month within 30 days. QUIT LOOKING FOR YOUR $50-$100 LOTTERY TICKET. Find a business you want to WORK and if you truly put in the effort like the 3% do you can be successful.
---------------------------------------------------------
DrNunley's Biz-Tips
by Kevin Nunley
Making Classified Ads Work
Are you having trouble coming up with that perfect classified ad? Here are some tips that will help you write a classified ad that sells.
You definitely want your ad to stand out from all of the others. But it's important not to leave out the information that really sells. Make sure you're thorough. Readers want to know all of the important facts about your product or service. If you don't include that information, they might pass right by your ad.
Don't use abbreviations unless it's necessary. An abbreviation you use might be perfectly clear to you, but someone else might have no idea what it means. How can they decide if they want to order your product or service if they don't know what it is you're selling?
Be honest in your ad. Some people exaggerate in their classified ads because they feel they get more of a response. But, what happens when a buyer finds out that they have been mislead? They definitely won't appreciate it and will take their business elsewhere. They will probably tell others about the horrible experience they had with you, and that will not be good for your business. Honesty really is the best policy.
Clearly state your price. The price of an item is probably one of the most important factors to classified ad readers. Ads that show the price are the ones that get results! Also, giving a price helps you to attract customers who are in your price range.
Remember to include your contact information. Be as accessible as possible. Include a telephone number, email, fax, and the hours you can be reached so customers can get in touch with you. Often a customer who can't get through to you the first time won't call again.
Get Kevin's 10,000 FREE marketing ideas at http://DrNunley.com Reach him at kevin@drnunley.com or 801-328-9006.
----------------------------------------------------------------------

HYIP News
(We here at Alley Cat News, invest very little in HYIP's anymore. We feel we get a better return investing ourselves through our own trading programs. (NPT,IPS, Forex release in August) We also feel we can get a better return in our small business etc... We feel it is less risk and better long term reward)
* Stable Forex is having some problems paying out could this be the end?
* Trade Profit Gold, and Gold Revolution are not making withdrawals.
* With the "American" Football (No not soccer) season about 2 months away you will probably see more Sports betting HYIP's pop up. They can be good if they are transparent. Sports betting isn't the easiest thing to do however can be profitable though it might not get the same kind of returns some HYIPers are use to. So watch out as they can pyramid that real quick with those type of programs especially if they aren't transparent. They start getting on a losing streak and than try and double up on a "LOCK" game which ends up being a loser and they hope to get it back next week but they are so far behind they can't keep paying out what they are suppose to be and it all collapses. Just be very careful try and find one that offer transparent trades.
Good Luck
Other News you can use
* Look for our New Forex Trading System/Signals in mid August it should be exciting!
Feel free to contact me with any comments or questions
alleycatnews@aol.com
Thank you
Sponsor this e-mail
13K+ people only $50
Get your Program in front of 13,000+!
contact us for rates on Solo Ads.
Alleycatnews@alleycatnews.net
---
NEXT NEWSLETTER WILL BE ON JULY 7th 2004!
---
Each week Alley Cat will bring you the latest from the ONLINE Investment world. You will get the latest news on Trading, Small Business, Gold Prices and HYIP's. This is a FREE NEWSLETTER we are able to make it available to EVERYONE because of our Sponsors.
SO TELL YOUR FRIENDS!
Give them this link and they can sign up for FREE
Check out our current and past issues of Alley Cat News on our Website, by clicking on the Newsletter Link.
---
Alley Cat would like to thank our Sponsors for making this newsletter available for FREE.
Disclaimer: We try and allow only quality programs to advertise with us. We research the program BEFORE allowing it to advertise however we can not be held liable for any advertiser in this newsletter. Alley Cat News DOES NOT ENDORSE ANY ADVERTISER .Alley Cat News reserves the right to refuse any advertisement. THIS IS NOT FINANCIAL ADVICE AND IS FOR INFORMATIONAL PURPOSES ONLY
For questions on advertising e-mail us at ALLEYCATNEWS@aol.com
Alley Cat News
PMB #103
3600 S. College Rd Ste E
Wilmington, NC 28412
910-452-7362