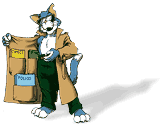 Welcome to the ALLEY CAT INVESTMENT NEWSLETTER !
The following is a Solo Advertisement you can get your own solo ad by emailing us at ALLEYCATNEWS@ALLEYCATNEWS. NET
WE GET RESULTS!!
Disclaimer: We try and allow only quality HYIP's to advertise with us. We research the program BEFORE allowing it to advertise however we can not be held liable for any advertiser in this newsletter. Alley Cat News DOES NOT ENDORSE ANY ADVERTISER. Alley Cat News reserves the right to refuse any advertisement.
------------------------------------------------------------------------------------------------------------
Hello Alley Cat News Readers just a quick update on a few issues.
1. I'm back from my vacation. I had 2 weeks off to visit with family and traveled about 2800 miles round trip via car. In that time I spent maybe 1 hour total on the computer so I am just catching up on emails etc... It is good to be back home and back working which I really enjoy.
2. Gold Prices moved up quite rapidly since my last newsletter. In my May 27th Newsletter I thought there was a little more downside in Gold. Well we got a Nice bear contract winner the week before but Gold rebounded nicely over the last couple of weeks. Actually moving up quickly. Looking at the charts it looks like a nice breakout but will have to wait and see a little bit. I would for sure like to see it remain above $430 an ounce. On the weekly chart I would like to see a close above $446. At this point due to the nice run up it isn't something I would be interested in trading at this point but maybe sometime in the future newsletters.
3. GURU TRADING SERVICE - The May Guru service had a great winning record of 22-9 for all trades. ($10 risked per bet would of returned over $150 profit, $100 risked per bet would of returned over $1500 for the month) June so far has a 2-1 record for the month. (During my vacation I didn't trade that is why I have only had 3 trades for the month.)
The price of the Betonmarkets Guru Service is just $1 for 30 days of service. What happens with the Betonmarkets Guru service after you sign up is the following.... Each time I place a trade in my betonmarkets Guru account, Betonmarkets sends you an email instantly of the trade that I placed. So if you so desire you can also place the trade I just placed.
June 23rd is the last day to get the Guru service at the discounted rate of $1 for 30 days. Starting June 24th my Betonmarkets Guru service will be $20 for 30 days. Which is well worth it as well. ($10 bets were worth $150 in profits for May!)
If you are interested in the Betonmarkets Guru Service go to
https://venus2.tradeodds.com//d//c_guru_subscribe.cgi?w=MLT&l=GB&guru=MLT12162
4. Simpleforex.com - Now that I am back from vacation the Forex Chat room has again started. Starting June 27th the price of the Simpleforex.com system will be raised to $199. Currently at $99 it is a steal of a deal especially with the 90 day chat room support and 90 day guarantee. May produced 175 pips of profits for those trading in the chat room along side me.
If you are interested in the Simple Forex system check it out at www.simpleforex.com
5. I will have a full Alley Cat Newsletter available on Thursday of this week.
Steve
alleycatnews@aol.com
Alley Cat News
www.alleycatnews.net
-------------------------------------------------------------------------------------------------------------------------
If you have missed any of the past newsletters you can check them out at http://www.alleycatnews.net/news
Alley Cat HYIP News
alleycatnews@aol.com
Alley Cat News 3600 S. College Rd Ste E, PMB 103, Wilmington, NC 28412

=================================================
To remove yourself or change your e-mail address YOU MUST GO TO