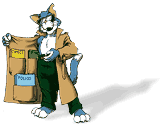 Welcome to the ALLEY CAT NEWSLETTER !
June 16th, 2004
Look below for exciting news about the Alley Cat Newsletter.
GOLD PRICES/NEWS
GOLD PRICES have been stuck in the $380-$395 an ounce area for about a month now. The longer term trend I still feel is up (Longer term = 4-6 months+). The shorter term trend I feel remains down until we get to close above $400 an ounce again. I wouldn't probably be long unless we get to that point.
Need to Buy or Sell, E-gold or E-bullion? Need it fast? Then use the Exchanger everyone is talking about for fast friendly service http://www.capitalex.com
ALWAYS LOG INTO E-GOLD VIA https://www.e-gold.com bookmark it and use your bookmark to go to the site rather than via any e-mail or link online.
PLEASE USE YOUR HEAD WHEN IT COMES TO E-MAIL. E-gold/Paypal will NEVER e-mail you asking you to log in, so when you get an e-mail like that DELETE IT.
Nasdaq Profit Trading Update
Currently we have a record of 2 wins and 1 loss for the Month of June. Below you will find the trade from June 2nd (We didn't have any trades last week)
Click on the chart for a bigger version.
WE ARE CURRENTLY RUNNING A SPECIAL ON THE NASDAQ PROFIT TRADES. RECEIVE NOW THROUGH THE REST OF THE YEAR FOR JUST $45. You will get the rest of June's NPT plus July,August,September, October, November, December. That is over a $150 value.
Offer Ends June 26th!
We have on average 6-8 trades per month.
When you trade yourself you control your $$$$; if you are tired of HYIP's that change the rules after you invested or just plain disappear, you may want to look into trading for yourself.
http://www.alleycatnews.net/npt
Your comments on this question are welcome at alleycatnews@aol.com
---
You can always find the current issue of Alley Cat News on the website under Newsletter.
---
ALLEY CAT HYIP NEWS WHAT'S NEXT?
Alley Cat HYIP News has been writing about HYIP for the last 3 years. We are one of the largest and longest running HYIP Newsletters in the industry. Over the last year and half we have added additional Due Diligence sections and research to help people save some of their money.
However, over the last 12-16 months, HYIP has been in the decline. Many high profile investors have thrown up their hands and given up on investing in HYIP. Some of these people use to spend countless hours a day researching and investing in programs.
We here at Alley Cat News have been preaching for the last year + that the best way to make money is to be in control of your money. Rather than send it off to someone to invest for you, invest yourself with many different methods that we have gone over. We still feel that is the best way to profit today. Either doing trading yourself or investing in your own business.
Let's be honest.. a person putting $25-50 a month into an HYIP is more than likely not going to have a lot to show for it in a year's time. And the people only investing $25-50 more than likely aren't great off financially in the first place and are looking for a "$50 Lottery ticket" as I call it. Something where they can put $50 into a program and make them $1000 a month in a month or two. WELL THAT ISN'T GOING TO HAPPEN. Yet, their are lot of investors out there who thought that.
There is just too much risk and too much research needed to go into investing in HYIP's. It is fine for a hobby or to throw a few bucks at every once in a while but for the average person who doesn't have a lot to invest, IT ISN'T WORTH IT LONG TERM.
That is why starting today Alley Cat HYIP News is changing to Alley Cat News. We are dropping the HYIP from our newsletter. We are becoming a much stronger Newsletter and with these changes EVERYONE who wants to earn either Part time or Full time Income will be able to.
Alley Cat News will focus on TRADING AND SMALL BUSINESS. No matter where you are in the world, you will be able to benefit from the newsletter. We will soon be having opportunities where people need not invest ANY money to earn some extra income along with some AWESOME TRADING NEWS. So whether you trade on Betonmarkets, Forex, Stocks or Options, you will be able to profit from this information.
ALLEY CAT NEWS IN MID-LATE AUGUST WILL BE RELEASING A BRAND NEW FOREX TRADING SYSTEM THAT IS SPECTACULAR!!! Even if you have no interest in trading I will show you how you can benefit from this.
Those of you who are interested in Working from Home in small businesses that you can do, we are going to have some things that will knock your socks off.
We will continue to offer the Gold Prices commentary and information on Egold/Paypal and some HYIP news. We aren't totally abandoning HYIP's; you will still see information in our newsletter each week about it. However we will no longer offer the Due Diligence sections etc..
Our focus will be on Trading and Small Business.
We will have the following sections in the Newsletter each week.
* Gold Prices
* Trading News/charts etc..
* Trade of the Week
* Advertisers
* Your $$$
* Small Business Ideas (ways to make money online)
* HYIP News
It will be extremely informative and if you read it each week, I can guarantee you will get some knowledge from each and every issue.
This is a new chapter with Alley Cat News and I think it will be the most positive and profitable for YOU the reader.
Feel free to contact me with any comments or questions
alleycatnews@aol.com
Thank you
BRAND NEW FOREX SYSTEM COMING IN AUGUST!!!
Sponsor this e-mail
13K+ people only $50
Get your Program in front of 13,000+!
contact us for rates on Solo Ads.
Alleycatnews@alleycatnews.net
---
NEXT NEWSLETTER WILL BE ON JUNE 23rd 2004!
---
Each week Alley Cat will bring you the latest from the ONLINE Investment world. You will get the latest news on Trading, Small Business, Gold Prices and HYIP's. This is a FREE NEWSLETTER we are able to make it available to EVERYONE because of our Sponsors.
SO TELL YOUR FRIENDS!
Give them this link and they can sign up for FREE
Check out our current and past issues of Alley Cat News on our Website, by clicking on the Newsletter Link.
---
Alley Cat would like to thank our Sponsors for making this newsletter available for FREE.
Disclaimer: We try and allow only quality programs to advertise with us. We research the program BEFORE allowing it to advertise however we can not be held liable for any advertiser in this newsletter. Alley Cat News DOES NOT ENDORSE ANY ADVERTISER .Alley Cat News reserves the right to refuse any advertisement. THIS IS NOT FINANCIAL ADVICE AND IS FOR INFORMATIONAL PURPOSES ONLY
For questions on advertising e-mail us at ALLEYCATNEWS@aol.com
Alley Cat News
PMB #103
3600 S. College Rd Ste E
Wilmington, NC 28412
910-452-7362