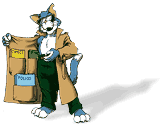 Welcome to the ALLEY CAT DETECTIVE ONLINE INVESTMENT NEWSLETTER !
JUNE 11th, 2003
Each week Alley Cat will bring you the latest from the ONLINE Investment world. You will get the latest news on HYIP's, Games,(Which ones are SCAMS and which ones show potential), other Online Investments, solid money management strategies, along with Gold prices to make the most of your online currency, And anything else that relates to investing and money. This is a FREE NEWSLETTER we are able to make it available to EVERYONE because of our Sponsors.
SO TELL YOUR FRIENDS!
Give them this link and they can sign up for FREE
Attention AOL USERS, AOL isn't allowing our HTML newsletter to get through to you, you may be receiving the newsletter via Text. If you want the HTML version please use a yahoo address or you can check out our current issue of Alley Cat News HYIP on our Website, by click on the HYIP Newsletter Link.
NEWS from the HYIP World
GOLD PRICES fell sharply yesterday almost $10 an ounce, however have rebounded some today. It broke through the $355-$360 support. Some strong support remains in the $345-$350 area. If Gold prices break below $345 by a couple of bucks LOOK OUT BELOW. As that may mean the top is in for now and lower prices should follow. Hopefully Gold will build a base price to continue to rally from. For all your E-gold needs use http://www.business-express.net/egold.php
ALWAYS LOG IN TO E-GOLD VIA https://www.e-gold.com bookmark it and use your bookmark to go to the site rather than via any e-mail or link online.
PLEASE USE YOUR HEAD WHEN IT COMES TO E-MAIL. E-gold/Paypal will NEVER e-mail you asking you to log in, so when you get an e-mail like that DELETE IT.
You can find old Alley Cat HYIP Newsletter editions on our website.
FOREX SYSTEM TRADE OF THE WEEK
This is a feature you will find each week in Alley Cat HYIP News. Each week Erol Bortucene (who is the President and Author of the Forex Profit System) will supply Alley Cat with an actual trade the Forex Profit System (FPS) signaled during the week. The purpose of this feature is to show you real results of the system. This in no means is the only trade that took place this week, however it does show the profitability possible with the FPS system. The following is the description of the trade.
Forex Profit System 'Trade of the Week': This week, during Tuesday June 10th/2003 Our 'Trade the Trend' Forex Profit System technical indicators (as outlined step-by-step in our trading system) signaled two SELL opportunities in the EUR/USD (EURO/US Dollar) currency pair during the US trading session. You could have profited on two 20 pip trades approx. $400 with one 'lot' traded and $800 with two.

The Forex Profit System has been ENHANCED! It is over 30 pages of great information. With NEW TREND and BREAKOUT features to make YOU even MORE PROFITABLE! You won't find a system that is more Step by Step for Forex trading. With Entry/Exit indicators, Great Customer Service for Just $99. And the BEST PART IS..... Those of you who have already purchased the system whether it was for $59 or $99 you receive this UPDATE FOR FREE!!! Alley Cat's way of saying THANKS! For those who haven't purchased the Forex Profit System yet, NOW IS YOUR CHANCE. Get the New Enhanced Forex Profit System!
http://www.alleycatnews.net/forex
Here is one of testimonials we received this week from someone using   the FPS system.........
"I just wanted to let you know that I purchased the
forex system a couple of months ago. I have been
using a demo account for trading since 4/1/03 and I
must say your system is AWESOME! I only had one losing
trade and that is because I didn't follow the signals
(I basically got greedy). My best day was on 6/3 when
I made almost $1500!!! I am up $9000 in 2 months.
Thank you for a great system.

Thanks!
Jamshid"
If you would like to post your own thoughts (positive or negative) please e-mail Erol or us at Alley Cat News (alleycatnews@alleycatnews.net) we would love to hear from you.
Kind Regards,
Erol Bortucene
President of FPS Trading, and author of the Forex Profit System: "How You Can Earn $50 to $500 a Day Forex Trading From the Comfort of Your Own Home!"
If you want to become an affiliate for the Save100k and/or FOREX system go to....
http://www.alleycatnews.net/affiliates
We pay $50 per referral on the Forex Profit System and $100 on our Save100k System.

To View the Forex Profit System Information go to:
http://www.alleycatnews.net/forex
To View the Save100k System information go to:
Save100k.com has a MAJOR Direct Mail advertising CAMPAIGN going on this week and we are getting thousands of hits to our website each week.
E-CURRENCY NEWS
Business Express is a leader in E-Currency you risk your money with HYIP's DON'T RISK your money with an E-Currency Exchanger use the BEST!
http://www.business-express.net/egold.php for all your E-CURRENCY needs. Bookmark the Business Express site for future use.
HYIP PROGRAMS
The fallout of FXTO closing is having a ripple effect with some programs. Here is a list I received the other day of programs that are having problems or have closed. Some of these programs were high profile and just last week one of them was spending hundreds of dollars on advertising, obviously to get one more group of investors to spend before they ran with the funds. Gold Radiance, Steady Capital, GoldenCorp, VBG (Virtual Business Group), United Club, Cash Options LLC, STX Trading, Sid Savings. I am sure you know of many many others.
I see more and more HYIP investors with total frustration on message boards lately saying things like "I'm sick of these scams I am going to go find a job" or "I am done with HYIP." It is sad that so many people out are getting scammed and losing hundreds or thousands of dollars. And you and I both know some of these people are playing with money that they shouldn't be. (Bill $$, food $$ etc...) HYIP is gambling, you see the same type of people that you see at the roulette wheel, slot machines, blackjack table. Looking for the big score, this spin of the wheel, or this pull of the lever will be the one that gets me even. Don't get me wrong I am in that same boat especially in a casino, or sports bet etc.. And I probably always will be. I like to gamble whether its horses, casinos, sports, cards, lottery. If it can be bet on I will probably play it but within reason and that can be some people's downfall. Although I do consider the HYIP arena a form of gambling its something where you can put the odds in your favor. Blackjack and Roulette aren't Scams, sure the odds are in the casinos favor but they aren't outright scams. Whereas 99% of HYIP programs are SCAMS AND ARE ACTUALLY SCAMS FROM THE START!! A casino looks to make 1-5% of every dollar that comes through the doors. They are more than happy to pay out big or small jackpots as long as they can overall make 1-5% per dollar spent in the casino. An HYIP program on the other hand either depends on new spends and is a pyramid which you KNOW will collapse at sometime, or is a scam from the start. The Program Admin. just advertises, pays out referral bonuses, in order to build the members confidence and spends, than vanish. Sure they will pay out 1-5% a day because they don't need 100% of your spend they will settle for 20-80% of your spend from hundreds of spenders! Would you go into a casino knowing at any time the casino could just not pay you? Oh you won $100 on roulette sorry we aren't going to pay you. Put please come back anytime. Yet in HYIP programs so many investors just continue to come back and more than likely spending with the SAME people that just ripped them off.
It is possible to make money in HYIP but not with programs paying out 60%+ a month or these DAILY DRAINER PROGRAMS. Long term profits in HYIP are possible by picking quality programs with real investments.
You can read about some of our rants about Daily programs in our previous newsletters which you can find on our site www.alleycatnews.net
The average HYIP investor that has $2000 or less to invest shouldn't be in more than 5-10 different programs to start off. And there are enough of those good programs out there that will allow Due Diligence, actually trade/gamble/pool your funds. I mean if your really looking to make money in the industry why mess with the scam programs. The best way to earn money is doing it yourself like through Forex Trading. However if you don't want to trade yourself at least pick decent programs that ACTUALLY Invest YOUR money.
Alley Cat News NEVER RECOMMENDS AN HYIP PROGRAM. The only programs Alley Cat News ever recommends is the Forex System and Save100k.
However Alley Cat performs Due Diligence on programs and will let our readers know of programs that have had a decent track record. In these cases we have personally spoken with the Program Admin., and will have the personal contact information available as well.
WE DO NOT RECOMMEND ANY PROGRAM. YOU INVEST IN HYIP's AT YOUR OWN RISK. ALLEY CAT CANNOT BE HELD LIABLE FOR LOSSES THAT INCUR DURING YOUR HYIP INVESTING.
---
You can always find the current issue of Alley Cat News HYIP on the website under HYIP Newsletter.
---
THE $200 TEST
We have contacted a few HYIP's this week in the hopes of bringing them to the $200 Test. Hopefully they will allow our Due Diligence and we will be able to invest with them shortly.
JUST BECAUSE WE INVEST IN THE FOLLOWING PROGRAMS IN NO WAY MEANS WE ENDORSE OR GUARANTEE PAYMENTS FROM THE PROGRAMS. WE ARE INVESTORS JUST LIKE YOU. WE HAVE DONE SOME INITIAL HYIP SCREENING BUT YOU NEED TO DO ADDITIONAL RESEARCH. WE WILL END UP GETTING SCAMMED BY SOME PROGRAMS THAT WE INVEST IN. THAT'S JUST THE WAY IT IS. HOWEVER WITH GOOD MONEY MANAGEMENT AND RESEARCH HOPEFULLY WE WILL MAKE A PROFIT IN THE END.
We are currently in the following programs for our $200 TEST.
All programs that we invest $$$ in for the $200 TEST, we have the program Admin. Phone #, Copy of Driver's License, and copy of utility bill. We do Due Diligence on all programs that we invest our money into.
1. Sports Wagers http://groups.yahoo.com/group/Sportswagers/
Sports Wagers are betting more lately and have had a losing streak than a good winning streak. Still in wait and see mode before jumping back in.
NET RESULT (-$7.50)
2. Daily-Trades
We bet $15 on Evening/Daily trades. We limit ourselves to 2 losses in a row. If we end up with 2 losses in a row then we begin to pick our spots again. Daily trades have hit bad streak since last newsletter, however it was a tremendous run!! We didn't use our 2 loss rule we had in place because we made so much money the last few weeks. However now that the winning % is down a bit we will use the 2 loss rule described above. WE WILL STILL CONTINUE TO INVEST $15 PER DAILY AND EVENING TRADE. Since last newsletter we have won 1 Evening Trades and lost 3. And we have also won 1 Daily trades and lost 3. So the overall total is 2 wins and 6 losses. 2 x $11.25 = $22.50 in profits Minus 6x $15 = $90. Which means we had a NET LOSS FOR THE WEEK OF $67.50. However we still have over $100 in profit for this program.
NET RESULT Overall + $107.50
3. Cash Domain Pool
http://www.cashdomain.net/gold.htm
We have joined this program for $20. They are a pooling program that pay a variable rate of interest each week. They have been paying for about 6 months now and are a variable interest rate program. If you MUST play daily paying programs a good pool program is the best way to go in my opinion. As long as the program Admin. diversifies and goes with more established programs to invest in. We were paid our first payment this week of 2.5% which is $.50 cents. Which of course isn't tremendous but is more of a longer term program anyway. Payouts are each Monday.
NET RESULT +$.50
$200 TEST OVERALL RESULTS
$67.10 Profit
$0 at Sportswagers, $30 at Daily-trades, $20 Cash Domain Total $$$ at risk $50, $217.10 in Cash.
(Some losses are from Fall of 2002. Those companies are no longer listed on the $200 Test, however there losses were included in the above NET Results overall.)
WE ARE A WEEKLY NEWSLETTER. YOU CAN LOOK FOR US IN YOUR E-MAIL BOX EACH WEDNESDAY FOR OUR $200 TEST, INFORMATION ON THE HYIP WORLD, AND OTHER ONLINE BUSINESS INFORMATION.
Sponsor this e-mail
20K people only $30
Get your Program in front of 20,000!
contact us for rates on Solo Ads.
HYIPads@alleycatnews.net
OUR ADVERTISERS GET RESULTS THAT IS WHY THEY KEEP COMING BACK.
REFER SOMEONE TO OUR NEWSLETTER THAT ADVERTISES AT LEAST 1 TIME AND RECEIVE A FREE AD FOR YOURSELF!!
---
Attention Merchants: Want FREE MARKETING FOR YOUR COMPANY? Accept Be-Cash as a payment for your product/services and we will add you to our BE-Cash Merchant site for FREE!! Get 100's of FREE HITS!!
Now accepted on BETONMARKETS.COM and Xodds.com!!
NEXT NEWSLETTER WILL BE JUNE 18TH 2003!
---
Alley Cat would like to thank our Sponsors for making this newsletter available for FREE.
Disclaimer: We try and allow only quality HYIP's to advertise with us. We research the program BEFORE allowing it to advertise however we can not be held liable for any advertiser in this newsletter. Business Express Inc. DOES NOT ENDORSE ANY ADVERTISER .Business Express Inc. reserves the right to refuse any advertisement. THIS IS NOT FINANCIAL ADVICE AND IS FOR INFORMATIONAL PURPOSES ONLY
For questions on advertising e-mail us at HYIPADS@ALLEYCATNEWS.NET
Alley Cat News
PMB #103
3600 S. College Rd Ste E
Wilmington, NC 28412
910-452-7362

To remove yourself or change your e-mail address YOU MUST GO TO