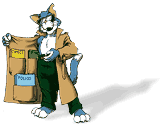 Welcome to the ALLEY CAT HYIP NEWSLETTER !
June 4th, 2004
SORRY BUT THIS WILL BE A VERY SMALL NEWSLETTER THIS WEEK. I AM WORKING EXTREMELY HARD ON THE BIG ANNOUNCEMENT AND WANT TO MAKE SURE IT IS LINED UP BEFORE ANNOUNCING ANYTHING. WE WILL HAVE NO NEWSLETTER NEXT WEEK, HOWEVER LOOK FOR THE BIG ANNOUNCEMENT THE WEEK OF JUNE 14TH! IT WILL BE WELL WORTH THE WAIT!
GOLD PRICES/NEWS
GOLD PRICES moved higher earlier this week however as of this writing were below $390 an ounce again. It hasn't been able to break the $400 an ounce level on a close. I would like to see that in order to consider a long trade again.
Need to Buy or Sell, E-gold or E-bullion? Need it fast? Than use the Exchanger everyone is talking about for fast friendly service http://www.capitalex.com
ALWAYS LOG INTO E-GOLD VIA https://www.e-gold.com bookmark it and use your bookmark to go to the site rather than via any e-mail or link online.
PLEASE USE YOUR HEAD WHEN IT COMES TO E-MAIL. E-gold/Paypal will NEVER e-mail you asking you to log in, so when you get an e-mail like that DELETE IT.
Nasdaq Profit Trading Update
Although we did have 2 trades so far this week and both were winners I didn't have the time to upload a chart for this week's NPT chart (due to the work on the big announcement) that feature will be back in next newsletter. June has a record so far of 2 wins and 0 losses.
When you trade yourself you control your $$$$, if you are tired of HYIP's that change the rules after you invested, or just plain disappear you may want to look into trading for yourself.
http://www.alleycatnews.net/npt
Please remember Alley Cat News NEVER Recommends ANY program even if we do get the DD on them. This is for INFORMATIONAL PURPOSES ONLY. We do invest in some of the programs BUT ONLY IF WE GET THE DD FROM THE COMPANIES. If we can't get the DD from the company we pass on investing in them. We feel that in order to get our hard earned money they need to show us they are for real with the DD. WE ARE NOT SAYING that any program that doesn't provide us with the DD is a scam however we feel it is wiser to only invest when we know the DD of the company. If there are other HYIP newsletters or sites that have the DD we mentioned on the company and are willing to release it if the company has problems that is another bonus to HYIP investors.
Your comments on this question are welcome at alleycatnews@aol.com
---
You can always find the current issue of Alley Cat News HYIP on the website under HYIP Newsletter.
---
OTHER NEWS YOU CAN USE!!
****As mentioned at the top of the newsletter this weeks newsletter is much shorter as I just wanted to give you a quick update and let you know that I am working on something that will be HUGE for ALL Alley Cat News readers. It has taken more time than expected but I feel it will be well worth the wait.
We won't have a newsletter Next week however you can look for us again the week of June 14th. (We will have announcement during that week sometime)
Thanks for being part of the Alley Cat readership if you are interested in making money this will be VERY EXCITING!
Have a great week
$$$$ Look for more "Other News you can Use" NEXT WEEK
WE ARE A WEEKLY NEWSLETTER. YOU CAN LOOK FOR US IN YOUR E-MAIL BOX EACH WEDNESDAY FOR OUR HYIP DD, INFORMATION ON THE HYIP WORLD,GOLD PRICES, AND OTHER ONLINE BUSINESS INFORMATION.
Sponsor this e-mail
13K+ people only $50
Get your Program in front of 13,000+!
contact us for rates on Solo Ads.
Alleycatnews@alleycatnews.net
---
NEXT NEWSLETTER WILL BE THE WEEK OF JUNE 14TH 2004!
---
Each week Alley Cat will bring you the latest from the ONLINE Investment world. You will get the latest news on HYIP's, Games,(Which ones are SCAMS and which ones show potential), other Online Investments, solid money management strategies, along with Gold prices to make the most of your online currency, And anything else that relates to investing and money. This is a FREE NEWSLETTER we are able to make it available to EVERYONE because of our Sponsors.
SO TELL YOUR FRIENDS!
Give them this link and they can sign up for FREE
Check out our current and past issues of Alley Cat News HYIP on our Website, by clicking on the HYIP Newsletter Link.
---
Alley Cat would like to thank our Sponsors for making this newsletter available for FREE.
Disclaimer: We try and allow only quality HYIP's to advertise with us. We research the program BEFORE allowing it to advertise however we can not be held liable for any advertiser in this newsletter. Alley Cat News DOES NOT ENDORSE ANY ADVERTISER .Alley Cat News reserves the right to refuse any advertisement. THIS IS NOT FINANCIAL ADVICE AND IS FOR INFORMATIONAL PURPOSES ONLY
For questions on advertising e-mail us at ALLEYCATNEWS@aol.com
Alley Cat News
PMB #103
3600 S. College Rd Ste E
Wilmington, NC 28412
910-452-7362