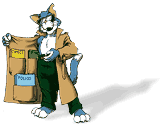 Welcome to the ALLEY CAT INVESTMENT NEWSLETTER !
The following is a Solo Advertisement you can get your own solo ad by emailing us at ALLEYCATNEWS@ALLEYCATNEWS. NET
WE GET RESULTS!!
Disclaimer: We try and allow only quality HYIP's to advertise with us. We research the program BEFORE allowing it to advertise however we can not be held liable for any advertiser in this newsletter. Alley Cat News DOES NOT ENDORSE ANY ADVERTISER. Alley Cat News reserves the right to refuse any advertisement.
------------------------------------------------------------------------------------------------------------
Hello Alley Cat News Readers just a quick update on a few issues.
1. Gold Prices have continued to fall since last weeks newsletter. As of this writing Gold is around $415 an ounce. My comments in the May 27th Newsletter is still what I am thinking for the Gold market. http://www.alleycatnews.net/news/05-27-05.html
2. GURU TRADING SERVICE - The Betonmarkets Guru Service for the month of May is now completed. The final record for May was 21 wins 9 losses on the Star 1 Trades and 1 win 0 Losses on the Star 2 trades. A $200 account risking $10.40 per 1 Star trade and $20.80 per 2 Star trade would have a profit of over $160 for the month. Which on a $200 account is 80% for the month. Not bad for a $1 service.
Today is a new month for the Guru Service and our current trade looks like a winner though we still have some time left before its official. The Guru Service is just a buck for 30 days. The price goes up to $19 a month starting June 20th. You can get more details on the Guru service in the May 27th Newsletter. (Link is above)
FYI also read # 8 on this list for important information on the GURU service.
3. Simpleforex.com - The month is now complete for May. My personal results with the Simple Forex system for the month was 175 Pips of profit. (My goal is to get between 100-200 a month) That 175 pips I made during the chat room hours that I provide with the Simple Forex system which included the Trading system trades and a couple of trendline trades that I placed as well. The trendline trading is also talked about in the simpleforex ebook. If you are interested in the Simple Forex system check it out at www.simpleforex.com its just $99 until June 22nd than it goes to $199. It has a 90 day satisfaction gu'arantee on the Product.
4. Alleycatnews.net/trade - I have been asked about this system found on www.alleycatnews.net/trade it isn't our system and no we don't use it ourselves (we trade the forex market with the simpleforex.com system) However this system is great from what I hear from other people. They also have a great guaran'tee on the product, it is mostly for stocks and futures if you are looking to swing trade. Hold your positions for 3 days - a few months. If you have a full time job and can't take some time out every day or week to trade this is probably the system for you. Also check out there cool 3 minute video they have at this link. CLICK HERE
5. Christian-Finances.net - Our first Newsletter for this website should go out in Late June with a couple of Book giveaways. If you haven't checked out the site yet please do. Also you can sign up for the Free Newsletter at our Alleycatnews.net homepage or at the Christian-finances.net Homepage.
6. Egold Exchangers- I have been asked what Egold Exchanger I use now. I have used The Ebullion Exchange now for a couple of months for outexchanges and am pleased with them. THIS ISN'T A RECOMMENDATION OR AN AD but I have been asked so I wanted to let the readers know. http://www.thebullionexchange.com
7. Almost 1/2 way through the year. The end of this month will be the 1/2 way point of the year. A great time to do a check up of your investments. Whether it is HYIP programs, your own trading etc.. Make a plan of what you want and what your time horizon is. The May 27th newsletter has a good article about a Patient investor check it out at http://www.alleycatnews.net/news/05-27-05.html
8. I'm taking a break- I am taking a couple of weeks off Starting Friday June 3rd. I need to recharge my batteries so to speak. So I will not be doing any trading via the GURU service or the Simple Forex chat room. I will doing a little traveling but will also just be relaxing around the house as well. If you do email you may not get a response for a few days as I am going to try and take a break from the computer for a couple of weeks as well. So Starting June 20th I will be refreshed and ready to tackle all the trading and newsletter duties. Once I do get back the prices of the Guru and simpleforex.com system will go up but are still well worth the price.
Enjoy the summer it is a great time to get out and about. See ya in a couple of weeks.
Feel free to email before June 3rd and I will try and get back with you ASAP.
Steve
alleycatnews@aol.com
Alley Cat News
www.alleycatnews.net
-------------------------------------------------------------------------------------------------------------------------
If you have missed any of the past newsletters you can check them out at http://www.alleycatnews.net
Alley Cat HYIP News
alleycatnews@aol.com
Alley Cat News 3600 S. College Rd Ste E, PMB 103, Wilmington, NC 28412

=================================================