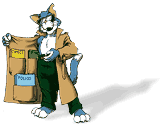 Welcome to the ALLEY CAT DETECTIVE ONLINE INVESTMENT NEWSLETTER !
MAY 14TH, 2003
Each week Alley Cat will bring you the latest from the ONLINE Investment world. You will get the latest news on HYIP's, Games,(Which ones are SCAMS and which ones show potential), other Online Investments, solid money management strategies, along with Gold prices to make the most of your online currency, And anything else that relates to investing and money. This is a FREE NEWSLETTER we are able to make it available to EVERYONE because of our Sponsors.
SO TELL YOUR FRIENDS!
Give them this link and they can sign up for FREE
We are updating our servers and the email function isn't working yet. So if you have any questions in the meantime please send them to alleycatnews@aol.com
Thank you
Attention AOL USERS, AOL isn't allowing our HTML newsletter to get through to you, you may be receiving the newsletter via Text. If you want the HTML version please use a yahoo address or you can check out our current issue of Alley Cat News HYIP on our Website, by click on the HYIP Newsletter Link.
NEWS from the HYIP World
GOLD PRICES have continued higher since last week and broke through the first area of resistance we spoke about. The next target is $355-$360, support is at $340 an ounce.
ALWAYS LOG IN TO E-GOLD VIA https://www.e-gold.com bookmark it and use your bookmark to go to the site rather than via any e-mail or link online.
PLEASE USE YOUR HEAD WHEN IT COMES TO E-MAIL. E-gold will NEVER e-mail you asking you to log in, so when you get an e-mail like that DELETE IT.
FOREX SYSTEM TRADE OF THE WEEK
This is a feature you will find each week in Alley Cat HYIP News. Each week Erol Bortucene (who is the President and Author of the Forex Profit System) will supply Alley Cat with an actual trade the Forex Profit System (FPS) signaled during the week. The purpose of this feature is to show you real results of the system. This in no means is the only trade that took place this week, however it does show the profitability possible with the FPS system. The following is the description of the trade.
Forex Profit System 'Trade of the Week': No trade of the week this week. Erol is expecting the arrival of his 3rd child any day now and has let me know that things, as you can imagine, are busier than normal. He did assure me the Trade of the Week feature will resume next week. So in the mean time you can check out our other Trades of the Week.
Also many have purchased the system from weeks or months back. We want to know your own results from using the system. Please send us what kind of results you have had. Whether you are making $500 a day with it or not using it at all. We had a guy last week e-mail saying he was still doing demo (Paper) trading on the system and planned on doing so the rest of the month. But he stated he hasn't had a day yet where he hasn't made at LEAST $300 PROFIT FOR THE DAY! Please send your results to us at alleycatnews@aol.com

The Price is just $99 for the Forex system you could trade for yourself and eliminate getting scammed by HYIP's. Also we offer an excellent $50 commission per sale to our affiliates!! (2 referrals would earn you the Forex Profit System)
You can order the FPS system on our website.
http://www.alleycatnews.net/forex
If you want to become an affiliate for the Save100k and/or FOREX system go to....
http://www.alleycatnews.net/affiliates

Once you are an Affiliate you will be able to Log into the Affiliate area and view your sales along with banner ads you can use to advertise both Forex and Payoff Systems.
If you have a mortgage there is NO BETTER INVESTMENT AROUND THEN SAVE100K.COM. Get your own FREE PERSONAL CALCULATION AND WE WILL PROVE IT TO YOU. If the Payoff system can't save you TEN'S OF THOUSANDS than don't purchase it. However if the Payoff system can save you $$$ your crazy not to. STOP OVERPAYING ON YOUR MORTGAGE AND OTHER DEBT. DON'T BE AN AVERAGE JOE BE AN ALLEYCAT/SAVE100K JOE.
Money not spent is more money to spend!
More money to spend creates more lifestyle options and more wealth-building opportunities!
What's holding you back from getting your OWN FREE PERSONAL CALCULATION? See what you can save with Save100k.com if you really think you can find a better investment PLEASE LET US KNOW!!
You have NOTHING to Risk in getting your own Personal Calculation.
http://www.save100k.net/calcrequest.php
Become an affiliate with Alley Cat either for the Payoff system or the Forex System and make great income.
FREE Sign up + Free Sales aids + $100 commissions + Product MILLION's of people WANT = AWESOME OPPORTUNITY!
Commissions are now an amazing $100 per referral!
We also offer PERSONAL CALCULATIONS. Which is a FREE SERVICE. So just think the people that you refer to the site can get their OWN PERSONAL CALCULATIONS of how the Payoff System will work for them. We will e-mail them with information such as how long until they are out of debt, how much interest they will pay and show them the number of years they would save in payments and in interest. WE DO ALL THE SUPPORT AND FOLLOW UP WORK. ALL YOU NEED TO DO IS ADVERTISE YOUR REFERRAL LINK!!
Get your own FREE PERSONAL CALCULATION
http://www.save100k.net/calcrequest.php
E-CURRENCY NEWS
Last week we talked about a copy cat E-CURRENCY exchanger that was scamming people into thinking they were a legitimate e-currency exchanger. This week yet another Exchanger has closed up shop GoldChanger. With reports of people not getting funded for spends they made. It's is a sad day in the e-currency world where not only do you have to watch out for the HYIP's but now the E-currency exchangers as well. Their is a SOLUTION however to the E-currency problem, and that is by using Business-express.net for your E-currency exchanging needs.
DON'T BE SCAMMED BY AN E-CURRENCY EXCHANGER! Use an E-Currency provider that has been in the Business of E-currency for YEARS! Business Express is one of the oldest E-gold exchangers in the business. They offer a variety of services and the best rates around. When you want to cash out your E-gold they have a number of ways to send you your money. If you want to fund your E-gold account they offer GREAT RATES, and a variety of ways to fund your account. You won't find better customer service. You can call and speak with them or drop them an e-mail. Each month they also offer TREMENDOUS Funding and cash out specials! Don't risk YOUR gold with E-Currency Scams.
Go to https://www.business-express.net/egold.php
ONCE YOU'RE THERE BOOKMARK THE SITE FOR FUTURE USE. Once you used the BEST you won't settle for the rest!
HYIP PROGRAMS
Asset development Group, (www.assetdg.com) contacted us last week about us doing a solo ad for their HYIP program. We told them that we needed to perform Due Diligence on the program and the program admin. before doing a solo ad for them. We asked for copies of Driver's License and/or Passport and a copy of Utility bill with a valid phone # so we could contact them. They did provide the Driver's license, however declined to offer the Utility bill or valid phone # so I could talk with them. They asked for there $300 back for which they paid for the solo ad and we refunded them. There are just too many red flags that pop up with this company that I thought needed to be written about.
First if you go view who there website is registered to you will find it registered to James Richards, from Mesquite, Nevada. You will find a phone # however when calling that # I was told I had the wrong #. So they put in bogus information to register there site. Which on the surface isn't a huge deal as so many HYIP companies do that however for a company that tries to give off the imagine of a solid company its a little odd. Also on there website in the "Contact Us" section they list a couple of phone #'s and a mailing address. The mailing address is in New York City and is basically a building which rents out space to people that want to have a NYC presence. If you do a search of 1001 Avenue of the Americas you will find that the building is basically a mailing and voicemail forwarding service. So the (212) number listed on the site is just that of voicemail. And the mailing address is just that of the building I mentioned above.
Another issue, is they accept Credit Cards to fund your account. Which is EXTREMELY RARE in HYIP, or ANY investment for that matter. Another HYIP that took credit Cards was Worldwide-investment.com which advertised with us last fall and is one of the MAJOR reasons we have the put in the due diligence rules we have in place now. Worldwide did solo ads with us last fall and than disappeared. Actually they were one of the last programs to do a solo ad with us. And then out of the blue Assetdg contacts us to do a solo ad as well. NOW I AM NOT SAYING WORLDWIDE AND ASSETDG ARE BEING RUN BY THE SAME PEOPLE. However as you well know most program Admins. whether they run games or trading programs continue to run different programs. If they think it is profitable they will do it again.
In my opinion there are just too many red flags that pop up with this company. They pay out 63% a year according to there website which in the HYIP arena isn't much and maybe they did that in order to get more people confident I don't know. And maybe its a good program time will tell. HOWEVER YOU WILL NOT SEE IT ADVERTISED IN ALLEYCATNEWS. They aren't willing to allow us to complete our Due diligence. WE NEVER RECOMMEND PROGRAMS TO PUT YOUR MONEY INTO. We do suggest which programs NOT to put money into. This is a program we would suggest staying clear of at least until the facts are clear. And if they are a true program they should be around a long time so no need to jump in now in my opinion. If you HAD to join my suggestion would be do it with a credit card, (one that has protection on it) so if anything happened you could do a chargeback. And that is another issue I don't even know if its legal to take Credit cards for investment purposes.
On to other topics. Many HYIP programs have reported spam problems in recent weeks. With many programs having to shut down for days or weeks in order to find additional hosting providers. It is due to overzealous members looking to make some extra money from referral commissions or someone looking to mess with an HYIP program for revenge purposes. There are MANY ways nowadays in the HYIP arena to market your program spam doesn't need to be one of them. There are many HYIP newsletters and rating sites that look for advertisers.
Another Exciting development in the past week is at Betonmarkets. They have added a great new feature to their intraday betting option. Where you can be in a bet for as little as 30 minutes and it doesn't have to be hour to hour (2pm-3pm). It can now be any 30 minute period based on 10 minute intervals. For example 1:40 pm to 2:10pm. With only a 5 minute prior to start deadline. If you don't have a betonmarkets account yet you really should get one. (Especially if you like to trade the forex market) One bad thing recently however betonmarkets stopped taking applications for U.S clients. (In the future however they will probably reopen that option.) If you want your own FREE Betonmarkets.com account CLICK HERE
Alley Cat News NEVER RECOMMENDS AN HYIP PROGRAM. The only programs Alley Cat News ever recommends is the Forex System and Alley Cat Payoff.
However Alley Cat performs Due Diligence on programs and will let our readers know of programs that have had a decent track record. In these cases we have personally spoken with the Program Admin., and will have the personal contact information available as well.
WE DO NOT RECOMMEND ANY PROGRAM. YOU INVEST IN HYIP's AT YOUR OWN RISK. ALLEY CAT CANNOT BE HELD LIABLE FOR LOSSES THAT INCUR DURING YOUR HYIP INVESTING.
---
You can always find the current issue of Alley Cat News HYIP on the website under HYIP Newsletter.
---
THE $200 TEST
None of the programs that we have been watching have wanted to let us do the due diligence on them in order to get in the $200 Test and mention them in our newsletter. We did however get a fresh batch of programs from our members that we are looking into and hopefully will have good news for you next week on that front.
JUST BECAUSE WE INVEST IN THE FOLLOWING PROGRAMS IN NO WAY MEANS WE ENDORSE OR GUARANTEE PAYMENTS FROM THE PROGRAMS. WE ARE INVESTORS JUST LIKE YOU. WE HAVE DONE SOME INITIAL HYIP SCREENING BUT YOU NEED TO DO ADDITIONAL RESEARCH. WE WILL END UP GETTING SCAMMED BY SOME PROGRAMS THAT WE INVEST IN. THAT'S JUST THE WAY IT IS. HOWEVER WITH GOOD MONEY MANAGEMENT AND RESEARCH HOPEFULLY WE WILL MAKE A PROFIT IN THE END.
We are currently in the following programs for our $200 TEST.
1. Betting Club
We own 18 shares of this Trading club at a total outlay of $37.50 including the commission. Even though we didn't find additional $200 Test programs this week we decided to cash out of the Trading club and stop our loss at what it is currently. We cashed out at $27.95. Next week we will erase the Betting club from our $200 Test. (However the loss will still account against the $200 Test)
NET RESULT -($9.55)
2. Sports Wagers http://groups.yahoo.com/group/Sportswagers/
Sports Wagers took a break to get back on track so we did too. We want to see them get a bit of a winning streak before we start investing again. Good program just needs to get back in the winning column. Nothing new since last week we will wait and see them produce some more winners before jumping in.
NET RESULT (-$7.50)
3. Daily-Trades
We bet $15 on Evening trades only. We limit ourselves to 2 losses in a row. If we end up with 2 losses in a row then we begin to pick our spots again. They TAKE BE-CASH SO USE IT! As we said last week we planned on playing the Daily trades a little this week as well. Last week we ended the Evening trades on a bad note with them losing 2 in a row. Once they have 2 losses in a row we pick our spots. We held off on Sunday's trade but bet for Monday and Tuesday and both were winners. We will play probably just 1 more evening and 1 more daily trade this week. So since last newsletter we had 2 wins and 2 losses in the evening trades. However we have played the daily trades this week and have 3 wins and 0 losses. We will just play 1 of the next 2 days on the daily trades. (Protect our profits :>) So since last newsletter we have a total of 5 wins x $11.25 ($15 bets x 75%= $11.25) = $56.25 profit. 2 losses at $15 each or $30. So total profit for the week is $26.25! Daily trades have been VERY GOOD to us.
NET RESULT Overall + $73.75
$200 TEST
$32.85 Profit
$0 at Betting Club, $0 at Sportswagers, $30 at Daily-trades Total $$$ at risk $30, $202.85 in Cash.
(Some losses are from Fall of 2002 those companies are no longer listed on the $200 Test however there losses were included in the above NET Results overall.)
WE ARE A WEEKLY NEWSLETTER. YOU CAN LOOK FOR US IN YOUR E-MAIL BOX EACH WEDNESDAY FOR OUR $200 TEST, INFORMATION ON THE HYIP WORLD, AND OTHER ONLINE BUSINESS INFORMATION.
Sponsor this e-mail
20K people only $30
Get your Program in front of 20,000!
contact us for rates on Solo Ads.
HYIPads@alleycatnews.net
OUR ADVERTISERS GET RESULTS THAT IS WHY THEY KEEP COMING BACK.
REFER SOMEONE TO OUR NEWSLETTER THAT ADVERTISES AT LEAST 1 TIME AND RECEIVE A FREE AD FOR YOURSELF!!
---
Attention Merchants: Want FREE MARKETING FOR YOUR COMPANY? Accept Be-Cash as a payment for your product/services and we will add you to our BE-Cash Merchant site for FREE!! Get 100's of FREE HITS!!
Now accepted on BETONMARKETS.COM and Xodds.com!!
NEXT NEWSLETTER WILL BE MAY 21st 2003!
---
Alley Cat would like to thank our Sponsors for making this newsletter available for FREE.
Disclaimer: We try and allow only quality HYIP's to advertise with us. We research the program BEFORE allowing it to advertise however we can not be held liable for any advertiser in this newsletter. Business Express Inc. DOES NOT ENDORSE ANY ADVERTISER .Business Express Inc. reserves the right to refuse any advertisement. THIS IS NOT FINANCIAL ADVICE AND IS FOR INFORMATIONAL PURPOSES ONLY
For questions on advertising e-mail us at HYIPADS@ALLEYCATNEWS.NET
Alley Cat News
PMB #103
3600 S. College Rd Ste E
Wilmington, NC 28412
910-452-7362

To remove yourself or change your e-mail address YOU MUST GO TO
!remove