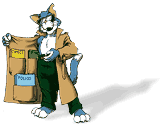 Welcome to the ALLEY CAT NEWSLETTER !
The following is a Solo Advertisement you can get your own solo ad by emailing us at ALLEYCATNEWS@ALLEYCATNEWS. NET
WE GET RESULTS!!
Disclaimer: We try and allow only quality programs to advertise with us. We research the program BEFORE allowing it to advertise however we can not be held liable for any advertiser in this newsletter. Alley Cat News DOES NOT ENDORSE ANY ADVERTISER. Alley Cat News reserves the right to refuse any advertisement.
------------------------------------------------------------------------------------------------------------
Hello Alley Cat News Readers I wanted to give you a short update on a few items.
1. Alley Cat Newsletter - I should have a New Alley Cat Newsletter sometime early/mid next week. With updates on a few HYIP's, Gold prices, and trading.
2. GURU TRADING SERVICE -I have started a Guru Service on Betonmarkets. What a guru service does, is once your subscribed to the Guru service each time I place a trade with Betonmarkets, Betonmarkets will send you an email of the trade that I placed. So you can watch the trades as I place them or you can trade them yourself if you so desire. I trade 2 different signals a Star 1 and a Star 2. So far since opening the Guru Service to the public I have a record of 6-0 in the Star 1 trades and 1-0 in the Star 2 trades.
If you risked just $10.40 on the Star 1 trades and $20.80 on the Star 2 trades you would be up $96.80 already for May!
I am charging just $1 for 30 days of Guru services though that price will go up in the future. So if you want to try its a great way to get started.
You must have an account with betonmarkets in order to get the Guru Service and the account must start with MLT. In other words if you have an account that starts with CR you won't be able to view the Guru Service. Its easy to sign up for a Free Betonmarkets MLT account though or if you have an MLT account and want more information you can view our information at the following link.
https://venus2.tradeodds.com//d//c_guru_subscribe.cgi?w=MLT&l=GB&guru=MLT12162
3. Christian Finances Site- I am working on getting the domain switched this week. Hopefully it will be on its permanent home sometime next week. I also have a lot of additional content that will be added to it next week. I will keep you updated. If you haven't checked it out yet, on it you will find a picture of myself and my wife so if you ever wondered what "Alley Cat" looked like you can find it at
http://finances.alleycatnews.net
4. Gas Prices - Here in the U.S they tend to say Summer starts on Memorial Day. Which this year is on May 30th only a couple of weeks away. Summer time usually means family vacations and if you are driving this year you will notice the high gas prices. Well there is a product available that I think can help you. Actually it can save up to $10 a fill up which can be a great savings. Plus it has a M'oney Back guara.ntee on it. If interested check out.
5. Pips- This program continues to have withdrawal problems as some people have been waiting as much as 5 months to get their withdrawals. Of course the company has said things will get better. But history does tell us once a company has problems this big they tend not to recover. Also some US Government agencies have filed cease and desist orders. Capital Enhancement Club a program running for many years has also had US Government involvement lately. I do not know if their assets were frozen or if they are going on as before. But its not a great sign when the US Government gets involved in HYIP's. Even if their is no wrong doing it usually has many people running for the exits which puts a burden on the program. Hopefully both of these programs recover and continue for many years to come for their investors sakes.
6. Gold Prices- Gold prices have gone down since my last newsletter. I have talked about Gold prices and the range we are in, in the last couple of newsletters. Check them out for more information. Not much has really changed from my thinking. I would like to see Gold above $440 an ounce before I like it on the Long side (buy). However I think the downside right now is where to be as I think $415 is possible. We first need to see a close below $422 in order to get that. Its pretty much in the middle of the range so I wouldn't really touch it either way. As stated in the last newsletter I thought the risk/reward was good for a short in Gold and that would of made a nice profit.
7. Forex System- If you are looking to make some money in the forex market or just make some extra as an aff. than check out
8. Trading System less than $30 a month- If you are looking for a trading system that deals with all kinds of trading. Stocks, futures, forex etc.. This is the system for you. It offers 90 day gua.rantee on the system and is less than $30 a month. Check it out at
http://www.alleycatnews.net/trade
Have a great week and talk to you again sometime next week.
Steve
Alley Cat News
-------------------------------------------------------------------------------------------------------------------------
If you have missed any of the past newsletters you can check them out at http://www.alleycatnews.net
Alley Cat HYIP News
alleycatnews@aol.com
Alley Cat News 3600 S. College Rd Ste E, PMB 103, Wilmington, NC 28412

=================================================
To remove yourself or change your e-mail address YOU MUST GO TO
To remove yourself from future mailing, click the link below.
Unsubscribe