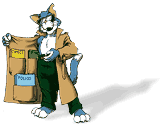 Welcome to the ALLEY CAT NEWSLETTER !
April 27th, 2006
GOLD PRICES/NEWS
Gold continue to roll, hitting $640+ an ounce yesterday. I don't really have any predictions where it is headed. It has gone up pretty fast though so a pull back isn't out of the realm of possibility. $610 an ounce would have some decent support and also $600 an ounce. Can we see $700 by July? That would be great but I am not betting on it. I don't have any positions in Gold currently.
ALWAYS LOG INTO EGOLD VIA https://www.e-gold.com ,bookmark it, and use your bookmark to go to the site rather than via any e-mail or link online.
PLEASE USE YOUR HEAD WHEN IT COMES TO E-MAIL. Egold/Paypal will NEVER e-mail you asking you to log in, so when you get an e-mail like that DELETE IT.
---
You can always find the current issue of Alley Cat News on the website under Newsletter.
---
INDIRECTLY in OIL!!
Check out the ad on the top left of this newsletter. It is an interesting program that you may want to check out. The payout is pretty good and you could be Indirectly in the Oil business. You can actually join the program and don't have to pay the $149 fee until your in the back office. (So you can check it out) Those that join by April 30th will be the ones that receive the bonus check in July.
Some people are doing quite well with the program.
---
$500 Bucks Back!
This is a Great New ebook that can really put some money back into your pocket. From ways to save money in 10 minutes or less to savings as much as $500,000 or more in your life.
The ebook has a 8 week money back guarantee and a 75% affiliate commission.
Check it out at
and put $500 back into your pocket!
---
OTHER NEWS YOU CAN USE
* Our Stock Doubling Newsletter first selection was a very nice winner and it took less than 6 months for the double. (Goal is to get the double in 1 year) The first selection we had was GNBT and purchased it at $1.24 and sold at $2.48, it went on to $5! Well our next stock doubling selection will be coming out in late May or early June. I will keep you posted. FYI if interested in the Stock doubling newsletter you may want to get a stock brokerage account open. I use Scottrade.com and you can open an account with as little as $500.
* Our Trading newsletter, (Deals with forex, stocks, gold etc..) will again start to have 2-3 emails a week about different trades I like. Most of which you can find on Betonmarkets. If you aren't on the Alley Cat Trading Newsletter subscriber go to www.alleycatnews.net and sign up for the Free Trading Newsletter today
* We also have a Prelaunch MLM newsletter at www.alleycatnews.net it will deal with new MLM or marketing businesses that are brand new. It will also have articles and news on marketing online/offline for free etc.. So if that is your type of thing sign up for the Prelaunch MLM newsletter on our site. It will be a once a week or so newsletter.
---
THE NEXT NEWSLETTER, LORD WILLING, WILL ARRIVE IN LATE MAY 2006!
Check out our current and past issues of Alley Cat News on our Website by clicking on the Newsletter Link.
---
Alley Cat would like to thank our Sponsors for making this newsletter available for FREE.
Disclaimer: We try and allow only quality programs to advertise with us. We research the program BEFORE allowing it to advertise however we can not be held liable for any advertiser in this newsletter. Alley Cat News DOES NOT ENDORSE ANY ADVERTISER .Alley Cat News reserves the right to refuse any advertisement. THIS IS NOT FINANCIAL ADVICE AND IS FOR INFORMATIONAL PURPOSES ONLY
For questions on advertising e-mail us at alleycatnews@alleycatnews.net
Alley Cat News
PMB #103
3600 S. College Rd Ste E
Wilmington, NC 28412
910-452-7362