Ad Sponsors
---
DAY JOB KILLER!
This just may kill your day job! We show no mercy your day job must

die

! If it doesn't

die

in 8 weeks we give your money back!
CLICK HERE
---

Free Daily Stock Blog at
StockDoubling.ORG


---
FREE EBOOK
"How I turned $500 into $4,000 in 14 months!"

Click Here

---
Power of 7 Web Hosting
Host up to 7 blogs, shopping carts, membership sites, discussion forums, affiliate marketing sites - all from ONE account with 777Mb space and 7700Mb bandwidth, for ONLY $7 per month!
WebsiteManagers.net/AlleyCatNews
---
LazyTrading.com

The software is back for sale but only for a couple more days! March 30th the Software goes back off the market!

LazyTrading.com

---
Submit your Ad to Millions!
Try us for 60 days if it isn't for you get 100% of your money back!
---
ADVERTISE WITH US AND GET YOUR PROGRAM OR PRODUCT IN FRONT OF PEOPLE WHO WANT TO MAKE $$$$. WE HAVE GREAT NEW RATES.
---
Matthew 12:36

"I tell you on the day of judgment people will give account for every careless word they speak, for by your words you will be justified and by your words you will be condemned."
---
Alley Cat would like to thank our Sponsors for making this newsletter available for FREE.
---
Disclaimer: We try and allow only quality companies to advertise with us. We research the program BEFORE allowing it to advertise however we can not be held liable for any advertiser in this newsletter. Alley Cat News DOES NOT ENDORSE ANY ADVERTISER. Alley Cat News reserves the right to refuse any advertisement. THIS IS NOT FINANCIAL ADVICE AND IS FOR INFORMATIONAL PURPOSES ONLY.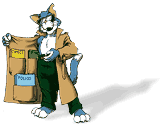 Welcome to the ALLEY CAT NEWSLETTER !
March 27th, 2007
GOLD PRICES/NEWS
It has been a while since my last full newsletter. I did mention my outlook for Gold in the March 12th Trading Newsletter. Here is a quote from it....."
Gold prices have really jumped around lately. I see some decent support in the $635-$640 area. The risk/reward is pretty good I think. I would risk about $15 from here. (Exit on a close below $635) With a profit target around $700 which is roughly $50 from here. That would take a couple months though I think. Anyway risk/reward is 3 to 1 ratio which is pretty good. I have purchased a 60 day Bull contract on Gold via Betonmarkets with a target price of $655. (It must be higher than $655 in order for a 90% payout on May 11th. I may or may not exit that position at anytime.)"
Well prices from the time I bought did fall back to support but then rose nicely after that. I am still in my bull contract and it is currently in profit. Looking at the chart this morning.... A close below $653 may be trouble on the daily chart and I would consider getting out. If it can get above the $670 area on the daily chart that would be bullish.
On the weekly charts a close below $650 maybe the end of the uptrend for a little while. But a close above $690 and we should move to the highs set back in 2006.
---
ALWAYS LOG INTO EGOLD VIA https://www.e-gold.com bookmark it, and use your bookmark to go to the site rather than via any e-mail or link online.
PLEASE USE YOUR HEAD WHEN IT COMES TO E-MAIL. Egold/Paypal will NEVER e-mail you asking you to log in, so when you get an e-mail like that DELETE IT.

---
You can always find the current issue of Alley Cat News on the website under Newsletter.
---
What would you like to see in Alley Cat News?
I would love to hear your opinion on the things you would like to see. We have tried to give good quality trading information so people can trade for themselves or invest without the risk of HYIP's. But we have been doing this for years now and I am just curious if you have any other ideas that you like to see in the Alley Cat Newsletter. Please send them to me at

alleycatnews@alleycatnews.net
---
StockDoubling.com
UPDATE UPDATE UPDATE!


I exited out of ATSX last week. I explain all the reasons on our website at http://www.StockDoubling.ORG

Bottom line was the #'s weren't looking as good and the # of shares was expanding GREATLY. And I felt mislead by investor relations.

Overall though I entered the stock at .23 and exited at .235. So it was still a profitable trade. Just NO WHERE NEAR A DOUBLE. It was disappointing but I would rather be out of a stock for break even then have to stick with it for years as they make a turnaround etc..
Remember we are only looking for 1 stock per year. All we lost with ATSX is a little time (2 months). And since I was WAY ahead of schedule it isn't a big deal.

I will be looking for the NEXT stock sometime in early April. So if you haven't joined us on the StockDoubling.com project yet now is a perfect time to do so. You can open a brokerage account for as little as $500 with Scottrade.com just mention referral code
SVZP9077
and you will receive 3 free trades.

We have also updated the StockDoubling.com website. If you have visited it in the last few days check it out.

http://www.StockDoubling.com
You will find all the details on the project of trying to turn $500 into $1,000,000. Plus testimonials, Charts of the stocks I have been in, Account statements from my broker, an FAQ page, and much more!

I have also added a few other websites that deal with StockDoubling.

http://www.StockDoubling.NET
On this website you will find my FREE ebook "How I turned $500 into $4,000 in 14 months!" It is the story of the StockDoubling project so far with some GREAT behind the scenes information.

http://www.StockDoubling.ORG
This site is my DAILY blog on the StockDoubling project all the updates on the stocks will be on this page. And this is the FIRST place all new stock picks will be listed. So it will be something you will want to check out each day. This website is the one I will update the most.

http://www.StockDoubling.INFO

Do you have a stock that you have been watching or maybe you own right now? But aren't quite sure how good it really is. Well at this site I will research the stock for you just like I would for the StockDoubling project. I will give you an in depth review of the risk and reward potential of that stock. Based on all the information I look at when picking my own stocks. (Did you know that 13 of the 15 stocks I have covered for stockdoubling have gone up at least 70%! You can read more about that in the ebook.)

As you can see I am very dedicated to this project. I really feel that is could be a way for the smaller investor to really make a good return. And many others feel the same way just look at the testimonials.


---
OTHER NEWS YOU CAN USE
* Would you like to see Alley Cat endorsed products? I am kicking around the idea of having products that we endorse that would have to meet certain standards before they could be marketed. If that would interest you let me know. alleycatnews@alleycatnews.net
* You really should check out the Free ebook at http://www.StockDoubling.NET it shows some behind the scenes information on how I turned $500 into $4,000 in 14 months.
* Our top sponsor for this issue is DAY JOB KILLER
We hope these services meet your needs and we are always here for support. Make a difference in 2007!


---
THE NEXT NEWSLETTER, LORD WILLING, WILL ARRIVE IN APRIL 2007!
---
Check out our current and past issues of Alley Cat News on our Website by clicking on the Newsletter Link.
---
Alley Cat would like to thank our Sponsors for making this newsletter available for FREE.
Disclaimer: We try and allow only quality programs to advertise with us. We research the program BEFORE allowing it to advertise however we can not be held liable for any advertiser in this newsletter. Alley Cat News DOES NOT ENDORSE ANY ADVERTISER .Alley Cat News reserves the right to refuse any advertisement. THIS IS NOT FINANCIAL ADVICE AND IS FOR INFORMATIONAL PURPOSES ONLY
For questions on advertising e-mail us at alleycatnews@alleycatnews.net
Alley Cat News
P.O Box 149
Byron Center, MI 49315
616-499-3386