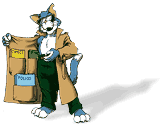 Welcome to the ALLEY CAT NEWSLETTER !
March 21st, 2005
GOLD PRICES/NEWS
It has been almost a month since my last update on GOLD PRICES. They bounced off the support levels we talked about and were on fire. Today (Monday) Gold is down over $7 an ounce though. I see some support around $426-427 an ounce. If it is unable to hold Gold could once again come down to the $415 area. I would like to see it higher than $450 an ounce to continue the rally. Right now I don't have a position in Gold.
ALWAYS LOG INTO EGOLD VIA https://www.e-gold.com bookmark it and use your bookmark to go to the site rather than via any e-mail or link online.
PLEASE USE YOUR HEAD WHEN IT COMES TO E-MAIL. Egold/Paypal will NEVER e-mail you asking you to log in, so when you get an e-mail like that DELETE IT.
---
You can always find the current issue of Alley Cat News on the website under Newsletter.
---
If you have ordered the New Forex System but have yet to receive the information please review the Feb 25th edition of the Alley Cat Newsletter for details on how to receive it.
http://www.alleycatnews.net/news/02-25-05.html
The chat room has begun and just currently from 6.30am EST (1.30pm GMT) to 10.30am EST (5.30pm GMT). I am also considering an evening chat room for an hour or two for those people who aren't available during the day.
I have had a lot of things to do over the last month or so. I had hoped to have the new Forex Website available by now at the higher price etc.. However I have had a few projects that I need to finish before I can get back to doing the website. I am also in the chat room for a few hours each day which takes up my time. So in the meantime since the New Forex website won't be built for a few weeks at least I decided to let those that missed out have the opportunity to still get the New System.
The New System isn't being changed I just want a better website to promote it and offer affiliates etc... The site it currently has is quite basic. So if you are interested you can visit http://www.alleycatnews.net/forex
Below are a couple of trades over the last month. The first one is a Trade in the British Pound based on the Forex System. It is not a trade I traded myself as I wasn't up at that time. Just shows though no matter the time zone you can trade. The 2nd chart is one based on Support/resistance lines. We talk about these type of trades in the ebook. Although they are not a "System" trade we do talk about the importance of using them to trade. Some traders use support/resistance lines exclusively to trade and are quite successful. I do trade off them on occasion however I use them a lot to keep myself out of bad trades and have more confidence in good trades. They are also great when you want to exit your trade.
I DID NOT PLACE EITHER OF THESE TRADES THIS WERE HYPOTHETICAL TRADES BASED ON LOOKING AT PAST PERFORMANCE!
The first chart is a Winning GBP/USD trade depending on your Exit it would have been a 20+-100 pip WINNING trade.
CLICK ON THE CHARTS FOR BIGGER IMAGE.
CLICK ON THE CHARTS FOR BIGGER IMAGE
http://www.alleycatnews.net/forex
OTHER NEWS YOU CAN USE!!!
* The link to purchase the New Forex system is back up. I had hoped to have the new website up by now but have some other projects that need finished. So I won't have time to finish the New Forex website. So if you missed the deadline last month for the Forex System you still have a little time to purchase the Forex System at the reduced rate. Until I get the New website up. I have a couple of other projects I am working on first so it may be a couple of weeks or so.
* Those that have the Forex system. The chat room hours right now are from 6.30am Est (1.30pm GMT) to 10.30am EST. I am considering also having a night chat room from 7pm est-8.30pm EST depending on the interest. You can get your questions answered during those times and we can see if the market is producing any good trades.
* Reality Millions claimed to have been hacked for $200,000. They will no longer be using Egold and say they will eat that $200,000 themselves so it will result in no net negative effects to their investor. We will see if that bares itself out over the next 6 months.
* Cycling programs seem to have gone from RED HOT to lukewarm in a lot of investors minds. The biggest cycler is now cycling more than 2 months longer than it normally takes. Hopefully for those invested they can bring that time down.
* It is Holy Week this week for those of the Christian faith. Good Friday is just a few days away and Easter is this coming Sunday. Be thankful for what God has given you, an Eternal life with him through Jesus.
* Sign up for our Free Trading Newsletter at
----------------------------------------------------------------------------

Sponsor this e-mail
13K+ people only $50
Get your Program in front of 13,000+!
contact us for rates on Solo Ads.
Alleycatnews@alleycatnews.net
---
NEXT NEWSLETTER WILL BE IN EARLY APRIL 2005!
---
Each week Alley Cat will bring you the latest from the ONLINE Investment world. You will get the latest news on Trading, Small Business, Gold Prices and HYIP's. This is a FREE NEWSLETTER we are able to make it available to EVERYONE because of our Sponsors.
SO TELL YOUR FRIENDS!
Give them this link and they can sign up for FREE
Check out our current and past issues of Alley Cat News on our Website, by clicking on the Newsletter Link.
---
Alley Cat would like to thank our Sponsors for making this newsletter available for FREE.
Disclaimer: We try and allow only quality programs to advertise with us. We research the program BEFORE allowing it to advertise however we can not be held liable for any advertiser in this newsletter. Alley Cat News DOES NOT ENDORSE ANY ADVERTISER .Alley Cat News reserves the right to refuse any advertisement. THIS IS NOT FINANCIAL ADVICE AND IS FOR INFORMATIONAL PURPOSES ONLY
For questions on advertising e-mail us at ALLEYCATNEWS@aol.com
Alley Cat News
PMB #103
3600 S. College Rd Ste E
Wilmington, NC 28412
910-452-7362