Ad Sponsors
---
---
LazyTrading.com is BAAAACK!


If you have jumped on the forex bandwagon check out LazyTrading.com it is an awesome system that I have used myself for almost 3 years.

www.LazyTrading.com

---

Get Instant FREE Analysis on ANY STOCK, FOREX, OR GOLD/OIL.

Awesome FREE site!!!
If you have a stock, like the Forex, or drive a car check out this site!

WatchTheTrend.com


---
Another winner this week!

You can see the chart of our winning trade for this week. We keep rolling along. I am limiting membership so check it out.

To check out the website go to
NASDAQPROFITS.COM


---
Others paid $1000's you can get it.....
FREE!!


Need advice from the pros? Check out these 4 FREE videos.
Click Here
---
I turned $500 into $4000 in 14 months.


---
PrelaunchNewsletter.com
If you are into online biz opps, mlm, and just ways to save/make extra money check out the Prelaunch Newsletter site. It's Free!

PrelaunchNewsletter.com

---
John 6:35
Jesus said to [the crowd], "I am the bread of life. Whoever comes to me will never be hungry, and whoever believes in me will never be thirsty."
---
Alley Cat would like to thank our Sponsors for making this newsletter available for FREE.
---
Disclaimer: We try and allow only quality companies to advertise with us. We research the program BEFORE allowing it to advertise however we can not be held liable for any advertiser in this newsletter. Alley Cat News DOES NOT ENDORSE ANY ADVERTISER. Alley Cat News reserves the right to refuse any advertisement. THIS IS NOT FINANCIAL ADVICE AND IS FOR INFORMATIONAL PURPOSES ONLY.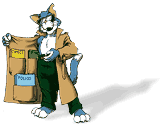 Welcome to the ALLEY CAT NEWSLETTER !
March 15th, 2008
GOLD PRICES/NEWS
Gold prices finished over $1000 an ounce!!! Wow what a run over the last few years. It may have some more room to go. Or it may do what oil did after it hit $100. (After a few weeks oil has gone stronger past $100) We will see what happens. If you have a lot in e-gold or e-bullion congrats!



---
ALWAYS LOG INTO EGOLD VIA https://www.e-gold.com bookmark it, and use your bookmark to go to the site rather than via any e-mail or link online.
PLEASE USE YOUR HEAD WHEN IT COMES TO E-MAIL. Egold/Paypal will NEVER e-mail you asking you to log in, so when you get an e-mail like that DELETE IT.

---
You can always find the current issue of Alley Cat News on the website under Newsletter.
---
Review of Trading Products
A new feature we will have each week in the Alley Cat Newsletter is a Review of trading products. This newsletter is here to help you become a better trader. To get you OUT of the HYIP world and into a way for you to make money trading the markets yourself.
This week we are going to review the site
http://www.WatchTheTrend.com
Here is a short 90 second video of some of the benefits of the site.
It is FREE Instant Analysis on ANY Stock, Any Futures contract (ie oil, gold etc..), any Forex market!
It is from the folks at ino who offer some interesting products.
I use the site myself and the great thing about there product is they use the momentum and trend.
As they say you will never miss a major move in the markets.
They have been long GOLD on their weekly chart since late December all the way back at $817!! That is almost a $200 move that is HUGE money in the futures account.
Their weekly chart on the Nasdaq has been short since the first week of the year back when the Nasdaq was at 2553. Currently the Nasdaq is at 2212!! Over 300 points and if that was an emini Nasdaq account that is over $6000 in profits ON 1 EMINI!!
Is their information perfect? NO!!! When the market isn't trending and sideways you will get some whipsawed actions. But the losses tend to be small. As if its a major move they will find it. They won't get you in at the bottom or out at the top. NO SYSTEM will do that. But if its a major move whether BULL or BEAR they will find it and put you in position to profit.
I would highly recommend getting the FREE Analysis from
http://www.WatchTheTrend.com
It is really FREE. No credit card is needed. They just ask you for your name and email address and the market (stock, futures, forex) you want analyzed and thats IT!
There isn't many FREE resources out on the net that are really worth much. This one I would highly recommend.
Enjoy it and I will review another product next week.
http://www.WatchTheTrend.com
---
NasdaqProfits.com

Here is our video for the recap of the trades that we did this week.




I WILL BE REMOVING THE NASDAQ PROFITS MEMBERSHIP FROM THE MARKETPLACE ON FRIDAY MARCH 21ST. It will be business as usual for members but I am taking it off the market (maybe raise the price) but re-tooling the site etc.. So if you want to get into the membership you will need to by March 21st. The membership will be off the market for at least a month so this is the last opportunity until late April.


You can trade it via betonmarkets, spread trading account, QQQQ's, or Nasdaq futures.
Check out all the details at



Well we talked about the trend on DFNS going sideways last week from negative on WatchTheTrend.com

Well this week it went all positive and was giving an UP trend. This is a very good indicator for us. They tend to be in front of MAJOR moves and if the move isn't major they tend to get out in a hurry. We don't base the StockDoubling project on this but it nice to see for sure.

DFNS came out with some BIG news this week.


http://biz.yahoo.com/bw/080313/20080313005883.html?.v=1
Check out the above link for the news.
Basically the company will get $6 million from Israel for compensation for evacuation of persons and companies from the Erez Industrial Zone in the Gaza Strip a couple of years ago.
That $6 million is CASH IS HUGE.
They already had a book value of about .24.
Add $5.7 million in cash to that after taxes it adds .19 to the book value. That means the book value would be around .43 by itself. And a TON of it in cash!
Its great news. The stock is up some this week but should be higher than that just based on that news.
I think it will fill the gap it made back in the fall and rally up to the .50 range before to long.
10k report is also due in the next 2 weeks.

If the 10k report is good we should rock and roll. If its not the stock will be dead for a while I think. But the risk/reward to me still looks really good.



To stay current with all the StockDoubling information check out the blog at


I will post on there with any updates etc.. It is a much quicker way to get information to people vs a weekly newsletter like this.



Read over the StockDoubling.com site read the story why I started the project etc.. Think long term and see if you can turn $500 into $1 million!


---

The LazyTrading.com Forex package is now available! It has been offline for 5 months and now has an ebook that can help you tremendously with your forex trading.

* Check the chart just once a day for the pair and know if you have a trade!
* Low price for the system. You can use the system for life!
* I have traded with the system for almost 3 years and know the BEST times to trade and which currencies are best! And I show you in the ebook.
* Instant message support for 60 days. Have a question on a trade I am there to help you during trading hours!
*Clear Entry and Exit into the markets. No guessing when to get out of the market.
*You are able to trade on Betonmarkets or your Forex broker.
*You don't have to watch the charts all day. Just check the chart once a day per currency pair. It's that easy!
*Trade the same time each and every day. You know each day when you have a chance to trade!
*In the ebook I show you which currency pairs do the best on each day.
*I give you 2 short videos to watch of actual trades I have done recently to see exactly how the system works.
*We offer a full 8 week money back guarantee!
http://www.LazyTrading.com
---

OTHER NEWS YOU CAN USE
Anything you want to see in the Newsletter? Any product you want reviewed?
Let us know.

alleycatnews@alleycatnews.net

We hope these services meet your needs and we are always here for support. Make a difference in 2008!


---
THE NEXT NEWSLETTER, LORD WILLING, WILL ARRIVE NEXT WEEK!
---
Check out our current and past issues of Alley Cat News on our Website by clicking on the Newsletter Link.
---
Alley Cat would like to thank our Sponsors for making this newsletter available for FREE.
Disclaimer: We try and allow only quality programs to advertise with us. We research the program BEFORE allowing it to advertise however we can not be held liable for any advertiser in this newsletter. Alley Cat News DOES NOT ENDORSE ANY ADVERTISER .Alley Cat News reserves the right to refuse any advertisement. THIS IS NOT FINANCIAL ADVICE AND IS FOR INFORMATIONAL PURPOSES ONLY
For questions on advertising e-mail us at alleycatnews@alleycatnews.net
Alley Cat News
P.O Box 149
Byron Center, MI 49315