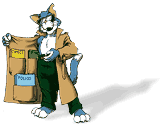 Welcome to the ALLEY CAT NEWSLETTER !
February 22nd, 2006
GOLD PRICES/NEWS
As stated in an earlier update, I have sold my Bull Contract on Betonmarkets. To recap the bet was for $8.57 to win $250 if by the end of May Gold was above $589 an ounce. I sold out of the position early for $100 (A very nice return) on Jan. 31st when gold was around $570 an ounce. So currently I don't own a Betonmarkets Gold contract.
Currently as of this writing gold is around $553 an ounce. Looking at the daily chart I see more of a potential for a down move then up. I would like to see gold above $560 an ounce in order for it to continue its rally. Otherwise I see it in a possible short term at least down trend. Maybe moving back to the $540 an ounce range at least maybe more. So that being said I see more potential of a down move then up on the daily chart.
The weekly chart looks pretty strong yet. I would like to see gold above $560 an ounce on that chart as well to feel more comfortable with a rising gold price.
ALWAYS LOG INTO EGOLD VIA https://www.e-gold.com ,bookmark it, and use your bookmark to go to the site rather than via any e-mail or link online.
PLEASE USE YOUR HEAD WHEN IT COMES TO E-MAIL. Egold/Paypal will NEVER e-mail you asking you to log in, so when you get an e-mail like that DELETE IT.
---
You can always find the current issue of Alley Cat News on the website under Newsletter.
---
SAVE $500 GUARANTEED!!
The information found in our 1st edition Biz4christians.com Newsletter could be worth $1000's to you. But I guarantee its worth at least $500 to you. Get your free newsletter at the following site.
It is FREE to get started with the business and the product we offer could be worth $500 to you the first week.
---
Betonmarkets Signal Service
I have opened a New Betonmarkets Signal Service. All signals will be delivered via Yahoo messenger and you don't have to wait by the computer all day. I have 5 set times when you need to be available each day for 5 minutes each. Which is only 25 minutes a day 4 days a week. (I don't trade on Friday)
You can look at my stats and information on the website http://www.alleycatnews.net/bom
Tuesday was the first day for the signal service and we had a nice winning day with 2 wins and 1 loss.
This is something that anyone can try out as I have made it inexpensive to test at just $10. You can read my results that I have had in only a few months.
This is a far better return than you can find with HYIP's or Autosurf programs and this is something that can last you a long time as Betonmarkets has been around a while. I have been their customer for over 4 years now.
---
OTHER NEWS YOU CAN USE
* 12 daily pro has had some major issues with Stormpay. Depending who you believe things aren't going to well. 12daily canceled their convention for this coming weekend. Stormpay chargebacked peoples accounts who received money from 12daily it is a real mess.
* 12daily and programs like YMMSS tend to get very big and end up having problems for one reason or another. It is another reason to consider trading for yourself. Don't depend on "companies" to make you money do the trading yourself. With the bom signals you only need to be available 25 minutes a day 4 days a week.
* The stock doubling newsletter we started in Late Oct. is producing quite well. We picked just one stock which as of today is up about 53% since our purchase. So it hasn't doubled yet but we still have a long ways to go. (I am not allowed to mention that stock until I have closed my position) The other 4 stocks that were in the running for the stock doubling and were mentioned to subscribers have also done quite well.
The other 4 stocks that were mentioned but not purchased were...
CESV, GEOI, TBV, XING you can check where they are now and where they were on Oct 31st. (Which is the date of our original purchase)
I will keep you posted when you can subscribe to the Next Stock Doubling Newsletter.
---
THE NEXT NEWSLETTER, LORD WILLING, WILL ARRIVE IN MID TO EARLY/MID MARCH 2006!
Check out our current and past issues of Alley Cat News on our Website by clicking on the Newsletter Link.
---
Alley Cat would like to thank our Sponsors for making this newsletter available for FREE.
Disclaimer: We try and allow only quality programs to advertise with us. We research the program BEFORE allowing it to advertise however we can not be held liable for any advertiser in this newsletter. Alley Cat News DOES NOT ENDORSE ANY ADVERTISER .Alley Cat News reserves the right to refuse any advertisement. THIS IS NOT FINANCIAL ADVICE AND IS FOR INFORMATIONAL PURPOSES ONLY
For questions on advertising e-mail us at ALLEYCATNEWS@aol.com
Alley Cat News
PMB #103
3600 S. College Rd Ste E
Wilmington, NC 28412
910-452-7362