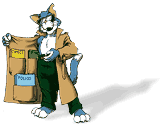 Welcome to the ALLEY CAT NEWSLETTER !
February 6th, 2007
GOLD PRICES/NEWS
Gold prices have closed above $650 which I felt was a good resistance. I think there is decent support around $630-$640 with first upside target of $670. If that breaks I think the highs of last year could come into play.

I do not own a gold contract at this time.


---
ALWAYS LOG INTO EGOLD VIA https://www.e-gold.com bookmark it, and use your bookmark to go to the site rather than via any e-mail or link online.
PLEASE USE YOUR HEAD WHEN IT COMES TO E-MAIL. Egold/Paypal will NEVER e-mail you asking you to log in, so when you get an e-mail like that DELETE IT.

---
You can always find the current issue of Alley Cat News on the website under Newsletter.
---
Marketexcellence/Alley Cat News Project
Our partership with Marketexcellence has gone very well for the first month. January had a record of 9 wins and 4 losses. If you were risking 10% per trade (which we will be doing for the club in Feb.) you would have earned 50% for the month of January!
And actually that is the same return as it was in January 2006. Febuary 2006 the return was 30%. We will see if we can match that this month.
We have a roughly 50-75 spots left of the orginal 250. If Febuary is another very good month like January was I am sure those spots will be gone within the next 30 days. I haven't had a lot of time to promote it to outside sources due to other time commitments. However if we match last February results that would be 80% in the first 2 months which would fill the remaining spots I am sure.
One source of bad news though is Betonmarkets stopped taking NEW U.S clients. Current U.S clients it is business as usual. But if you didn't get a Betonmarkets account setup and you live in the U.S you are out of luck.
You will receive 2 things with your order.
1. 3 months of trading signals on GBP/AUD and GBP/YEN via instant message Mon-Wed.
2. This is the most exciting part. You will get 3 months ACCESS to our trading club on betonmarkets. With the trading club (betting club as Betonmarkets calls it) Market Excellence will trade the signals that I provide them. Current price of a share is $1.34.
How does that benefit you? You can buy shares in the betting club. And as the trades win the share price goes up. If the trades lose the share price goes down.
You can buy and sell your shares at anytime. And we never hold your money the money is held by betonmarkets. So no risk of Alley Cat News or Market Excellence stealing your money.
You can buy as little as 1 share at a time if you so desire.
So if you want to be totally passive you now can be. Market Excellence will do the trading for you all you do is buy shares in the club, monitor the share price from time to time and buy and sell the shares WHENEVER you want.

The cost of the program is $100 which includes 3 months of Trading signals should you so desire, and 3 months Access to the betting club. The $100 does NOT include any investment into the club. If you want to invest in the club you would put additional monies into the club.
I have had many people ask me over the years if I could trade for them. The answer has always been NO, well the answer still is NO, I can't trade for you but with this partnership with Market Excellence it is the next best thing. You will have my signals traded for you in the club.
Check out all the details at
http://www.marketexcellence.co.uk/SH/

---
StockDoubling.com
UPDATE UPDATE UPDATE!


We entered our 4th pick for StockDoubling.com back on January 25th. The stock I picked was ATSX (ATSI Communications) I entered the stock at .23 and as of this writing it is at .30 which is up 30% from my entry price.

ATSX made an announcement on their 2nd quarter which ended Jan. 31st.

They did over $7 million in revenue and have a net profit. They didn't say how much the net profit was but probably less than .01.

If they can continue to raise revenue and earn some good profits this is a great stock.
Should be a nice run in the stock today.
I would of liked to see revenue a little higher then it was. Only about $500k above last quarter.
If they could do $7.5 Million per quarter over the course of a year that is $30 million in revenue and say they earn .015 per quarter that would be a .06 EPS at 15 x that is a .90 stock.
Very nice news hope the #'s continue strong in the coming quarters.
The goal is turn it into $1,000,000 after 11 stock trades. Well we have 3 down and 8 to go and we are 22 months ahead of schedule. The picks are still FREE but won't be forever. All you need to do is go to

http://www.StockDoubling.com

Scroll to the bottom of the page and sign up for the newsletter. I started with $500 which is doable for most people. Even if you are late you can still start with $500 and follow along it has been a fun project. And to date very profitable.


This is a great passive way to make money. Sign up for updates for free on the website.

You can find out more about this project and get all the information for FREE at
http://www.StockDoubling.com
---
OTHER NEWS YOU CAN USE
* I am currently writing an ebook on the success of the StockDoubling.com Project, how I did it etc.. Look for this FREE Ebook sometime in the coming months.
* Interested in making 30% commission marketing the Marketexcellence/Alley Cat News project. Email me at alleycatnews@alleycatnews.net for all the details.
We hope these services meet your needs and we are always here for support. Make a difference in 2007!


---
THE NEXT NEWSLETTER, LORD WILLING, WILL ARRIVE IN LATE FEBRUARY 2007!
---
Check out our current and past issues of Alley Cat News on our Website by clicking on the Newsletter Link.
---
Alley Cat would like to thank our Sponsors for making this newsletter available for FREE.
Disclaimer: We try and allow only quality programs to advertise with us. We research the program BEFORE allowing it to advertise however we can not be held liable for any advertiser in this newsletter. Alley Cat News DOES NOT ENDORSE ANY ADVERTISER .Alley Cat News reserves the right to refuse any advertisement. THIS IS NOT FINANCIAL ADVICE AND IS FOR INFORMATIONAL PURPOSES ONLY
For questions on advertising e-mail us at alleycatnews@alleycatnews.net
Alley Cat News
P.O Box 149
Byron Center, MI 49315
616-499-3386