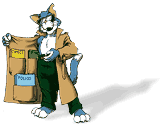 Welcome to the ALLEY CAT NEWSLETTER !
January 17th, 2007
Hello Alley Cat Readers,
Just a few quick updates.
1. Our trading signals thru Marketexcellence are going very well for January. We are 5-1 for the month so far. And if taking 10% per trade you would be up 40% for the month! We have a little more then 100 positions still available but I will start outside marketing this week. So if you want a position you will want to grab it in the next week or so.
With the $100 you get ACCESS to the betting club. So you can buy shares in the club. The share price is now up to $1.20 per share. As a bonus you also get the signals included with your $100 purchase. Remember the $100 is for access to the club not the investment itself you need to invest additional monies in the club.
Check out all the details at http://www.marketexcellence.co.uk/SH/
2. StockDoubling.com - I will be changing the look and feel of the www.StockDoubling.com website over the coming weeks. However at this time the signals are still free you just need to sign up on the StockDoubling.com website. I have turned $500 into $4000 in 14 months. My next stock pick will be in the next couple of weeks more then likely.
Both of the options above are great for passive income. No need to stay in front of the computer hour after hour.
Have a great day.
Thank you
Steve Hoven
alleycatnews@alleycatnews.net