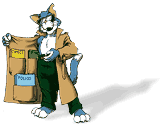 Welcome to the ALLEY CAT NEWSLETTER !
January 9th, 2006
GOLD PRICES/NEWS
Gold prices have rebounded again and as of Fridays close we were approaching $540 an ounce again. The weekly chart looks good for a continue up move. I would like to see the daily charts have a close above $540 an ounce though. I would also like to see it continue to close above $530 an ounce. If it closes below that again this week I think it could bounce around $500-$540 for a while.
As stated in a previous Newsletter I did buy a "Bull" contract on gold via Betonmarkets. I purchased it for $8.57 (when gold was at $500) it is now worth $56.90. (The contract calls for gold to be above $589 an ounce by May 29th for a $250 payoff) It offered good risk/reward so I took it. I might exit the trade at some point before it expires but as of right now I will keep it.
I am mentioning the Betonmarkets bet that I have for full disclosure. I DO NOT MAKE RECOMMENDATIONS IF YOU TRADE YOU DO SO AT YOUR OWN RISK.
ALWAYS LOG INTO EGOLD VIA https://www.e-gold.com ,bookmark it, and use your bookmark to go to the site rather than via any e-mail or link online.
PLEASE USE YOUR HEAD WHEN IT COMES TO E-MAIL. Egold/Paypal will NEVER e-mail you asking you to log in, so when you get an e-mail like that DELETE IT.
---
You can always find the current issue of Alley Cat News on the website under Newsletter.
---
SAVE $500 GUARANTEED!!
The information found in our 1st edition Biz4christians.com Newsletter could be worth $1000's to you. But I guarantee its worth at least $500 to you. Get your free newsletter at the following site.
It is FREE to get started with the business and the product we offer could be worth $500 to you the first week.
---
Trading Systems
With the New Year you may be considering doing some trading. Here are a few programs that I would recommend depending on your interests.
(I am looking into a Forex signal service for next month. Not sure if I will release it or not but it will be a signal service. I will keep you updated.)
If you are looking for a Forex System. Where you can trade when you have the time. (Forex is 24 hour market) Check out http://www.simpleforex.com We have a great system and if also has a rock solid 6 week guarantee. If it isn't for you, get your money back.
If you are looking for a futures trading program check out http://www.lazytrading.com They have a good system that you only need to be available the first hour of the day. They also have a 6 week guarantee on their program.
If you are looking to trade a combination of Forex, Futures, stocks, and options but don't have a lot of time to trade you should check out (You can even use the signals for BOM trading)
http://www.alleycatnews.net/trade
---
OTHER NEWS YOU CAN USE
* The Chairman of E-gold has written a letter about the recent comments made in the Business Week article and the recent site problems. It is an interesting read and can be found at
http://www.e-gold.com/letter.html
* Alley Cat News, MIGHT come out with a signal service for the forex market sometime in Feb. It is something we are considering but have not put much work into yet. We have a software that has worked quite well on Betonmarkets. (Producing over 150% return in 4 months. Not each month that is TOTAL.) Anyway looking over the results it would work well for the Forex real market as well so we are considering putting something together. I will keep you informed.
---
THE NEXT NEWSLETTER, LORD WILLING, WILL ARRIVE IN MID TO LATE JANUARY 2006!
Check out our current and past issues of Alley Cat News on our Website by clicking on the Newsletter Link.
---
Alley Cat would like to thank our Sponsors for making this newsletter available for FREE.
Disclaimer: We try and allow only quality programs to advertise with us. We research the program BEFORE allowing it to advertise however we can not be held liable for any advertiser in this newsletter. Alley Cat News DOES NOT ENDORSE ANY ADVERTISER .Alley Cat News reserves the right to refuse any advertisement. THIS IS NOT FINANCIAL ADVICE AND IS FOR INFORMATIONAL PURPOSES ONLY
For questions on advertising e-mail us at ALLEYCATNEWS@aol.com
Alley Cat News
PMB #103
3600 S. College Rd Ste E
Wilmington, NC 28412
910-452-7362