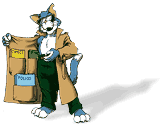 Welcome to the ALLEY CAT NEWSLETTER !
January 6th, 2005 HAPPY NEW YEAR!
GOLD PRICES/NEWS
GOLD PRICES continued lower and went through the $430 support level. As of this writing Gold Prices are at $426 an ounce. On the weekly chart Gold has some support in the $425 an ounce area. So if Gold closes the week above $426 I think it could hold a little while. Otherwise the next support level is at $418-$421. Someone VERY aggressive could go long Gold if we Fridays close is above $426 an ounce. Or go short if at $424ish an ounce for a few $$$ run either way. Personally I am not going to trade it at this time. Though I may later in the week so if you are interested in hearing about it sign up for the Trading Newsletter. Just go to http://www.alleycatnews.net and sign up for the Free Trading Newsletter
ALWAYS LOG INTO EGOLD VIA https://www.e-gold.com bookmark it and use your bookmark to go to the site rather than via any e-mail or link online.
PLEASE USE YOUR HEAD WHEN IT COMES TO E-MAIL. Egold/Paypal will NEVER e-mail you asking you to log in, so when you get an e-mail like that DELETE IT.
Nasdaq Profit Trading Update
Nasdaq Profit Trades ended the month of December with another winning month! That is 4 in a row Sept-Feb tend be great months for NPT I hope you are sharing in the profits.
IF YOU DON'T HAVE ALL THE NPT TRADES + the Secondary system check out http://www.nasdaqprofits.com
Get the system now, if January isn't a profitable month for you get a 100% money back guarantee on the purchase!
We have on average 6-8 trades per month.
When you trade yourself you control your $$$$; if you are tired of HYIP's that change the rules after you invested or just plain disappear, you may want to look into trading for yourself.
90 DAY MONEY BACK GUARANTEE
(Make $$$$ referring people to the nasdaqprofits.com website!)
Your comments on this question are welcome at alleycatnews@aol.com
---
You can always find the current issue of Alley Cat News on the website under Newsletter.
---
YOUR $$$$$
What would you rather do for 2005, Make an additional $10,000 of income or SAVE $25,000 of your $$$ for the year?
Hopefully you answered $25,000 in savings if not check your math.
Here are a few ways to save that $25,000 this year.
1. COUPONS use them and you could be saving $20-$50 a week that is $1,000-$2,500 a year in savings. That is real money that you are spending now that would go back into your pocket. Check out this link for more details. CLICK HERE
2. MORTGAGE, you are probably throwing way hundreds of dollars each month. And I am not talking about refinancing. Learn a better way to use your mortgage to your advantage. You could save $14,000 or MORE this year by using your mortgage the RIGHT WAY. You could build $40,000+ in equity into your home quickly and have your house paid off in 1/3 of the time. Not having a Mortgage or rent payment could do wonders for your finances and peace of mind. It doesn't matter where you live in the World this information is worth reading. For more information on saving on your mortgage check out this site. CLICK HERE
3. TAXES, are different in every country but here in the U.S you can get MAJOR tax breaks for having your own small business or home business. A person/family could be getting $5,000-$7,000+ in tax deductions! And to take advantage of the tax breaks you don't need to be making a full time income from the business. You need a business that you trying to make a profit from. The tax savings whether you rent or own your home can be tremendous. Do you have your own office in your home? Part of your rent/mortgage can be deducted. Part of your phone, internet, electric bills can all be deducted. Gas Mileage is a big one, do you drive around town for your small business? Setting up meetings, running to the Post Office, business supply store etc.. well, that mileage is tax deductible at roughly .33 a mile. Think of it this way if you own a business and aren't taking this deduction its like you are throwing $1 away every 3 miles. Try that sometime, throw out $1 bills for every 3 miles you drive I am sure that will help you visualize it much better. Of course talk to your Tax advisor prior to making deductions etc...
Let me say, I AM NOT TALKING ABOUT STOP PAYING TAXES. I know that stuff goes around the Internet or get an offshore bank account etc.. I AM NOT TALKING ABOUT THAT. I am talking about legit ways for you to save on your taxes. Perfectly legal and put in the tax code by members of Congress. Their is no point of overpaying your Taxes if you don't have to. IT IS YOUR MONEY, YOU WILL NEVER GET IT BACK IF YOU OVERPAY.
A couple of good resources to learn more about the Tax Deductions for home business are "Lower your Taxes-Big Time" by Sandy Botkin. You can find this book at Amazon.com for about $11.
Also "MLM Tax Helper" which can be found at http://www.mlmtaxhelper.com the cost on this software varies.
4. GAS SAVINGS, I know many people get excited about Gas prices raising and falling. But unless your Truck driver or put a TON of miles on your car it isn't really a huge expense. But their are ways to save on this as well.
Let's say your family has 2 vehicles and each use 15 gallons of gas a week so 30 gallons total. If you pay $2 a gallon that is $60 a week in gas or about $3,000 a year in gas. Well, you can save up to 35% of that with a New Product called "Enviro-Max Plus--Fuel Catalyst" on the above example you could save up to $1,000 a year on your Gas purchases with this product. You can purchase a bottle for $29.95 which includes shipping. (US ONLY) via Paypal at hov511@aol.com
So all together that is almost $25,000 in real savings back in your back this year!! People try and work and work to make extra money which is fine, but if you are working 10 hours extra to make an extra $100 but spending $200 that you shouldn't be, you are still in the hole. Why not take that 10 hours and use that time to SAVE that $200.
The coupon information I discussed takes maybe 5 hours a MONTH. Which 60 hours in a YEAR. If you saved $1,000 that is like making $16 an hour.
The mortgage information could take maybe 20 hours to read through understand and implement. And maybe an additional 1 hour a month. So 30 hours of time and effort to save $14,000 this year is it worth it?
The Taxes information could take 100 hours to read the books, implement etc... But saving $5,000-$7,000 would make that worth about $50-$70 an hour!
The Gas Savings would take maybe 5 hours in a YEAR. But could save you $1000 is that worth it?
Better yet is the fact if you are actually saving money that is NET to you. For example if you saved $10,000 in 2005 using these strategies or others that $10,000 is in your pocket. If you earned $10,000 from a job you would still have to take taxes out of that etc... So your Net could be $7500-$8000.
USE YOUR MONEY MORE WISELY. Take the time to understand where your money is going and where you can save. You don't need to pinch every penny I surely don't but you don't need to just waste THOUSANDS of DOLLARS every year either. You only have so much income coming in use it wisely and build financial security.
OTHER NEWS YOU CAN USE!!!
* You can sign up for the trading newsletter at our website http://www.alleycatnews.net
Just fill out the form on the website for the NEW Trading Newsletter. You will get between 1-3 emails a week from that newsletter. It will talk about Gold Prices, Forex, Stock Indices, and maybe from time to time a stock that I really like. One of the 2 stocks we mentioned in our first Trading newsletter is up over 200% already in less than 2 months!!!
* I am starting to send out emails on Forex trades that I am making. If you want to be a part of that you need to be a subscriber of our Free Trading Newsletter.
* A couple of BIG cycling programs continue to pay however have also extending their cycling periods. How long that can continue remains to be seen. Some big cycling investors are starting to get a bit nervous on some message boards.
----------------------------------------------------------------------------

Sponsor this e-mail
13K+ people only $50
Get your Program in front of 13,000+!
contact us for rates on Solo Ads.
Alleycatnews@alleycatnews.net
---
NEXT NEWSLETTER WILL BE IN MID JANUARY 2005!
---
Each week Alley Cat will bring you the latest from the ONLINE Investment world. You will get the latest news on Trading, Small Business, Gold Prices and HYIP's. This is a FREE NEWSLETTER we are able to make it available to EVERYONE because of our Sponsors.
SO TELL YOUR FRIENDS!
Give them this link and they can sign up for FREE
Check out our current and past issues of Alley Cat News on our Website, by clicking on the Newsletter Link.
---
Alley Cat would like to thank our Sponsors for making this newsletter available for FREE.
Disclaimer: We try and allow only quality programs to advertise with us. We research the program BEFORE allowing it to advertise however we can not be held liable for any advertiser in this newsletter. Alley Cat News DOES NOT ENDORSE ANY ADVERTISER .Alley Cat News reserves the right to refuse any advertisement. THIS IS NOT FINANCIAL ADVICE AND IS FOR INFORMATIONAL PURPOSES ONLY
For questions on advertising e-mail us at ALLEYCATNEWS@aol.com
Alley Cat News
PMB #103
3600 S. College Rd Ste E
Wilmington, NC 28412
910-452-7362